Sakaralites, rejoice! The beloved lifestyle + meal delivery company is officially rolling out The Foundation – medical-grade Sakara vitamins designed with your health in mind.
Since 2015, I've been incorporating the Sakara mindset into my daily lifestyle. Through Sakara, I've discovered the healing power of plants on a holistic level. It's not about calories or the number on the scale; it's about nourishing your body in a way that encourages you to become your most empowered, radiant, and happiest self.
From the farm-fresh, plant-based meals to the thoughtful and innovative products in the clean boutique, Sakara aims to empower clients through food as medicine. And now, with The Foundation – the new Sakara supplements – we can continue to experience the power of plants on a deep and cellular level.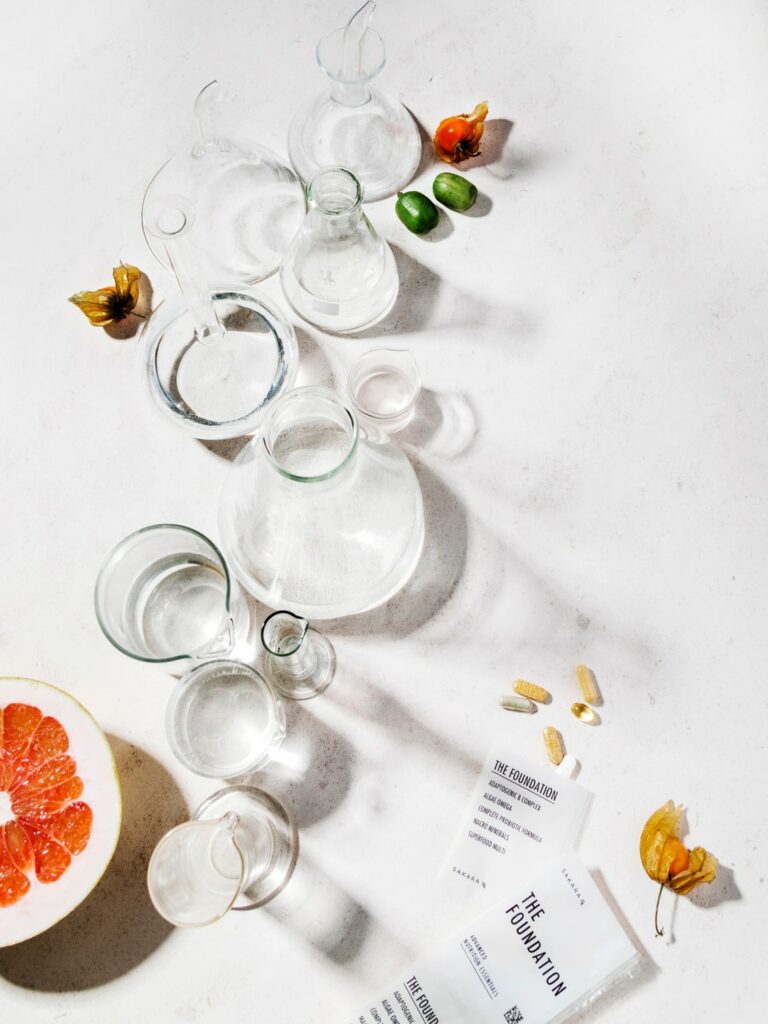 Why you should choose the vitamins from Sakara
There's a good chance the supplements from Sakara might be different than what you're used to taking daily, and that's an excellent thing.
The thought and tenacity with which these five supplements were designed leave them truly unparalleled to other products on the market (and I've tried many supplements). Read the reviews to see why Sakaralites agree.
Sakara's Foundation vitamins are:
Clean and contain no fillers or additives
GCMP NSF certified
Plant-based and packed with botanicals and superfoods
Vegan-friendly
Bioavailable with whole foods ingredients
Inclusive of chelated and methylated nutrients
Medical-grade and doctor-formulated
Contain researched-backed active ingredients
As a new mama who is nursing, it's essential I'm selective about what I choose to put in my body. Everything (except vitamin D) that I consume passes to my son via my breastmilk, supplements included. I was amazed to watch my pumped breastmilk color take on a yellow tint from the potent adaptogenic B complex (which has been working wonders for my energy levels!) and felt reassured my little on was receiving the benefits from my vitamins.
An important note: while the Sakara supplements are safe for breastfeeding, it's best to first check with your healthcare provider as with starting anything new while pregnant or nursing.
Did you hear? Sakara recently launched a Prenatal supplement!
So, what's in the Sakara vitamins anyway?
Inside of a convenient daily pack, you'll find five different supplements and a total of six pills designed to support your health optimally.
Superfood multi
Think of this one as your daily multivitamin, but supercharged and packed with a complete nutrient profile and an organic superfood base.
Algae omega
Omega-3 fatty acids EPA and DHA in this supplement come from marine microalgae, which is both mercury-free and plant-based.
Macro minerals
Algae-derived calcium and magnesium delivered in the chelated form for maximum absorption.
Complete probiotic formula
It contains 11 diverse bacterial strains, prebiotic fibers, and digestive enzymes to help support optimal digestion and gut health.
Adaptogenic B complex
It boasts the full spectrum on B vitamins plus ashwagandha root extract, wild green oat seed, and moringa leaf extract to help support energy and thyroid function.
Is it worth taking The Foundation supplements from Sakara?
I've ditched my traditional prenatal and have been taking The Foundation by Sakara for almost a month. Within that time, I have seen significant improvements to my health in a few different areas.
When I compared the supplement facts between my prenatal and the Sakara supplements, I was blown away by the substantial difference in the amount per servings. See for yourself and check out the comparison below.
By far, the most significant change I've seen is an increase in my energy levels, thanks to the powerhouse combination of the adaptogenic B complex supplement. I made the mistake of taking these supplements before bed (when I usually take vitamins) and found myself tossing and turning all night long.
When I switched to taking them in the morning, I found my energy is level throughout the day, and I'm sleeping through the night. Getting a full night's rest is not an easy feat for a mama with a four-month-old baby, so I'm incredibly thankful that these supplements encourage a good night's rest (thank you, magnesium!).
I know a lot of the changes that some with supplements take longer than a few weeks of sue, and anticipate that I will continue to see shifts and improvement in my overall health and wellness.
An important note: as I mentioned above, while the Sakara supplements are deemed safe for breastfeeding, check with your healthcare provider as with starting anything new while pregnant or nursing.
The supplements do contain ashwagandha, which can be a controversial supplement while pregnant.
My final thoughts on Sakara's new supplements
There are a variety of reasons why it's beneficial for someone to start a supplementation routine, including poor absorption of food-based nutrition in our guts to filling in gaps in our diets.
I am so confident with the integrity behind everything that Sakara develops – and I've experienced the benefits of these supplements first-hand – that I can confidently say The Foundation is an essential part of your health and wellness routine.
Read more about Sakara
My Full Sakara Life Review and Exclusive Discount Code
My Five Favorite Sakara Life Breakfast Recipes
An Honest Review of Sakara Metabolism Super Powder: It's Incredible
This post contains affiliate links. We may receive a small commission for purchases made through these links. Thank you for your support! I received products for free in exchange for my honest review.