When I start my day with Sakara…
I know it's going to be a fantastic day. Ask me about the Sakara Life meal delivery program, and the first words out of my mouth will be along the lines of their breakfast is insanely delicious, nutritious, and fulling – and I'm not quite sure how they do it.
Don't worry – everything is gluten-free, organic, plant-based, and designed to make you glow like the fabulous human you are. After all, eating well and fueling yourself with nourishing food is the ultimate form of self-care.
Not to knock the lunches and dinners, the creativity with those meals blows my mind. Still, the recipes Sakara puts together for breakfast every morning tastes more like dessert and leaves me feeling so satisfied and energized.
As someone with a sweet tooth, I love how Sakara isn't afraid to use just the right amount of organic and natural sources of sweetener like coconut sugar and maple syrup to their breakfast recipes.
If you're a typical meat-and-eggs-in-the-morning person, these 100% meatless and protein-packed recipes might just be the thing your body is craving. These Sakara breakfast recipes are filled with flavor and contain superfoods like spirulina, chia seeds, coconut oil, and cacao nibs.
Do I have your attention yet? Check out five Sakara Life breakfast recipes below!
Cinnamon-spiced pumpkin granola
Packed with all kinds of healthy fats from coconut oil and nuts, this Sakara Life granola recipe is the perfect addition to your busy week.
It promises to leave you feeling fueled, satiated, and ready to take on the world.
Breakfast is important, ya know?
I love the idea of making this spiced granola in big batches and using it as a topping for coconut yogurt, as a snack on the fly or swimming in a bowl of hemp milk. It's also a simple enough recipe that you could adapt it to whatever you have handy – get creative!
If you're feeling extra crafty, this granola would make a cute and easy gift for a dear friend or co-worker.
Ingredients:
Makes about 6 cups
3 cups gluten-free rolled oats
1/2 cup pumpkin puree
1/4 cup coconut oil
1 1/4 cups mixed nuts (walnuts, almonds, cashews, pumpkin seeds, etc.)
1/4 cup maple syrup
2 tsp. cinnamon
1 tbsp. chia seeds
Directions:
1. Preheat your oven to 350° F
2. Heat the pumpkin puree and coconut oil in a saucepan over low-medium heat. When the mixture is warm, remove from heat and slowly add in the rolled oats. Add in remaining ingredients, mixing well, and then spread evenly on a baking tray.
3. Bake in the oven around 25-30 minutes. Make sure to shake the tray every ten minutes!
4. When finished, let the granola cool and store in a tight container for up to two weeks.
Recipe credit: Sakara Life
Mint Chip Smoothie
Okay, give me chocolate at any time of the day, especially at breakfast.
This simple smoothie is packed with all sorts of divine fruits and veggies, all guaranteed to give you that beautiful glow and some extra fiber.
Hemp seeds and almond milk give this smoothie an extra punch of protein, and the addition of coconut oil ensures that you're receiving those divine healthy fats that keep us filling oh-so-full.
I suggest doubling this recipe making enough for two days. Just make sure to store the leftovers in an air-tight container and consume within 24 hours for ultimate freshness.
Ingredients:
3/4 cup unsweetened almond milk
1 tsp. organic vanilla extract
1/2 frozen banana
1 cup frozen watermelon chunks
1/2 cup fresh mint leaves
2 tsp. cacao nibs, divided
1/2 tbsp. coconut oil
1 tbsp. hemp seeds
2 cups spinach
2 tbsp. granola (optional)
Directions:
Put all of the ingredients, except for the cacao nibs and granola (if you're using it), to your high-speed blender (I swear by this one!) and blend until smooth.
Then, add in the leftover cacao nibs and top with granola! Enjoy!
Recipe credit: Sakara Life
---
Craving more Sakara recipes?
Get your hands on the Sakara cookbook, Eat Clean, Play Dirty!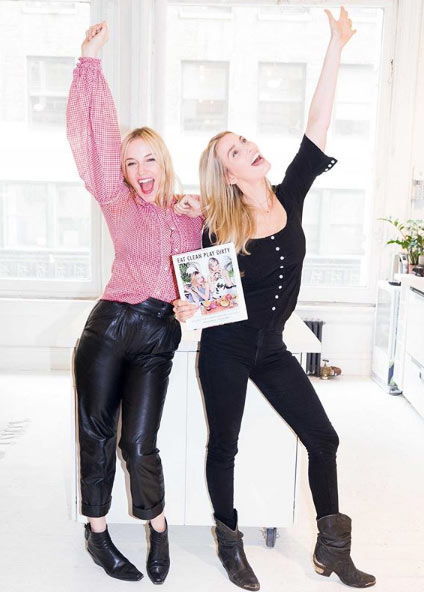 ---
Danielle + Whitney's superfood muffin
These superfood-packed muffins are the perfect addition to your morning routine. This breakfast recipe makes a dozen muffins, so you'll have plenty left over to freeze or hand out among friends.
Also, these muffins would make for an enjoyable afternoon pick-me-up, so make sure to help avoid a mid-day crash.
Not heading into the office? These would be a hit with kids, too, and a great way to add in some fruit to their diet.
As you know, Sakara is all about seasonal eating.You could also play around with whatever fruit is in season or that you have on hand. Think blueberries, rhubarb, and strawberries.
Ingredients:
Makes 12 muffins
1/3 cup plus 1/2 cup gluten-free oats, divided
2 tsp. baking powder
1 tsp. baking soda
½ tsp. Himalayan sea salt
½ tbsp. cinnamon
2 eggs (or sub flax eggs)
2 tbsp. raw honey
2 very ripe bananas, mashed smooth
1 cup chopped apples
1 cup chopped walnuts
Directions:
1. Preheat your oven to 400° F. Lightly grease a 12-cup muffin tin with melted coconut oil.
2. Pulse 1/3 cup gluten-free oats in a food processor or high-speed blender until it's a flour-like consistency.
3. In a medium bowl, combine the oat flour, 1/2 cup whole oats, baking powder, baking soda, salt and cinnamon. Fold together until mixed.
4. In a large bowl, mix eggs, honey and mashed bananas. Add in the dry ingredients to your banana mixture and stir until fully combined. Gently fold in your walnuts and apples.
5. Fill the muffin tins evenly, and top with apple slices and walnuts, if desired. Bake for 18 to 20 minutes, or until fully baked through. Remove muffins from the tin, and cool on a wire cooling rack.
Recipe credit: People Magazine
Chai-spiced walnut + pear morning oats
This recipe is certainly an upgrade to your usual run-of-the-mill microwave oatmeal. It's packed with plant-based protein and healthy fats, making it a perfect choice for those days that seem like they're going to be extra-long.
What I love about this recipe is that you can easily make it at the office or in your morning rush, just add some hot water to the dry ingredients, let it sit for five minutes or so, and stir together.
Like I've said before, nourishing yourself with food that fuels you is a beautiful form of self-care, and this perfectly-spiced breakfast recipe certainly fits the bill.
Ingredients:
Makes one serving
1/2 cup organic, gluten-free rolled oats
1/2 cup water
1/2 cup organic almond milk (can substitute with any plant-based milk of choice!)
1/4 tsp. ground cinnamon
1/8 tsp. ground ginger
1/8 tsp. ground cardamom
1/8 tsp. ground cloves
1 tbsp. ground flax seed
Top with:
crushed walnuts
goji berries
yellow pear
hemp seed hearts
coconut flakes
more cinnamon
Directions:
1. Soak the gluten-free rolled oats, water, milk of choice, spices, and flaxseed in a small bowl for 30 minutes.
2. After the mixture has soaked, place in a pot and cook on the stove at medium-low heat until some of the liquid is absorbed.
3. Top with sliced pear, walnuts, a splash of your milk of choice, cinnamon, and your favorite superfoods.
Recipe credit: Sakara Life
Blueberry + vanilla pancakes with matcha syrup
Not sure about your home, but pancakes (and matcha) are a staple on Sunday mornings in our house.
There's something so deeply satisfying about cutting into a stack of piping-hot pancakes, especially when you know the ingredients provide some serious health benefits.
What I really love about this recipe is the addition of the matcha syrup. Since cutting coffee out of my diet, matcha has been my go-to drink for a little boost in the morning, and I love experimenting with it in new, yummy ways.
For the pancakes:
1/2 cup wholegrain spelt flour
1/2 cup oat milk
1 tbsp lemon juice
2 tbsp ground flaxseed
6 tbsp water
1 cup blueberries
2/3 banana (leave the rest for toppings!)
1 tsp. spirulina
1/2 tsp. vanilla powder
1/2 tsp. cinnamon
1. Prepare the flax "eggs" by mixing 2 tbsp. ground flaxseed with 6 tbsp water. Place the mixture in the fridge to set for about 20 mins.
2. Make the blueberry "buttermilk " by blending blueberries with oat milk and lemon juice until smooth in your high-speed blender.
3. While your eggs and buttermilk sit, mix your spelt flour with vanilla and cinnamon, mash in the banana with a fork.
4. Check on your flax "eggs" in the fridge and see if they are ready. They should have an "egg-like consistency". Then, add them into the dry ingredients along with the blueberry "buttermilk". Mix well using the back of a fork.
5. Melt a tbsp. of coconut oil in a pan over medium hear. Pour in pancake batter, flipping halfway through, and cook until fully cooked-through. Top with your favorite toppings!
For the matcha syrup:
3/4 cup water
1/4 cup natural sweetener of choice (we used stevia)
1.5 tablespoons matcha powder
1. Bring water and natural sweetener of choice to a boil, then simmer for 3 minutes and remove from heat.
2. Stir in matcha. Whisk well.
3. Drizzle over your blueberry pancakes!
Recipe credit: Sakara Life
Are you looking for more Sakara Life?
I found a beautiful round-up of seasonal Sakara recipes over at Free People.
Or, if you're ready to turn off the stove and put down the spatula, maybe it's time you try out Sakara Life for yourself? Check out my Sakara Review and save 20% on your first Sakara meal delivery using XOCARLEY.
This post contains affiliate links. We may receive a small commission for purchases made through these links. Thank you for your support!