If investing in a full-size sauna isn't a reality for you, the sauna blanket from HigherDOSE could be the next best thing. Actually, it might be even better. Keep reading my HigherDOSE review and check out my exclusive discount code.
There can be something so satisfying about breaking a sweat. Whether it's from a good workout or a sauna blanket, the positive and detoxifying effects of sweat are unparalleled. More on those benefits below!
This post contains affiliate links. I may receive a small commission – at no extra cost to you – should you choose to purchase through a link on this page. Thanks for helping me continue to provide free content for readers like you!
I was a little skeptical when I first heard about the sauna blanket from HigherDOSE. I'm pretty sensitive to heat and saunas in general, but I felt like the blanket could be a nice option to use in the comfort of my own home instead of heading out to the gym (thanks to Covid, this isn't even possible) or investing in an in-home sauna.
Psst! Here for the HigherDOSE discount code?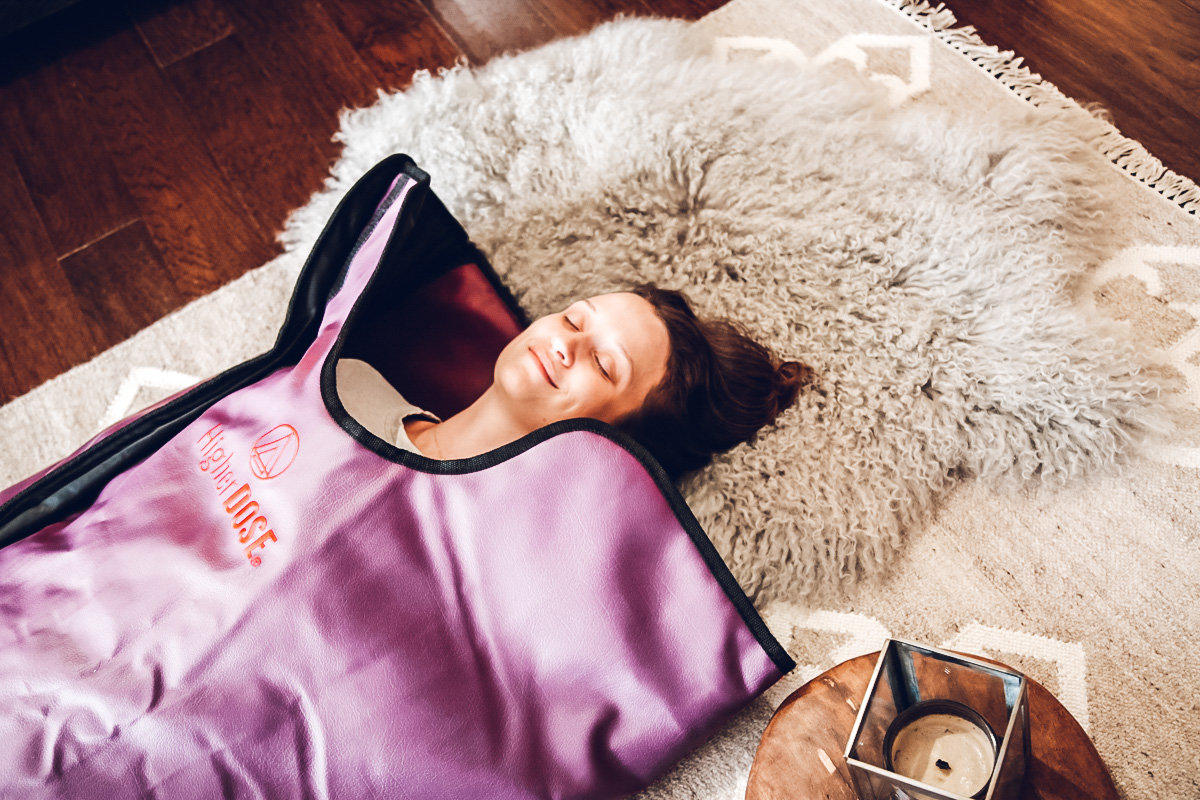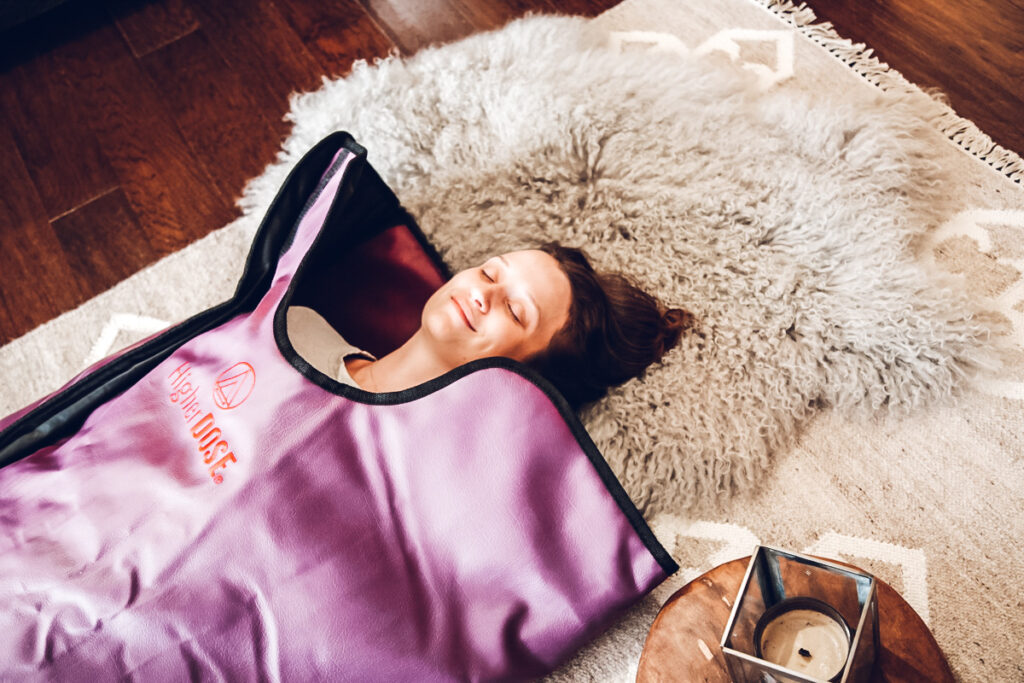 What is the HigherDOSE sauna blanket?
What makes the HigherDOSE sauna blanket so powerful and unique is the Amethyst, Tourmaline, and Charcoal layers safely inside a waterproof Polyurethane (PU) fireproof cotton. These layers work together to create a delicious heat that will help promote a temporary increase in blood flow and give you that post-workout glow without the workout.
When plugged in and turned on, the sauna blanket heats up its many layers to deliver you a relaxing sauna experience, all in the comfort of your own home.
The blanket uses electricity (standard household outlet) and low EMF heating to generate Far Infrared Rays to generate heat and help your body release toxins. It only takes about ten minutes or so for your blanket to heat up once it's been plugged in.
As the sauna blanket warms up, the more you begin to sweat. The more you sweat, the more intensely you'll feel the common benefits of HigherDOSE.
Sauna blanket benefits
There is a long list of benefits that come with part and full-time use of the HigherDOSE sauna blanket. Check out some of the most notable benefits below.
Burn calories
Detox
Beautiful Skin
Relaxation
Pain Relief
Better Sleep
Self-care practice
More energy
Reduced stress
Defining the 'DOSE' in HigherDOSE
To better explain the benefits of using the sauna blanket from HigherDOSE, it's helpful to understand the clever acronym behind the name itself. Check it out below.
Dopamine
Oxytocin
Serotonin
Endorphins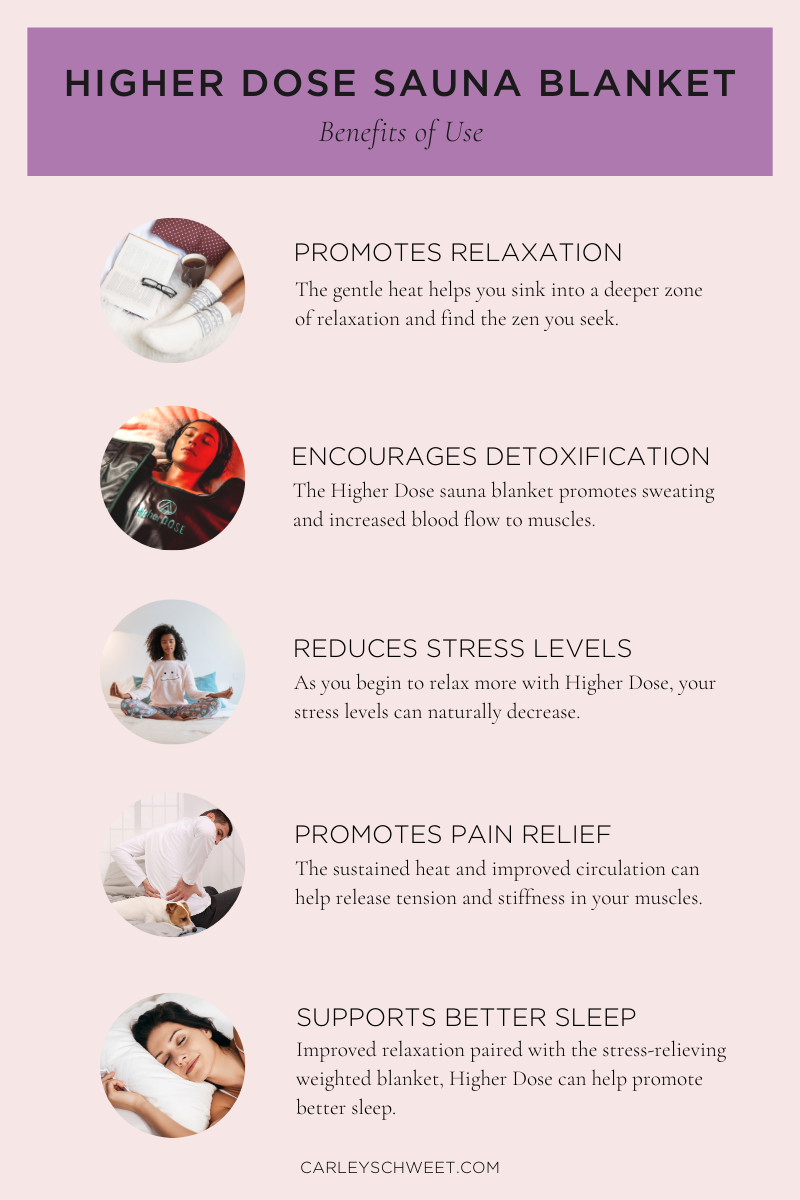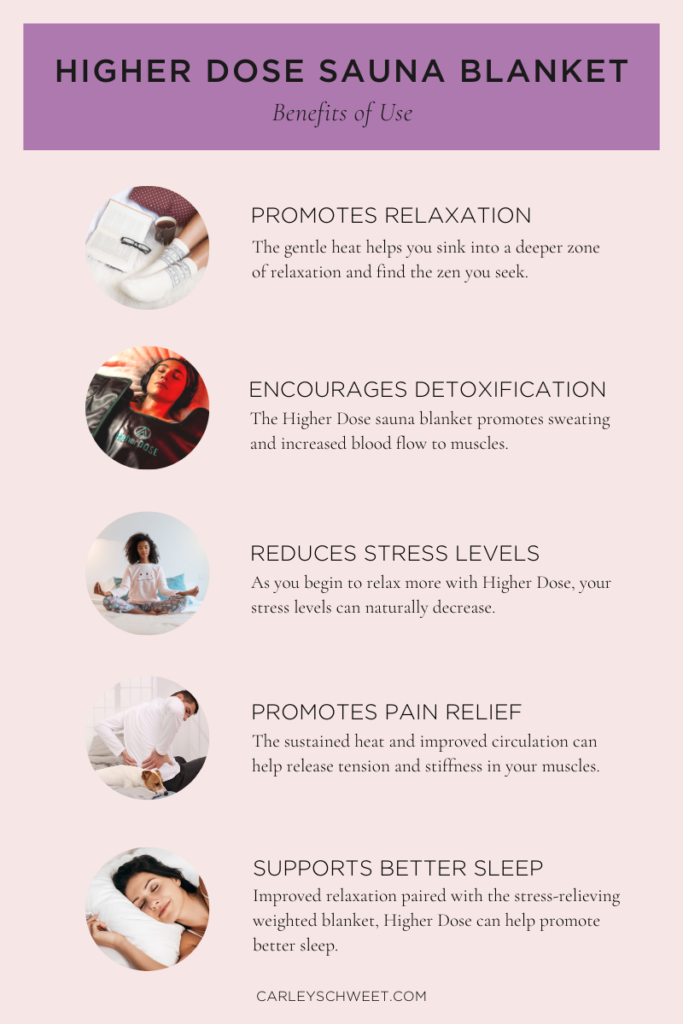 My Review of HigherDOSE
After following all of the instructions, I decided to give it a try. I put on my socks, leggings, and a long sleeve shirt because I wanted to avoid any direct skin contact with the blanket.
Tip: set a glass of water within arm's reach and use a non-toxic sheet mask on your face for maximum benefits.
I set the dial to five and settled into my pillow a bit, hoping to relax and ease into this experience. Remember, I don't typically fare well with saunas.
After a few minutes, there was a slow, gradual build-up of heat that I could feel evenly through the blanket, and it actually felt like a real sauna but less intimidating. Even though it is a blanket, the heat felt dry, not like an electric blanket at all, which, to be honest, I was a little worried about before purchasing.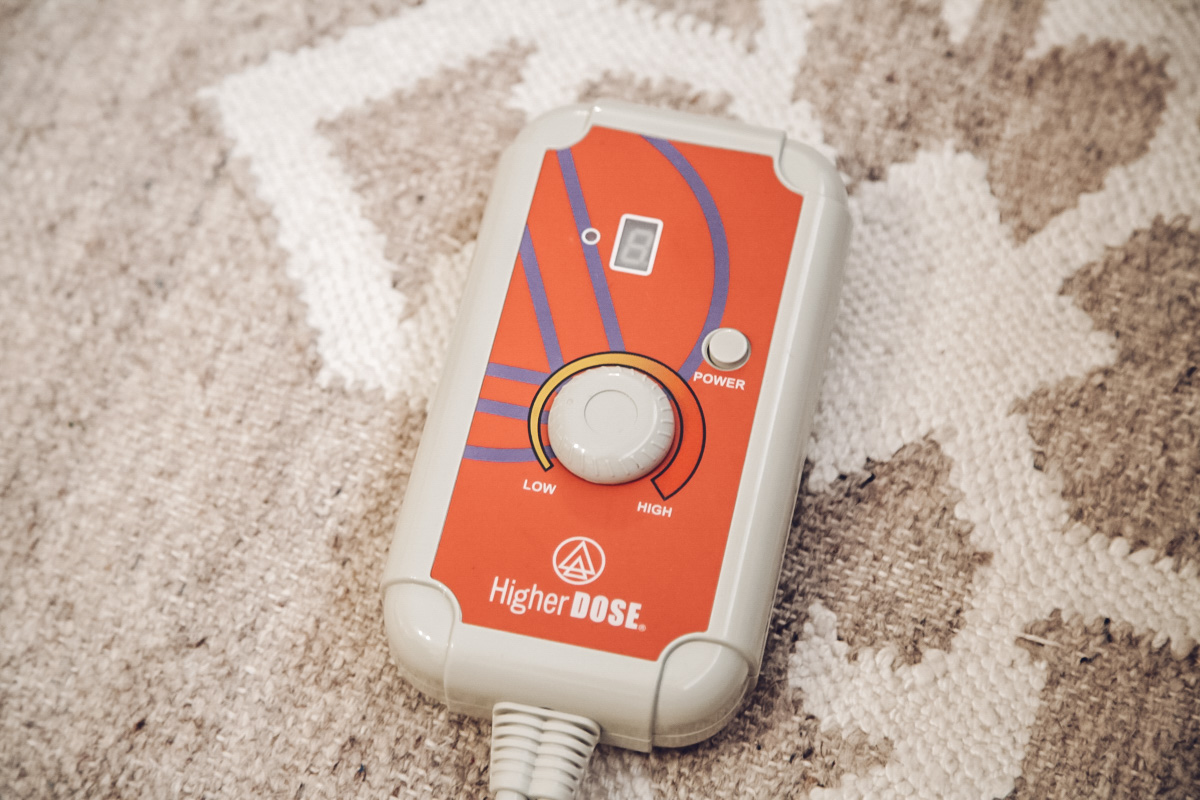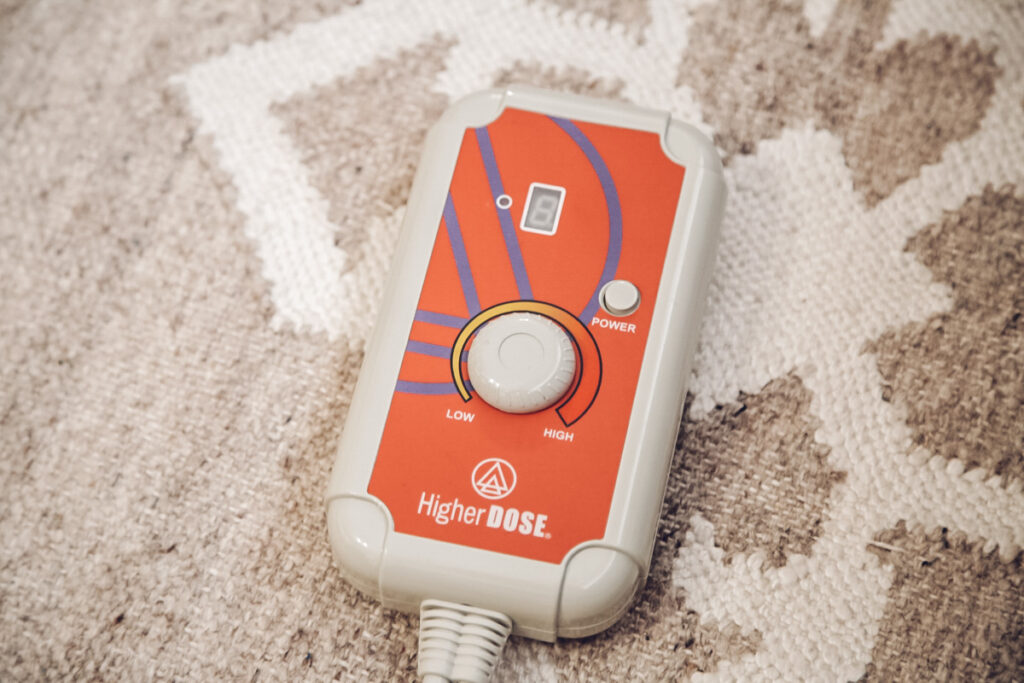 The warmth caused me to sweat and totally relaxed my muscles, which I desperately needed. I've only used the blanket a few times, but it's definitely becoming part of my holistic self-care practice.
After using it for about 45 minutes, it was time to make my way out of the heated paradise and into bed. I was so relaxed. After showering and climbing into bed for the night, I think I fell asleep instantly and slept better than I had in weeks.
Cleaning and maintenance of the sauna blanket
With the HigherDOSE blanket, there is a fair amount of cleaning to do. Since you will be sweating (a lot) inside it, it's best to open it up after each use and wipe it dry.
If you're looking for a deeper clean, feel free to use a mild soap (I prefer to use this one because of the eucalyptus scent) or vinegar to clean and then let it air dry.
Granted, I wouldn't have to do this cleanup process if I went into the 'spa,' but it comes with the territory of having a compact sauna blanket at home, and it's totally worth it!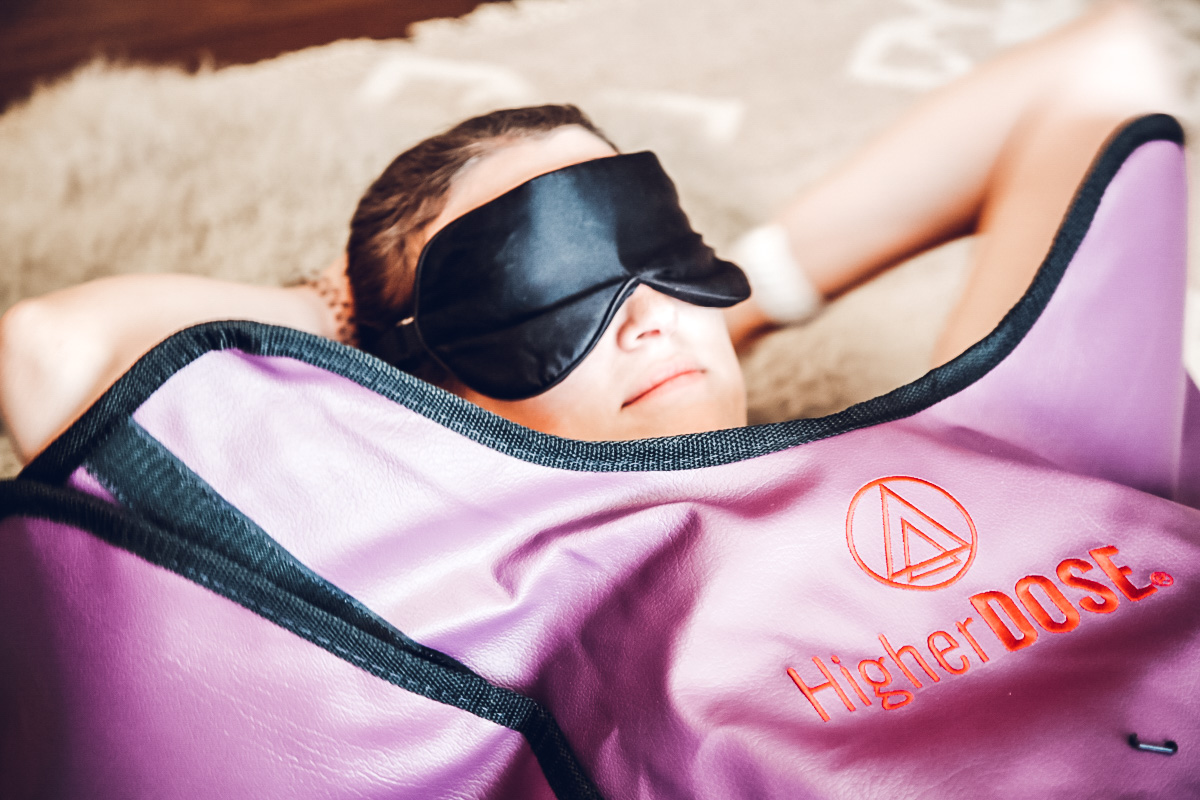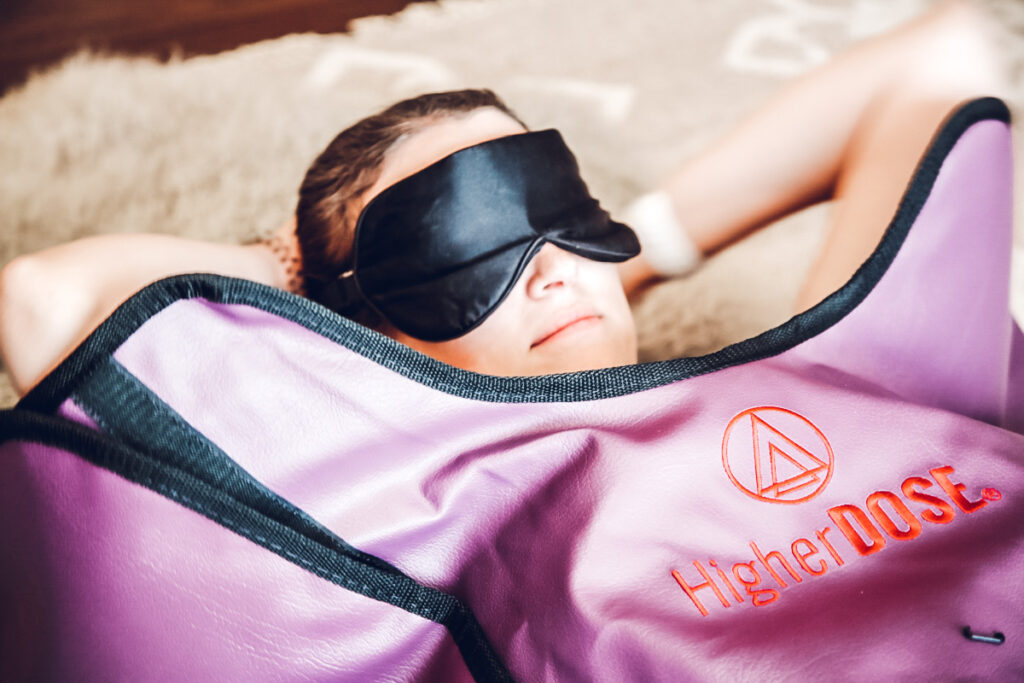 Other considerations about using HigherDOSE infrared sauna blanket
There are several things you should know before using HigherDOSE.
HigherDOSE does not recommend that pregnant or breastfeeding women use the blanket, and please always consult with your doctor before starting a sauna blanket practice. I had to wait a few months to try my sauna blanket as I was still nursing when it arrived in the mail.
As always, these statements have not been evaluated by the Food and Drug Administration. This product is not intended to diagnose, treat, cure, or prevent any disease.
How much does HigherDOSE cost?
You can check the current retail price for the HigherDOSE blanket here.
Keep in mind; this cost includes your Blanket, instructions, controller, power supply cord, and connecting cords. I believe that it's truly such a steal when you compare this price to some at-home sauna systems or a pricey gym membership.
Receive a $75 discount on your HigherDOSE sauna blanket
Follow the steps below to save:
1. Click the button to activate your savings
2. Enter discount code CARLEY75 at checkout