Have you heard of the Sakara 10-Day Reset? It's a DIY detox in-a-box and a great way to get Sakara Life's benefits without investing in a meal delivery program.
The Sakara 10-day reset explained
When you head to the Sakara website, you'll see that Sakara 10-Day Reset is different than Sakara's traditional meal delivery programs.
This DIY detox in-a-box puts you in the kitchen and empowers you to take your nutrition back into your own hands. If you've wanted to try Sakara but weren't ready for the financial investment, the 10-Day Reset is the perfect gateway for you. You seriously can't beat the price of this kit.
Inside the gorgeous box, you'll find all the elements needed to live the Sakara life, including a variety of supportive supplements and easy-to-make, nourishing recipes. Keep reading this review to learn how you can save 20% on your Sakara 10-Day Reset.
How does the 10-day reset work?
As I mentioned above, the box contains everything you need to detox and nourish in the comfort of your kitchen. If you're someone who wants to adhere to a set budget or have a busy schedule to work around, the 10-Day Reset could be the perfect choice for you!
With the 10-Day Reset, you'll have the tools to create nourishing, supportive meals. All you need to do is head to the market (or order from your local grocery store) and begin to prep your space and your mind for the reset program.
What's included in the 10-Day Reset?
When you open up your 10-Day Reset kit you'll find that it is packed with a variety of tools to support your journey on this program.
What's most important to note is that everything is intentionally designed to nourish you and not encourage restriction or calorie counting. Sakara believes in the power of food as medicine, not food as punishment or a way to "cleanse" or lose unnecessary weight. The reset is designed to help reinforce the idea of food as medicine and help you uncover your own confidence in the kitchen.
Here's what you'll find in your kit:
10-Day Reset Recipes: over 20 meals designed to help you feel like your best self
Beauty + Detox Water Drops: boost the power of your water with these mineral-rich drops
Daily Probiotic Blend: overall wellness starts in the gut with these super-packed probiotics
Detox Bars: contains spirulina and 10g of plant-based protein
Energy Bars: contains 10g of organic hemp protein and productivity-boosting ingredients
Super Powder: contains 12g of quality, plant-based protein from sources like pea, hemp, sesame, and pumpkin
Detox Tea: supports the body's natural detox system with ingredients like lemongrass, rose, and red rooibos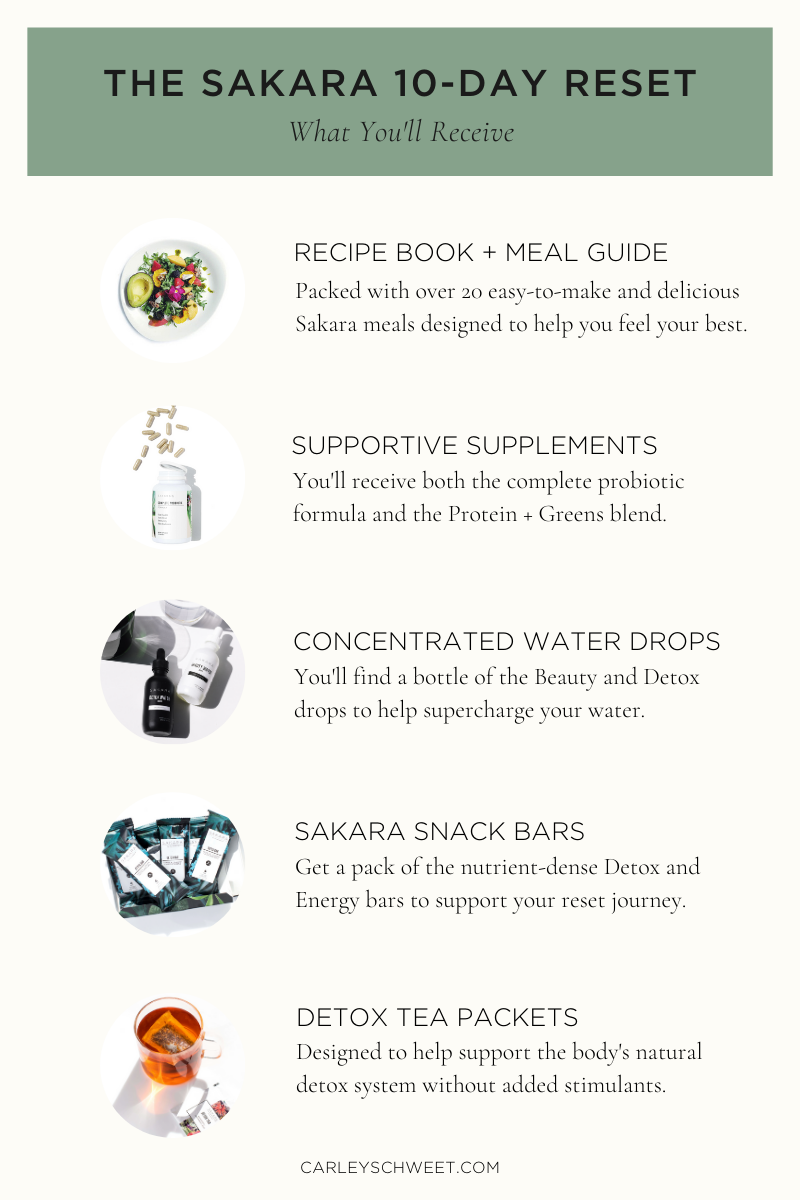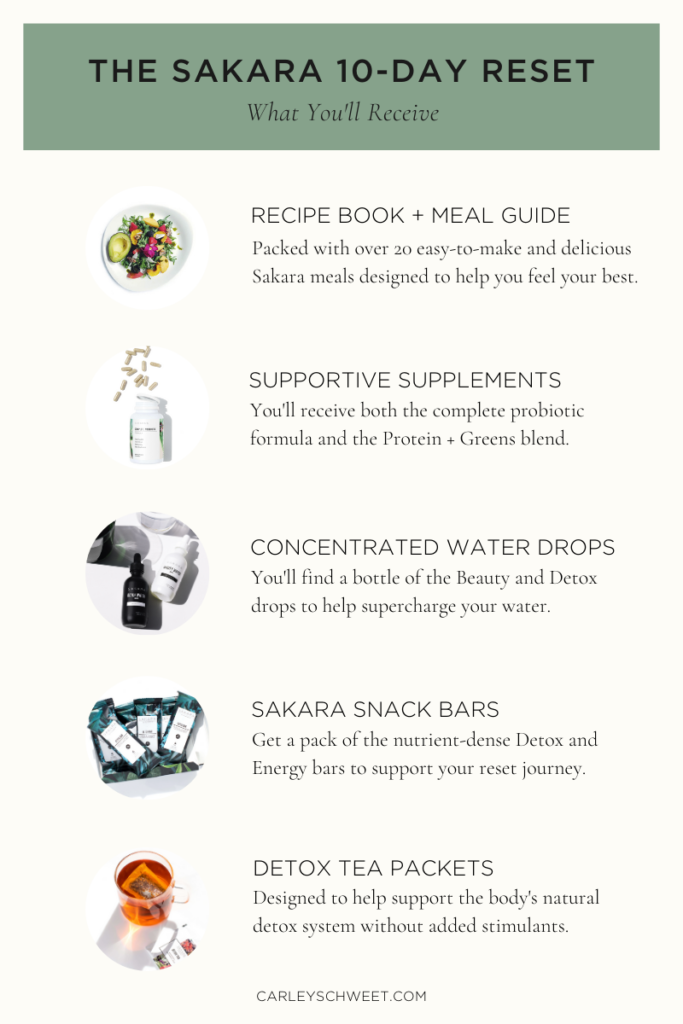 The Sakara 10-day reset recipes
Oh yes! In your reset kit, you'll receive a gorgeous book containing 20+ recipes for your reset experience. This review wouldn't be complete if I didn't share some of the delicious reset recipes, right?
Some of my personal favorite Reset recipes include:
Lemon and kale detox caesar
Ayurvedic mung dal with spinach
Carrot and ginger soup
Butternut squash, kale, and white bean soup
Classic kale salad with green goddess dressing
Life Source oatmeal
This isn't an exhaustive list of all the recipes you'll find inside the 10-Day Reset, just my personal favorites. You can check out some more of the 10-Day Reset recipes here.
The benefits of resetting with Sakara
Not only will you begin to feel better from the inside out, but you can also expect to see improved gut health, encourage healthy digestion, boost your energy, release excess weight, and uncover that coveted Sakara glow.
Don't just take my word for it, check out what these Sakaralites have to say about their 10-Day Reset experience.
Sakara is founded on the principle of food as medicine, and the 10-Day Reset is the chance to experience the power of nourishing yourself with quality food first hand.
Read next: My Sakara Review and Discount Code
My results of the 10-day reset
As with anything new, it takes a bit to find your rhythm with cooking and meal planning. Thankfully, the recipe book included in the reset kit made finding that flow more approachable.
I hit up the grocery store and got everything I needed for the next few days. Once home, I washed and prepped as much as I could to help save time and keep me motivated – it worked!
After the ten days, I noticed the below changes in my body:
Improved digestion
Increased, sustained energy
Less belly bloat
A natural glow to my skin
Dark circles improved
More confidence in the kitchen
I also realized the importance of adequate amounts of plant-based fiber in my diet. Before the Reset, I was always so focused on getting enough protein, but, in retrospect, my body was really craving more fiber.
It's wild what ten days of shifting your diet can positively do for your body. How will you feel after 10 days of living the Sakara life? Order your 10-Day Reset now.
Want to save 20% on your Sakara 10-Day Reset?
Use my exclusive discount code below!
XOCARLEY
Order now