Not sure about you, but since its release, the Metabolism Super Powder from Sakara has popped up on my Instagram and in my inbox more than a few times. As a loyal Sakaralite, I finally gave it a try. Here's my full review and details on what happened next.
I've lived and breathed the Sakara Life for over five years and was ecstatic to learn that they added a new super powder to the most-coveted Clean Boutique lineup. This product was designed to help give your metabolism a boost, fire up your digestion, eliminate bloat, and decrease overall puffiness.
Sounds amazing, right?
I love Sakara's intention and thought they put into every product, and I was sure I'd find the same level of dedication for the Metabolism Powder. And boy, I was wrong.
Keep reading to learn what happened and how you can save 20% on your Sakara Metabolism Powder order.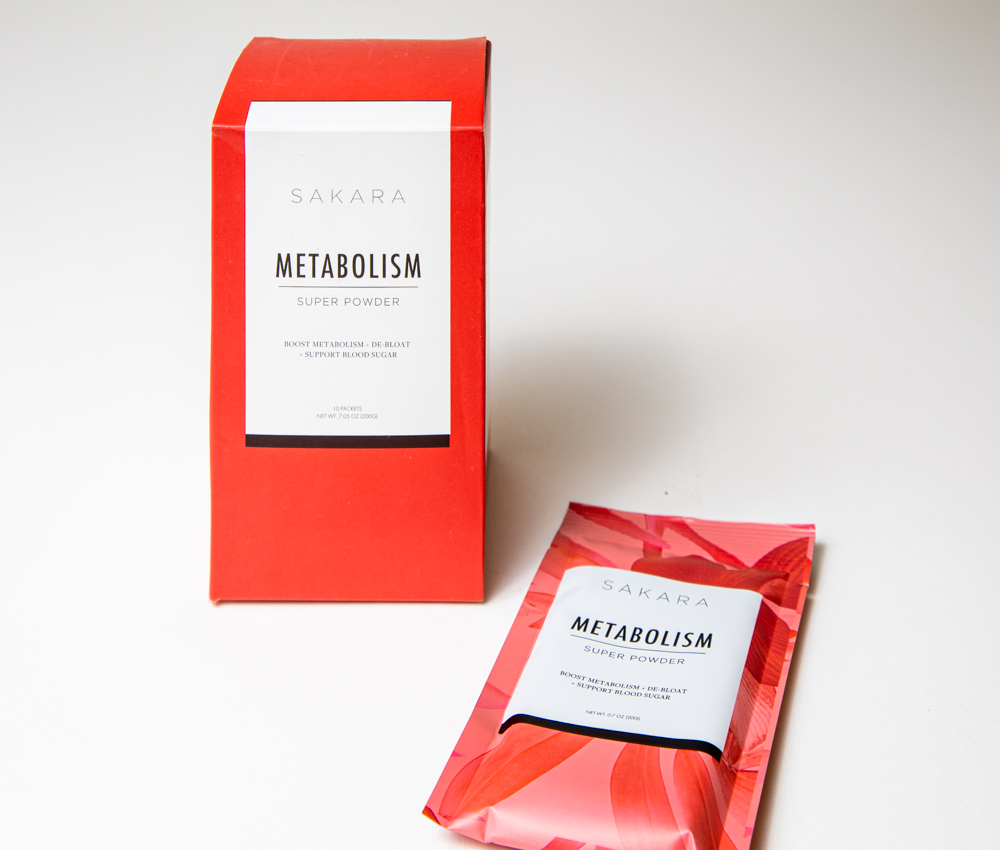 My thoughts on the Sakara Metabolism Super Powder
I was wrong in the sense that Sakara completely over-delivered when they created the Metabolism Super Powder. It's truly become one of those things – for me – that you didn't know you needed until you started using it regularly.
Don't believe me? Check out the 1300+ glowing reviews from real-life Sakara clients.
When I first opened the sexy red packet (what a perfect color for this fiery little powder, I might add), I noticed that I was instantly hit with a cocoa aroma. It was strong – but not too overpowering – and instantly, my mind began to list off the countless drinks and meals I could "spike" with it.
I kept it pretty simple for the first time around and added a whole packet to some hot water and mixed it until it dissolved. While not the most creative way to dive into the Metabolism Powder, this did give me a chance to really taste the powder on its own and see what I was working with. The taste reminded me of an earthy, herbal hot chocolate, and I actually really enjoyed it. I drank down the cup with no problems.
And now I feel it's an appropriate time to talk about…
The Sakara Metabolism Super Powder side effects
Please note that the Food and Drug Administration has not evaluated these statements. This product is not intended to diagnose, treat, cure, or prevent any disease. This product is not intended to be used in the management of diabetes.
You guys. As someone who doesn't drink coffee, and my only daily stimulant is in the form of my beloved chocolate nootropic bites, this Metabolism Super Powder had me absolutely cruising.
Tip: if you're sensitive to herbal stimulants or caffeine, consider starting with half a packet and see how you feel. Once you're comfortable, slowly increase the amount you use. Even though the Metabolism Powder is technically caffeine-free, some ingredients have an energy-boosting effect that can feel intense (but not overwhelming) for those who are more sensitive.
I truly felt like I could rule the world and then some. My energy levels were increased – yet sustained and pleasurable – and I felt amazing. What's wild is that I didn't even consider that increased energy would be a side effect of the Metabolism Powder, but here we are. I'll go into more detail on the ingredients that support increased energy in a bit.
So, aside from the increased energy, I also experienced an increased urge to pee. Now, I drink a lot of water throughout the day, so getting up and going to the bathroom regularly is something I'm used to, but something about this Metabolism Powder had me going even more frequently. One of the powerhouse ingredients is a diuretic (more on that below), but man, I felt flushed out in no time.
Curious? Check out the Metabolism Powder full ingredient list here.
Speaking of flushing, I began to notice that my bowel movements were becoming more regular with regular use of the Metabolism Powder. As someone who is pretty hit-or-miss (especially after giving birth) in the toilet department, it was nice to find a product that helped encourage more regularity.
When it comes to the Metabolism Powder side effects that I noticed, more productive trips to the restroom left me feeling lighter and leaner, and the increased energy gave me the get-up-and-go I needed to head out for a walk or stream an at-home workout. Pair that with a boosted metabolism, and I'd consider Sakara's Metabolism Super Powder a major win and a must-have. It's gentle, effective, and absolutely delicious.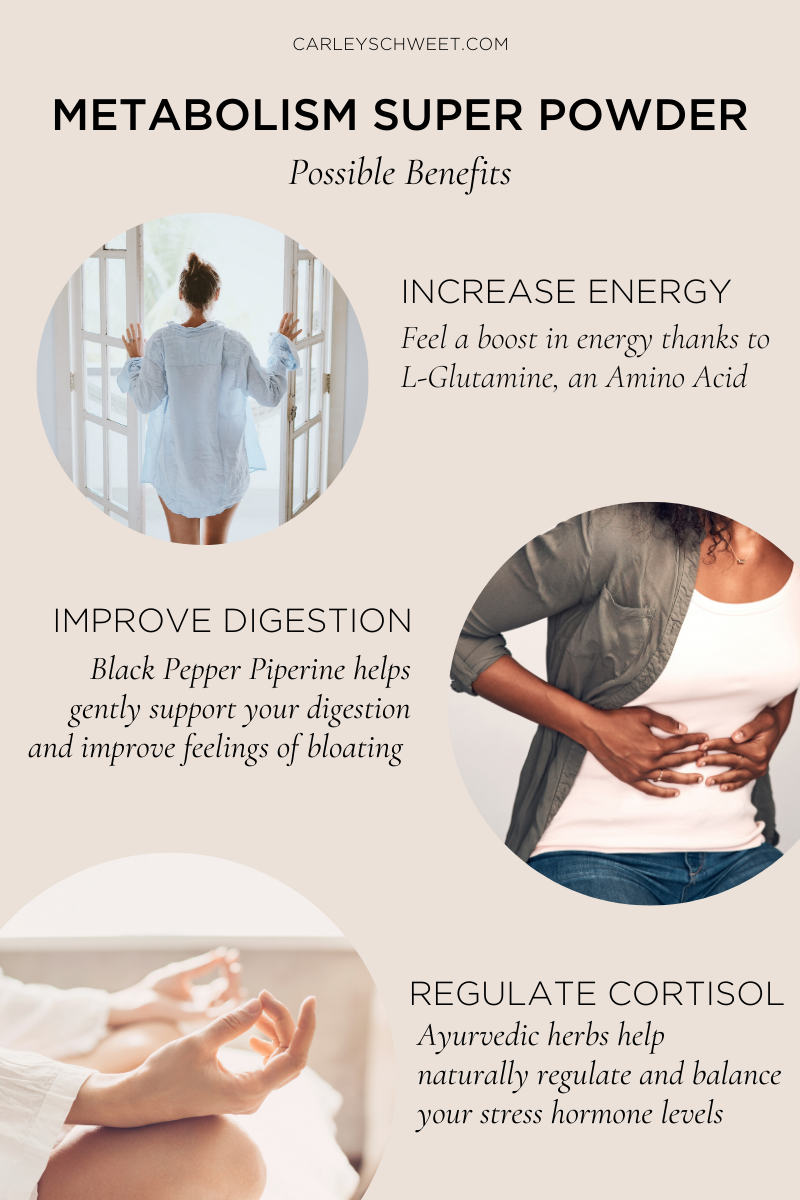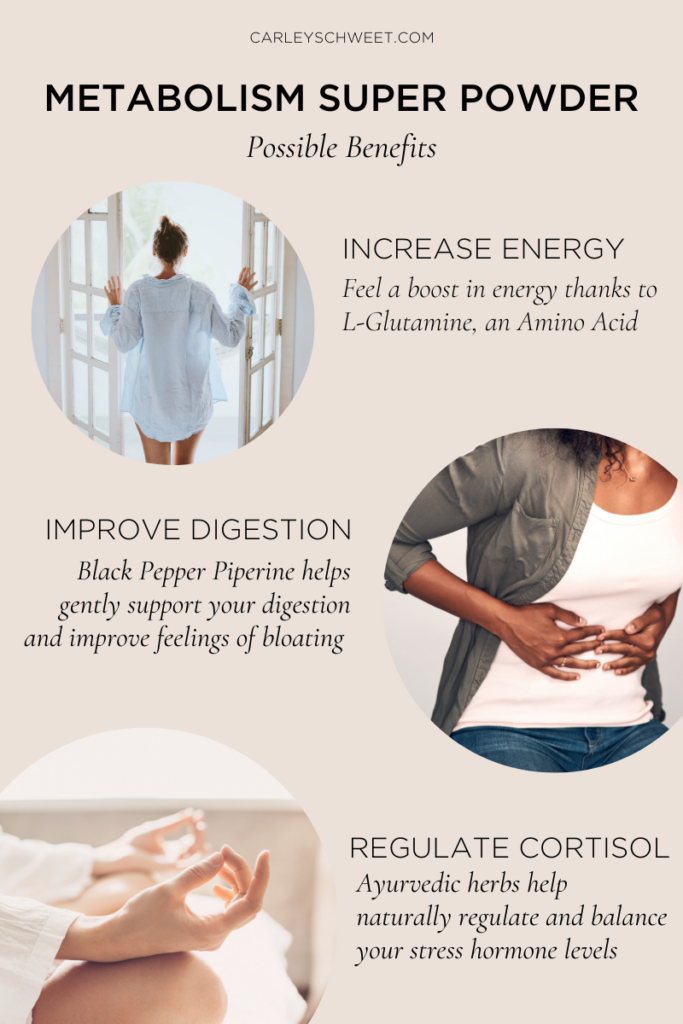 You may be wondering, how do you use Sakara Metabolism Powder?
Sakara suggests that you use one packet per day for at least two weeks for the best results. As I mentioned above, if you're sensitive to herbal stimulants or caffeine, I suggest starting with half a packet.
Once I got more comfortable taking the Metabolism Powder and knew how my body would react, I began experimenting with it at breakfast time.
Tip: due to the increased energy that comes with this product, I definitely suggest using it in the morning or early afternoon so it doesn't interrupt your sleep cycles.
I tried adding it to banana and almond butter smoothies (so yummy) and mixing it with my overnight chia seed pudding (also delish), but my favorite way to use this powder was to cook it into my morning superfood-filled oatmeal. I added some cashew milk, ground flaxseed, cinnamon, a pinch of sea salt, and some fresh apples, and wow – it quickly became my go-to breakfast.
If you're looking for more ideas on how to use the powder, check out these recipes I found in Sakara's S-Life Mag:
If you're more of a drink-type person, you could consider blending the Super Powder with warmed coconut cream and cinnamon or adding it to your daily coffee. It's also really yummy simply blended into hot water and poured into a mug. It tastes very cacao-latte to me and froths up quite nicely.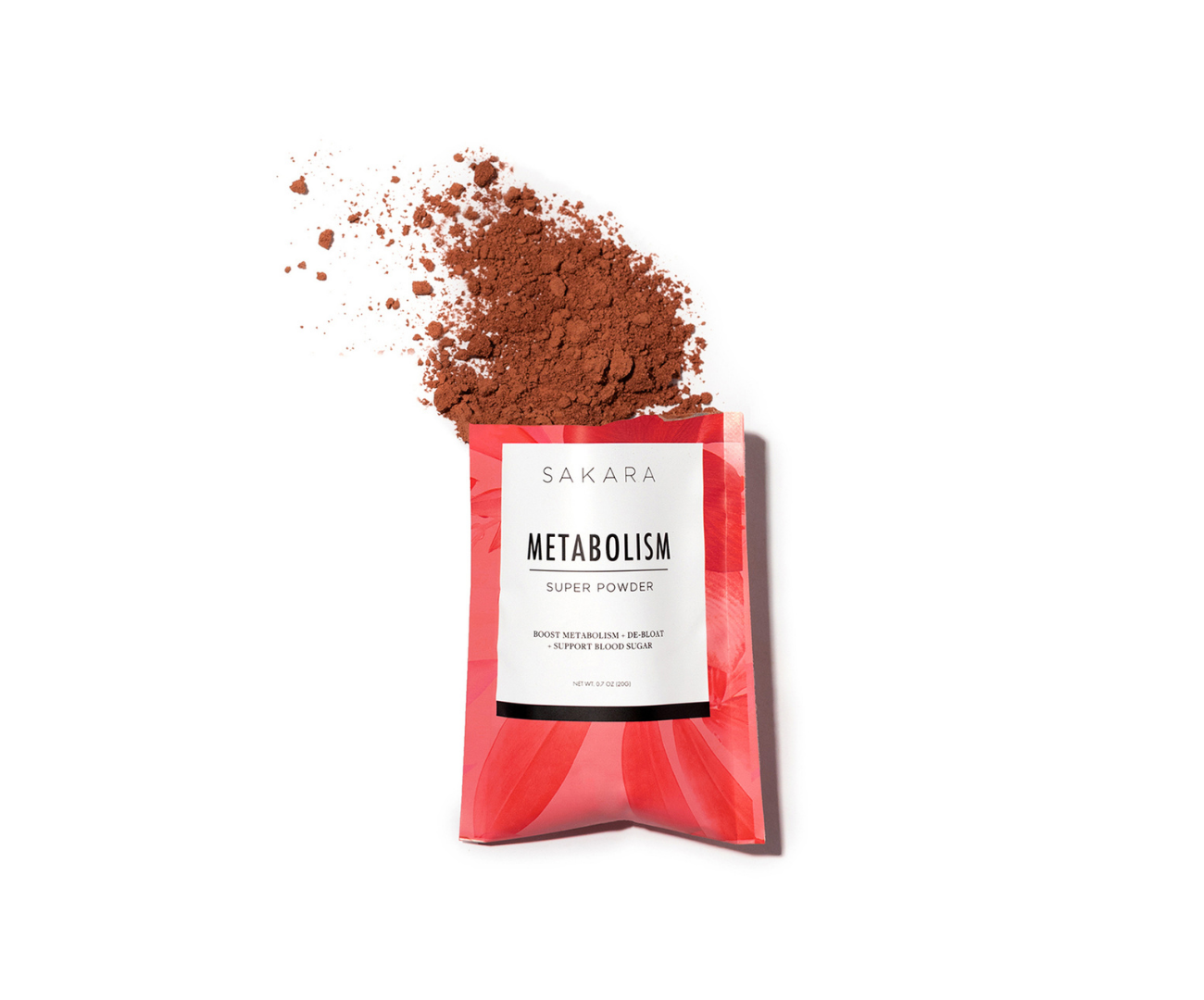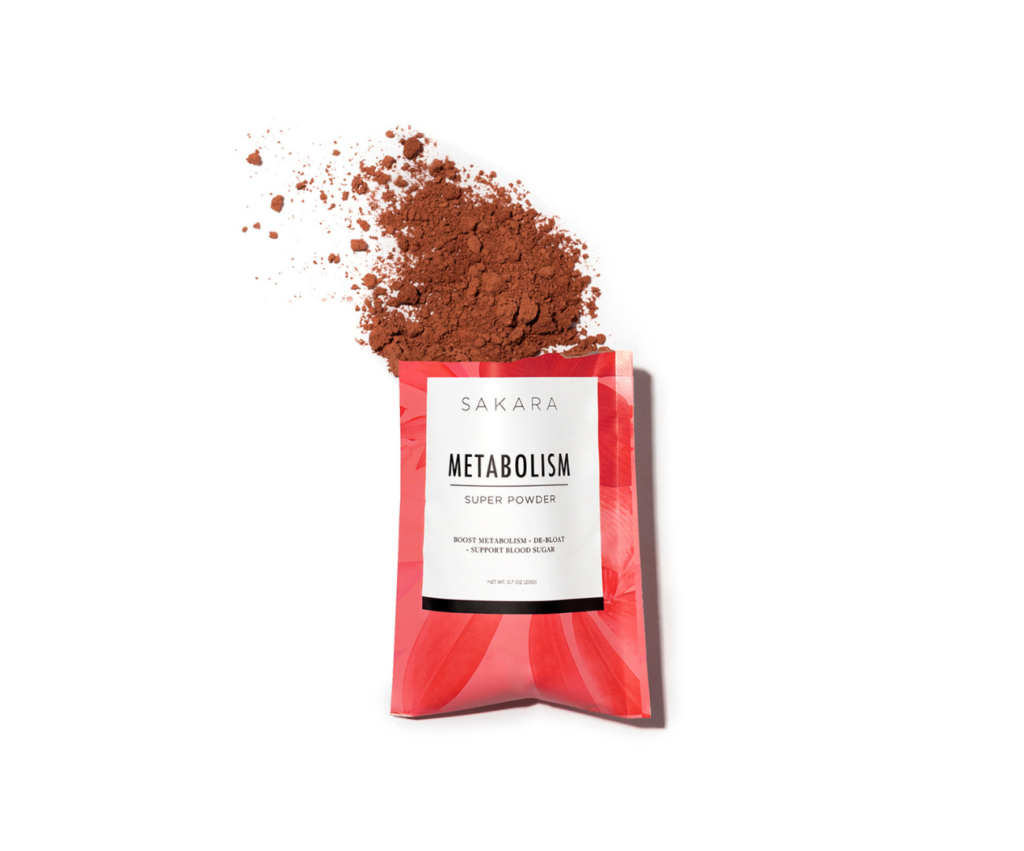 A closer look at the Metabolism Super Powder ingredient list
As with all of the meals and products designed and created by Sakara, the Metabolism Powder is packed with intentional and top-notch ingredients designed to help you fire up your metabolism, eliminate bloat, and reduce overall puffiness.
Horsetail Extract
Remember, when I mentioned that the Metabolism Powder increased my peeing frequency? The horsetail extract is why. It's a natural diuretic that works to decrease bloat and puffiness.
L-Glutamine
The increase in energy? That's thanks to L-Glutamine. This amino acid also helps encourage digestion and helps tone down cravings.
Gymnema Sylvestre
This Ayurvedic herb naturally helps regulate blood sugar and cortisol levels (and my goodness, we could all use a little support in the cortisol department).
Fucoxanthin
An antioxidant hailing from brown seaweed kelp that can help lower body fat.
Black Pepper Piperine
This ingredient helps to boost metabolism, fight overall systemic inflammation, and enhance digestion. Yes, please.
If you're curious about the exact mg per serving of the ingredients listed above, check out the below nutrition label. You can read more about the science behind the ingredients found in the Metabolism Powder in this informative blog post.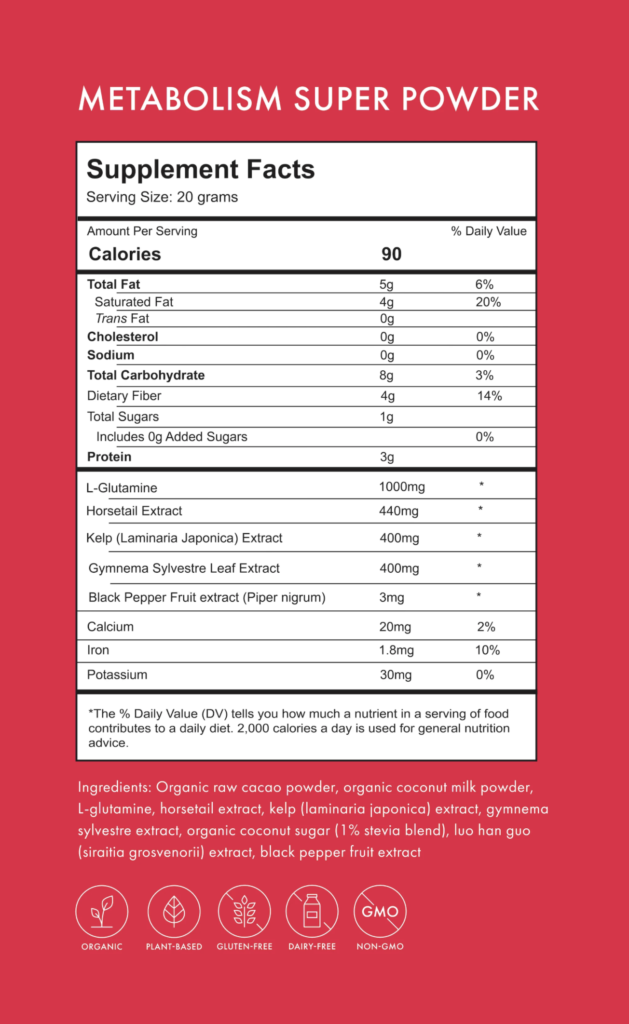 Overall, does the metabolism powder work?
Ultimately, I do believe that it does. Between my increased energy, improved feelings of lightness, and more regular bowel movements, my metabolism and overall vibe felt incredibly boosted by the Metabolism Super Powder.
If you are looking for a supplement to add to your daily routine and healthy lifestyle to support a healthy metabolism, I believe this is truly a great, intentionally-created, and high-quality product. The bottom line is that I've always been completely blown-away by Sakara's products and meals, and this powder is no different.
Please consult your doctor if you are pregnant, nursing, have diabetes, or another existing condition before beginning this or any supplement program.
Want to save 20% on your Metabolism Powder order? Here's how!
If you're ready to take the leap and try Sakara's metabolism powder for yourself, you can save 20% on your first order with my exclusive code. Click here to add the Metabolism Super Powder to your cart now.
Enter code XOCARLEY at checkout
to save 20% on your entire order.