While 2020 is no doubt the year of the road trip, it can feel intimidating to adventure out to the great unknown with a little one in tow. Here's how to take an infant on a cross-country road trip.
I'd be lying to you if I said I wasn't extremely hesitant when my husband first mentioned the idea of taking a road trip to Kentucky to visit family. When I did the math, I realized we had almost forty (yes, FORTY!) hours of driving ahead of us, which absolutely terrified me. I mean, we had a seven-month-old, for goodness sakes!
Ultimately, I knew that if we wanted to safely and confidently visit family, a good old-fashioned road trip was the way to make it happen. So, we loaded up and hit the road with baby in tow.
I've broken this post out into a few different categories to help you access the information you're most interested in reading about.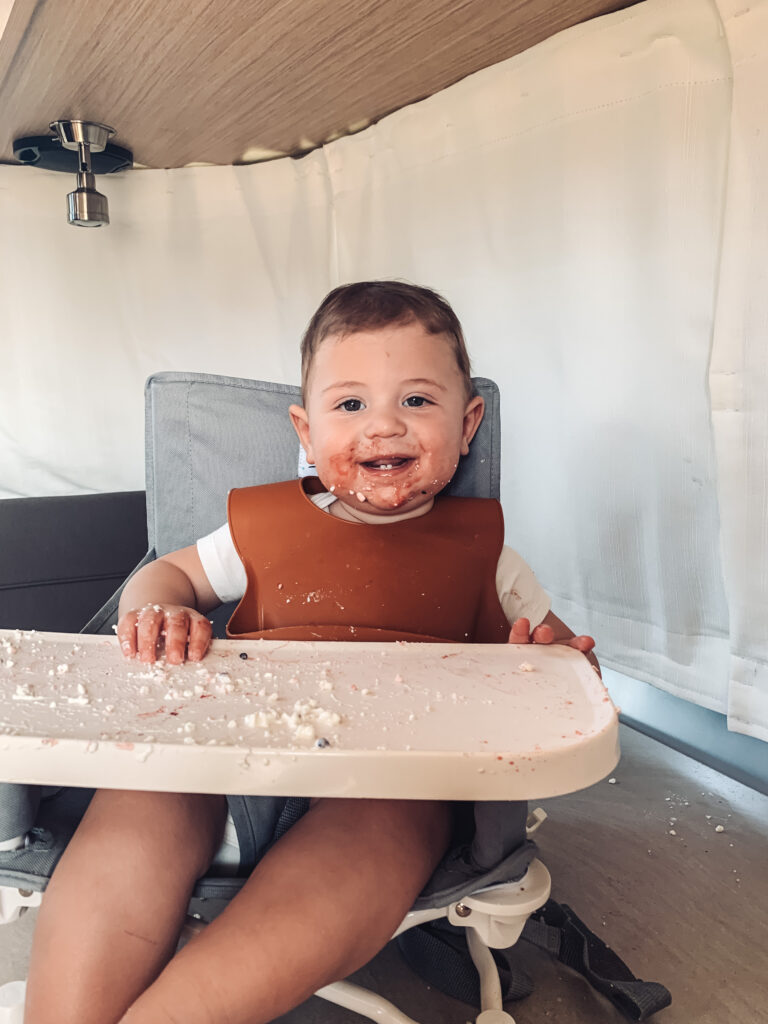 A few months after we safely returned home from our first cross-country adventure (more on that trip here), we began to get the itch again. This time, the destination was southern California. As I write this, I'm sitting in our Airstream parked on the street in front of my husband's childhood home.
So, it's safe to say that we've learned a few things between a road trip to Kentucky and southern California from our home in the Pacific Northwest. I'm sharing my top tips for road tripping with a baby, plus everything you'll need to keep the journey as stress-free as possible.
How to plan a road trip
Planning a road trip with a baby in tow can feel daunting for many reasons. Thankfully, there are some helpful tools to make planning your adventure with your little one easier to approach and manage.
First, start by answering a few questions.
In total, how many days do you want to be away from home?
Are there any must-see attractions or cities?
How many nights do you want to spend in each location?
What vehicle/vehicles will you take? Is it up to date on maintenance?
Once you have a general idea of your trip, the Roadtrippers app can help you begin to plan your route and stops along the way. This app is a lifesaver, and will even help you to calculate your total gas expenses. If you plan on doing more than one trip a year, I believe it's worth splurging for the pro version to unlock unlimited stops.
Pro tip: you can save $5 on the premium version of the app with code BTR5QTP. Check out Roadtrippers now.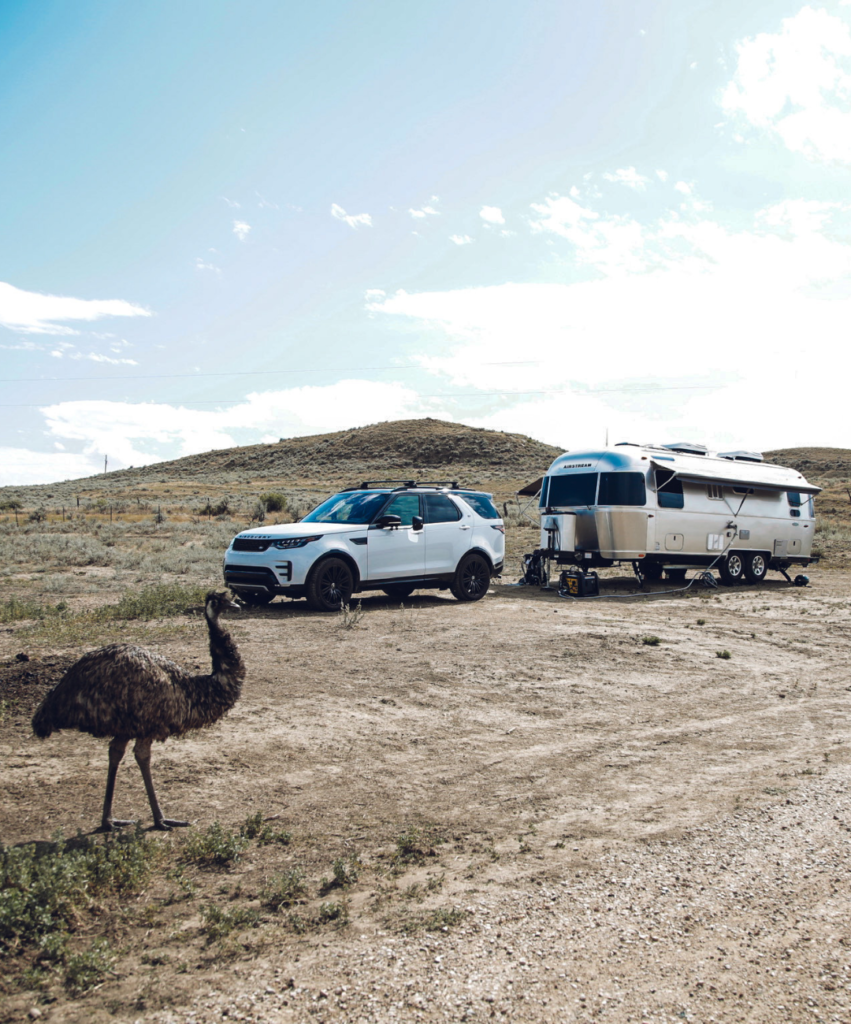 Tips for road-tripping with a baby
Whether or not you're traveling with a camper trailer, the road-tripping tips I share below will help you on your journey. We travel with our Airstream (affectionately named Bertha II) in tow, so we have the added convenience of diaper changes, lunchtime breaks, and bathroom stops at our fingertips.
1. Make a list and check it twice (or maybe three times)
Give yourself plenty of time in advance to start collecting what you need for the trip. I suggest starting a shared note on your phone with anyone going on the road trip so they can add and edit items as needed. Having a shared note helps to take the pressure off of you and helps others stay accountable for having what they need while on the road, too.
Don't worry, I share details on how to plan a road trip with a baby below!
2. Pack the essentials, but not too much
One of the tricky parts about road tripping is not only determining what to take but figuring out how much to take of each item. For example, Landon's formula is only available through the mail, so I knew I needed to pack enough to get us through the trip. It's not something I can pick up at a local store, unlike his wipes or snacks.
Space is minimal on a road trip, and it's no secret that babies can come with a lot of gear. Take some time to determine how much you need to bring of each item while on the road. Also, I highly recommend keeping an emergency bag of diapers and wipes in the trunk of your car. Trust me on this one!
3. Bring enough snacks and toys
One can never have enough healthy snacks and toys on a road trip. I've found that packing a collapsible snack cup (Landon loves this one) along with a few different age-appropriate snack options is essential for keeping him relaxed when he gets fussy.
Also, I recommend bringing along your baby or toddler's favorite toys but also picking up one or two new ones to introduce along the journey. Toys that can attach to the seat or car seat – like this avocado toy – are great options so you aren't constantly picking up thrown objects.
4. Know when to call it
If, at any point, your adventure is becoming way too much stress than fun, know when to adjust the plan to help keep everyone as content as possible. My husband and I have ended both of our long road trips a few days short because we were not having fun anymore.
Life on the road is fun, but it can also be exhausting. Don't beat yourself up if you have to go off schedule to keep your sanity intact.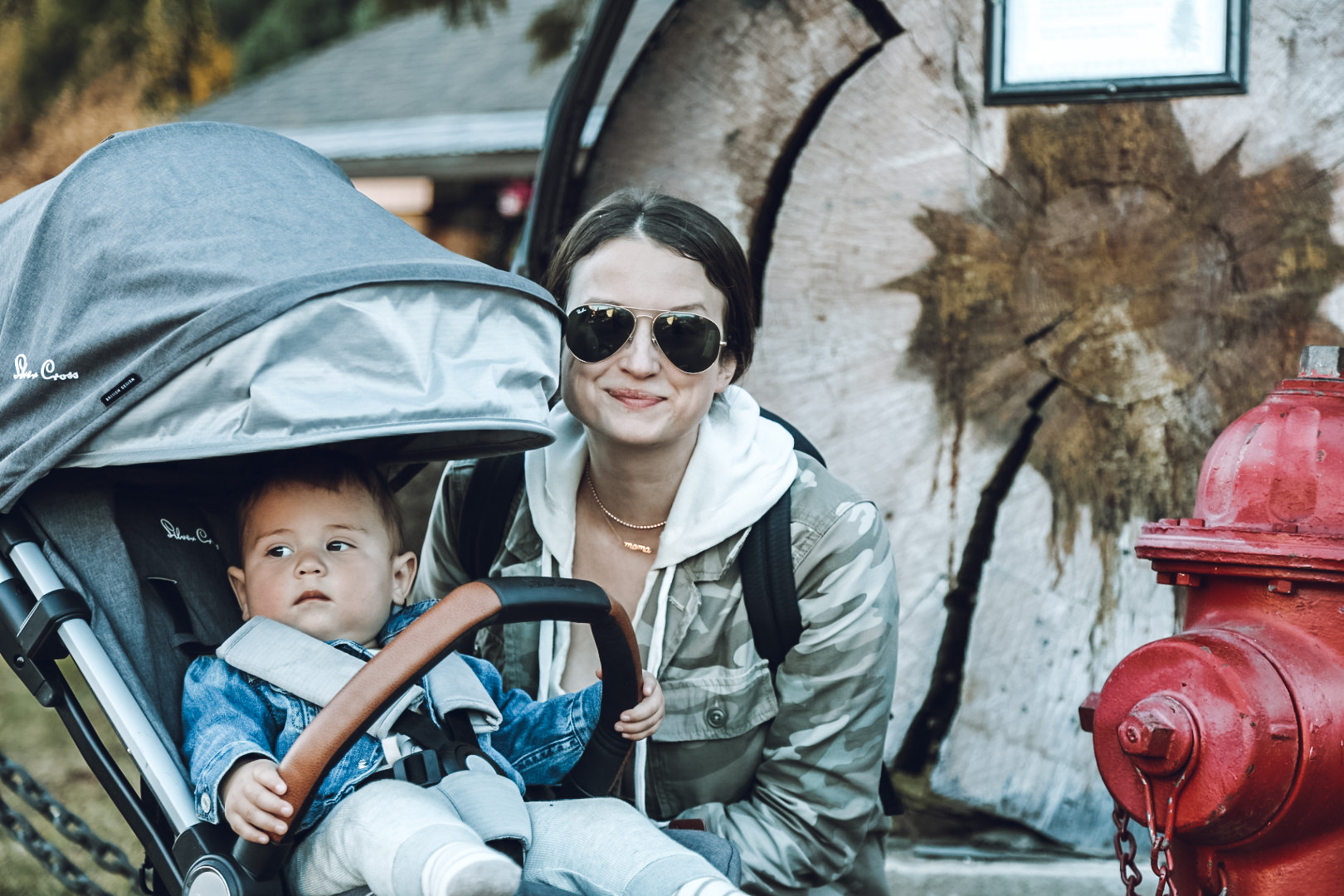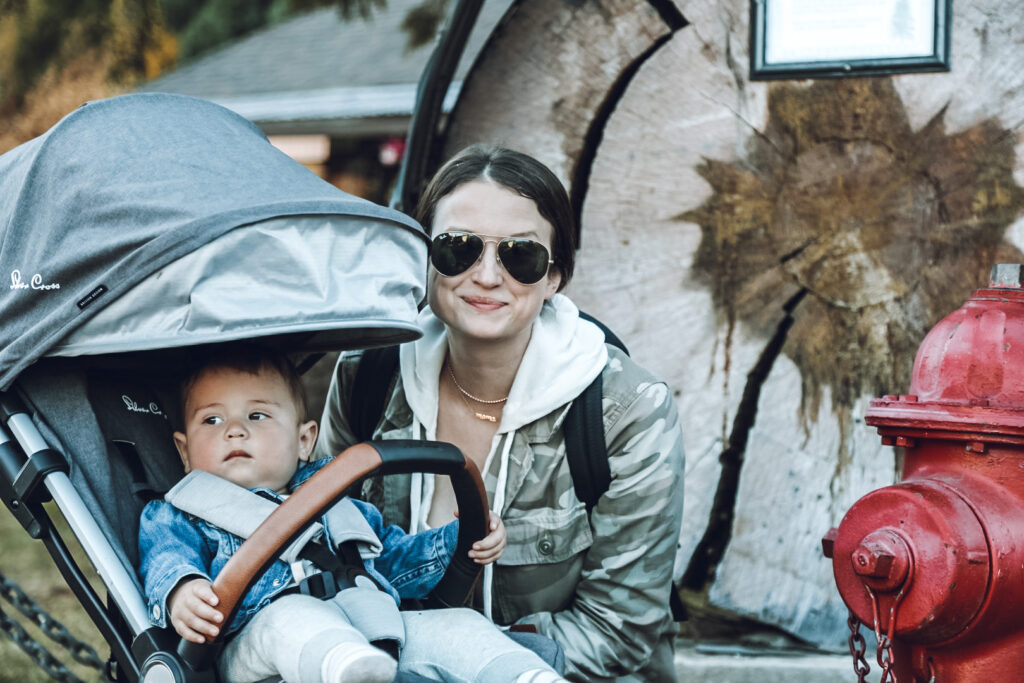 How to feed baby on a road trip
Of course, the age of your little one determines how you'll safely feed them on a road trip, so many sure to take my suggestions and adjust to your family's needs.
As mentioned above, make sure to have plenty of snacks available, this includes breastmilk and formula. You might want to consider getting a quality cooler (this is the one we use) to help keep milk cold while in the car, and to stash extra snacks and easy meals. I never want to see a turkey sandwich again.
While on the road with our baby (now almost toddler), we mix and feed bottles in the backseat that he drinks while in his car seat. I'm always in the backseat with him while he's eating or drinking anything. We also build in stops for lunch so he can hop into his high-chair for a proper meal.
Tip: Yumi is a lifesaver on road trips, especially the puffs and bites. Check out how you can save 50% on your first Yumi order today!
If your little one is eating solids, a portable high-chair (obsessed with this one) is a convenient way to feed breakfast or lunch while on a rest break. Think easy meals such as shredded chicken, avocado, banana with almond butter, baby pancakes, etc.
Also, you can shop my essentials for feeding baby on a road trip (without losing your mind) below.
How to clean bottles on a road trip
Washing and cleaning bottles can feel tricky on a road trip, but thankfully there are some helpful tools to get them as clean as possible without always having access to a sink.
First and foremost, make sure to always have clean water on hand, both for mixing bottles (if your baby takes formula) and washing out the bottles. Then, use a foaming bottle wash to clean and sanitize the bottle and its parts and setting them out to dry on a travel drying rack (linked below). I suggest doing this at least daily.
In between your deep daily clean, I rinse the bottle with water and use sanitizing bottle wipes to clean up any bacteria. I suggest having three bottles on-hand to give yourself a good rotation and availability without over-packing. Also, make sure to always wash or sanitize your hands before preparing a bottle.
I've linked my three must-have products to help clean your bottles on a road trip below.
How to get baby to sleep on a road trip
Getting your baby or toddler to sleep on a road trip isn't always easy. In fact, you could follow all of the tips I'm sharing below, and your little one still might have trouble falling or staying asleep. So, try not to beat yourself up if there are a few rocky days and nights. There is always a period of adjustment to any new sleeping situation, so do your best to have patience and make everything as comfortable and sleep-friendly as possible.
1. Time your departure with nap time
And pray that your little one will fall asleep in their car seat. Make sure to change their diaper before you hop in the car, and use a portable sound machine (linked below) to help lull him or her off to sleep. Turn on some lullabies and do your best not to make eye contact or distract them while they're trying to doze off.
2. Use a SlumberPod at your destination
Whether that's your camper trailer or a hotel room, a SlumberPod is a safe and easy way to create a blackout environment for your snoozing baby. This portable tent fits safely over any bassinet or pack and play without altering the structure of the safe sleep environment. It also has a built-in monitor pouch and vent flaps for circulation.
You can check out Landon's sleeping situation in our Airstream below. He has learned to sleep like a pro on our road trips and camping adventures.
Save $$$! Enter code CARLEY20 at checkout to save $20!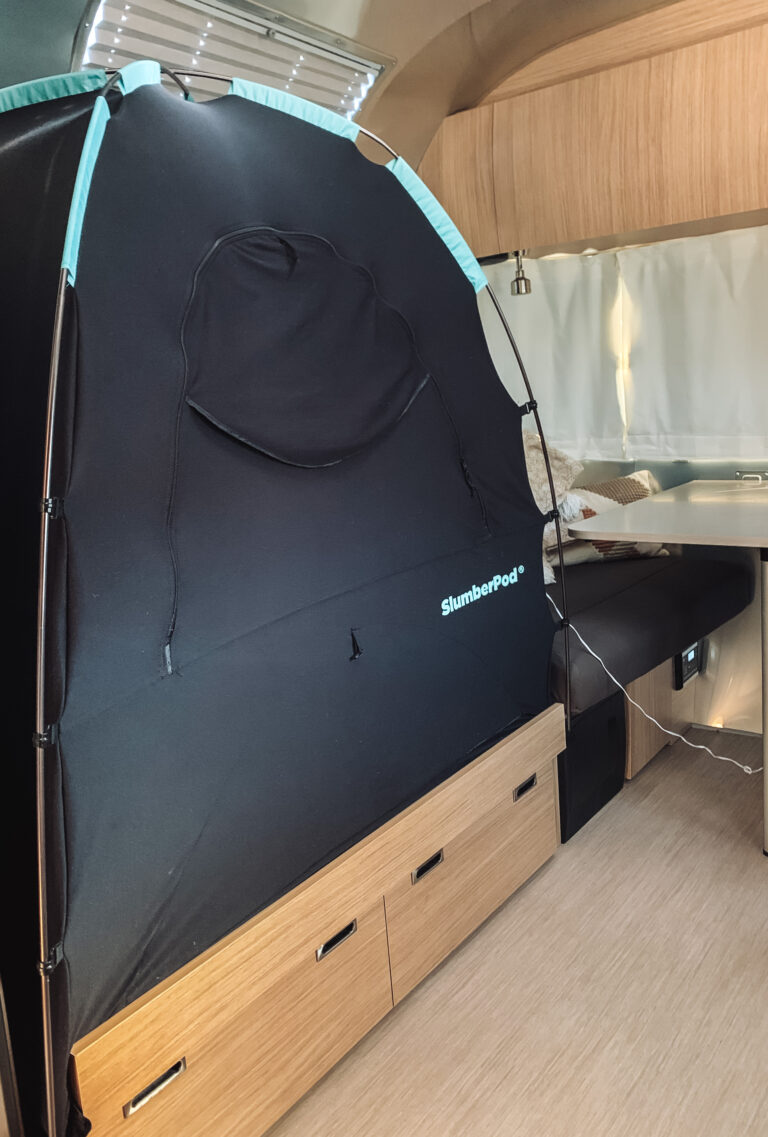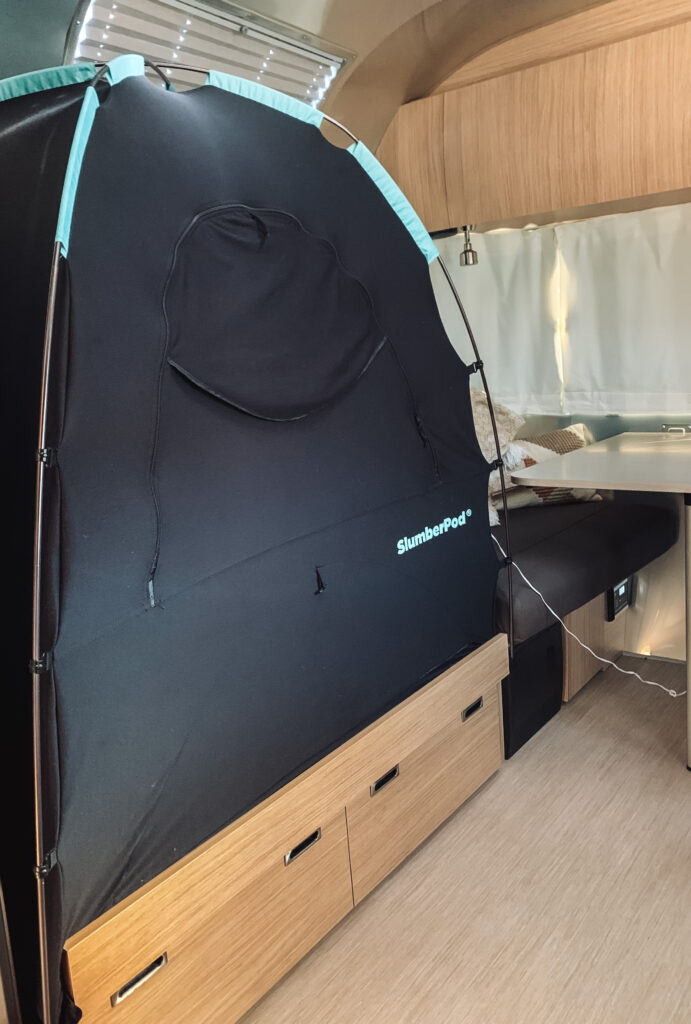 3. Choose your sleep sack wisely
Landon only sleeps in his Woolino sleep sack, and we only have one. Yikes. I love the Woolino because it's made out of wool and can be used year-round by creating a micro-climate around your little one to keep them cool when it's hot and warm when it's cold. I used to get so stressed trying to figure out what TOG to wear and when, and Woolino thankfully solved that problem for me.
Yes, they're a bit pricey, but as I said, it's the only sleep sack Landon uses, and it's held up beautifully in the wash. Also, small Velcro slits are on the front and back to make for easy use in the car seat. No much bunched up sleep sacks and unsafe car seat use.
Must-have items for road-tripping with a baby
In addition to all of the items I listed above, there are some other essentials that you should consider bringing along with you on the road.
While not the most environmentally-friendly option, the unfortunate reality is that dirty diapers and cars do not mix well, at all. These disposable diaper pails are a must-have, and really help contain the stink until you can throw away your collection of dirty diapers.
Also, consider getting a backseat organizer (linked the one we use below) to help contain all of the snacks, toys, diapers, bottles, etc. in one convenient place. Being organized is key to enjoying your time on the road.
I also suggest having a car seat that your little one loves and an easy-to-use travel stroller. We love the Silver Cross Jet because it comes with a rain cover and folds up to carry-on friendly size. Landon loves hanging out in the stroller, too, and it even has a built-in vent-flap for added circulation on hot days and a hidden newborn cover.
Final thoughts on road tripping
Whether you're staying close to home or heading across the country, road trips are a great way to explore the world and get in a lot of quality family time. I believe that no matter where you choose to go or how you choose to get there, road trips are ultimately what you make of them.
It's a chance to challenge yourself and see what the country has to offer along the way. You'll quickly be thrown outside of your comfort zone and, hopefully, pleasantly surprised at just how easy this all can be.
Tell me, where are you headed? Comment below! Happy road tripping, friend!
Shop all road trip items
This post contains affiliate links. I will receive a small commission – at no extra cost to you – should you purchase via a link on this site. Thank you for supporting our small business!