Once Landon received the go-ahead from his pediatrician and was showing a genuine interest, we decided to try solids for the first time. Plus, keep reading for an exclusive Yumi coupon code!
Psst! Here for the Yumi coupon code?
While there are many schools of thought and varying ways to introduce your baby to solids, remember that it's essential to do what works best for you and your family, all while keeping food safe and fun.
Keep reading to learn how Yumi can help take the stress out of preparing and feeding organic, whole-foods based nutrition to your little love.
As of writing this, Landon is just about five months old and showing a substantial interest in my food. He's grabbing at my fork, reaching for my plate, and trying to grasp my mouth as I chew – the kid loves food! At his four-month appointment, our pediatrician gave us the all-clear to go ahead and start introducing solids but assured us there's no rush to the process.
Eventually, I'd like to follow a loose baby-led weaning protocol, but for now, we're having fun exploring organic fruits and vegetable purees thanks to Yumi stage one. Landon has so much fun learning about different tastes and trying new things. He even attempts to spoon-feed himself!
What is Yumi?
Yumi is an organic meal delivery service designed for babies and toddlers!
With Yumi, you'll receive freshly-made meals and snacks delivered to your door for your little one. The menu changes weekly depending on the season, and you can rest assured that everything is organic and never has any synthetics, additives, or concentrates.
Yumi designs the meal program for your baby, and their nutritionist will help to recommend the perfect plan based on your baby's developmental needs. Pretty cool, huh?
For our family, we chose Yumi because working from home can be hectic and involve a lot of difference. I needed a way to introduce Landon to a variety of produce without the added stress of homemade purees. Now, he can learn about different tastes (he loves sweet potatoes!), and I don't have to stress about making his next batch of food.
What kind of baby food does Yumi offer?
If you head to the Yumi website, you'll see they offer four stages of food plus a variety of finger foods for the more experienced eater.
Stage 1: smooth single-ingredient purees
Stage 2: smooth multi-ingredient purees
Stage 3: multi-ingredient purees with seeds or grains
Stage 4: a chunky mix of multiple ingredients
Finger foods: nutrient-dense bites and finger-friendly puffs
The Yumi program is designed to help your baby experience food in a way that is developmentally appropriate and also expose them to a variety of nutrient-dense food.
You'll find that their meals vary by week and season on the Yumi menu, ensuring your little one is eating as close to nature as possible.
Check out some of the current meal offerings for spring 2020:
Stage 1: spinach, cauliflower, strawberry, blueberry
Stage 2: strawberry basil pie, cauliflower soup, apple pie, baby borscht
Stage 3: blueberry chia pudding, apricot turmeric buckwheat bowl, carrots + spinach + millet bowl
Stage 4: pea + carrot combo, bell pepper + quinoa combo
Finger foods: pizza bites, Cubano bites, cauliflower puffs
The below is a sample menu of Yumi that I created using some of their most popular meals. While these meals may not be exclusively what your baby or toddler eats in a day, they are a great foundation for a nourishing mealtime.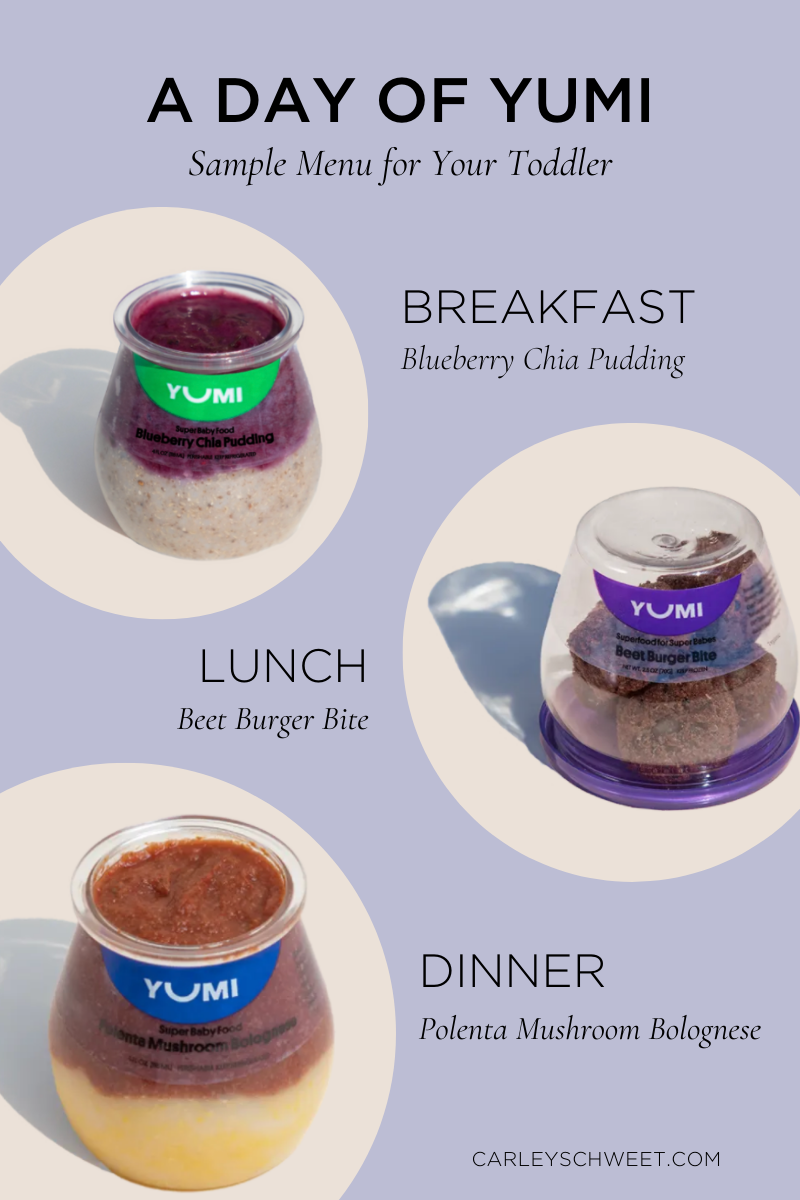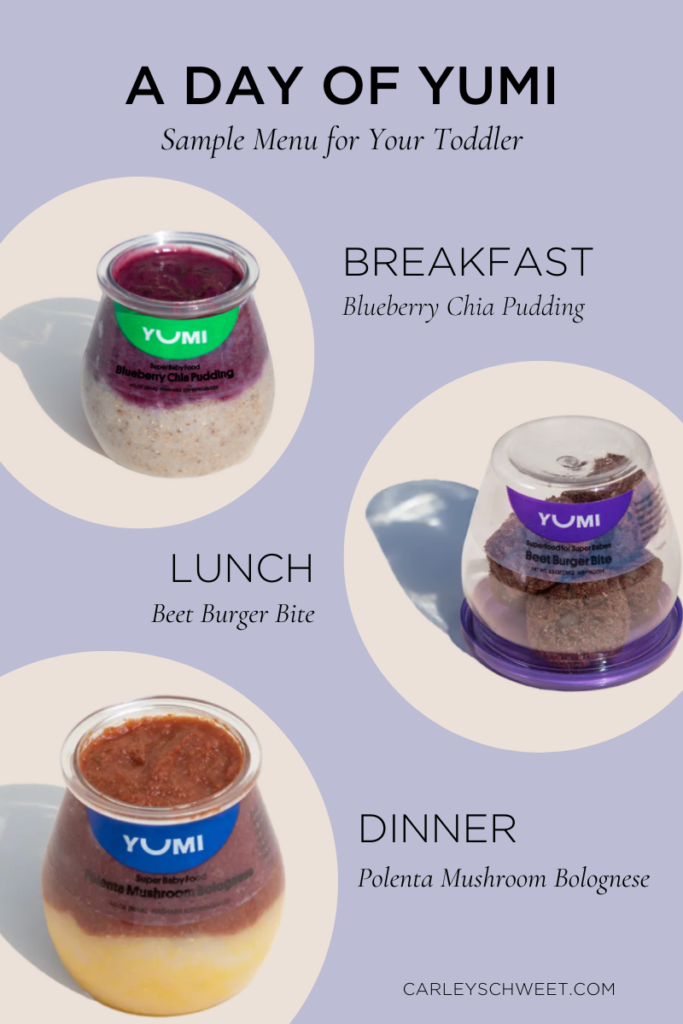 Benefits of ordering from Yumi
Aside from the convenience factor, Yumi helps busy families put healthy, nutrient-dense, and organic food in front of their little ones.
Personally, the thought of making organic baby food in the kitchen sounds excellent in theory, but it's not realistic for me. Homemade food for him is also not a priority for me but ensuring he's receiving healthy food is. I know that paying extra for super-fresh and quality meal delivery for my son will alleviate some of my stress and mom-guilt.
Also, with Yumi, your little one is exposed to a variety of fruits and vegetables from an early age. There is evidence that the more early exposure to a variety of fruits and vegetables a child has, the more likely they are to ultimately choose a healthier diet.
The bottom line is, by choosing Yumi, I feel confident I'm helping set my son up for long-term success with his health while simultaneously alleviating stress on my end.
How does the food taste?
Like real food! I've sampled everything my son has eaten, and it tastes how you'd expect the stage one single vegetable purees to taste. I found myself licking sweet potatoes off of my hand earlier today without a second thought.
Now, I can't speak to the taste of the food in the other stages, but I do have confidence that they're just as delicious. I'll be sure to update this post as Landon moves through the stages and different meals.
When it comes to Landon and what he thinks, while I can't directly ask him, his body language tells me he thoroughly enjoys what he's eating. He waves his arms and legs around like crazy when he sees the spoon coming his way. It's really cool to see him begin to recognize and get excited about food.
So, how much does Yumi cost?
The cost depends on how many meals a day you are replacing with Yumi. You can learn more about the current pricing here, but keep in mind that this price includes:
Fresh, never frozen meals
No pre-processed ingredients
No preservatives or concentrates
Organic ingredients
Higher nutritional value than store-bought baby food
While Yumi is typically more expensive than store-bought baby food, I can't stress the difference in quality enough. With Yumi, you're gaining the confidence you're feeding your little one top-shelf food with less stress and frustration on your end.
---
Use my Yumi coupon code!
Simply click the button below, and enter code
CARLEY50
to claim your 50% discount.
---