After I finally got the hang of keeping a tiny human alive, I realized I needed to consider how to stimulate his brain and encourage, you know, mental development and stuff.
Lovevery is designed to do just that, but is it worth the price tag? Keep reading to find out my honest thoughts.
I've always told myself that I'd be one of those "cool, minimalist moms" whose babies play with things found in nature and wear only organic clothes.
But somewhere in between the 100th poopy diaper change and reality, I quickly realized that I'm just not cut out for that life. Sure, my husband and I try to stick to the minimalist lifestyle when it comes to toys (we live in an old home that's greatly lacking storage), but the jury is still out on just how cool I am.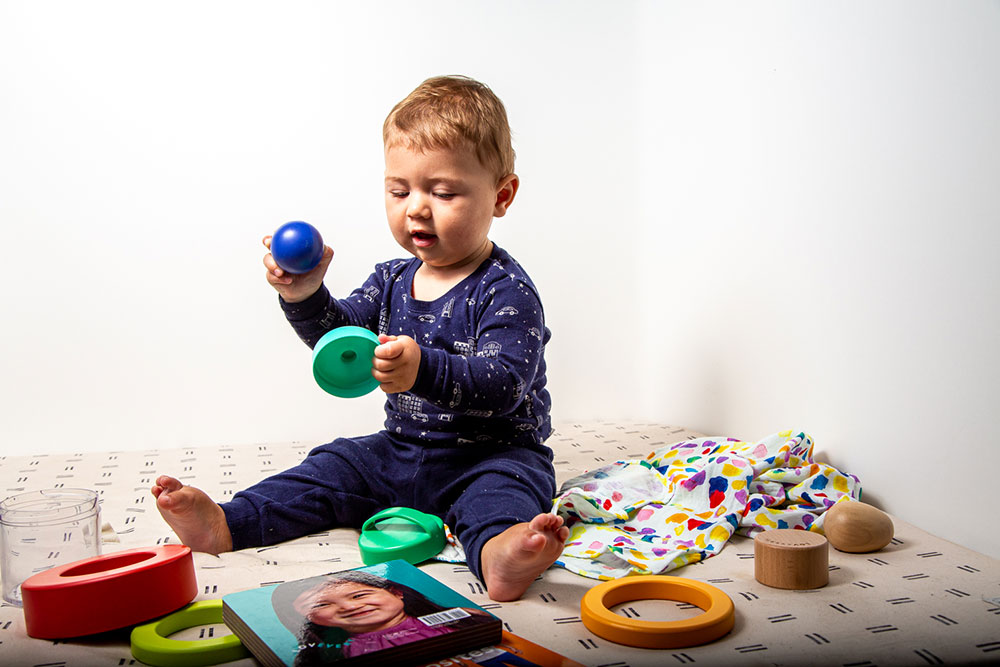 How did I find out about Lovevery?
To be honest, I'm not quite sure how I initially heard about Lovevery. If I had to take a guess, it was either through:
A. an Instagram ad
B. a late-night panic-induced Google session
C. most likely a combination of the two
Either way, I signed up to receive their personalized stage-based play kits when Landon was just a few weeks old and have received them in the mail every few months since
It's been so worth it to have beautifully-crafted, quality toys mailed to me for Landon, and it's reassuring to know that he will be playing with toys designed for his exact developmental stage.
This post contains affiliate links. I may receive a small commission – at no extra cost to you – should you choose to purchase through a link on this page. Thanks for helping me continue to provide free content for readers like you!
What is Lovevery?
Sure, Lovevery looks like a "toy company" at first glance, but it's actually so much more than that. Founded by two parents, Lovevery is dedicated to providing parents with heirloom-quality, developmentally-appropriate products that encourage interaction, engagement, and creativity. You can watch the super sweet video on why Lovevery was founded here.
They offer various products, including a play gym + mat (our favorite mat because it's so versatile), stroller, block set, and a few more awesome things. I appreciate that their offering isn't overwhelming but instead thoughtfully curated to ensure you're not overbuying. You can check out the entire Lovevery product line here.
I love how they design the products with aesthetics in mind, so you won't feel blah about leaving them on display around the house. Plus, as I mentioned above, the products are heirloom-quality and something you could pass down for years to come. Not to mention, their products use organic materials.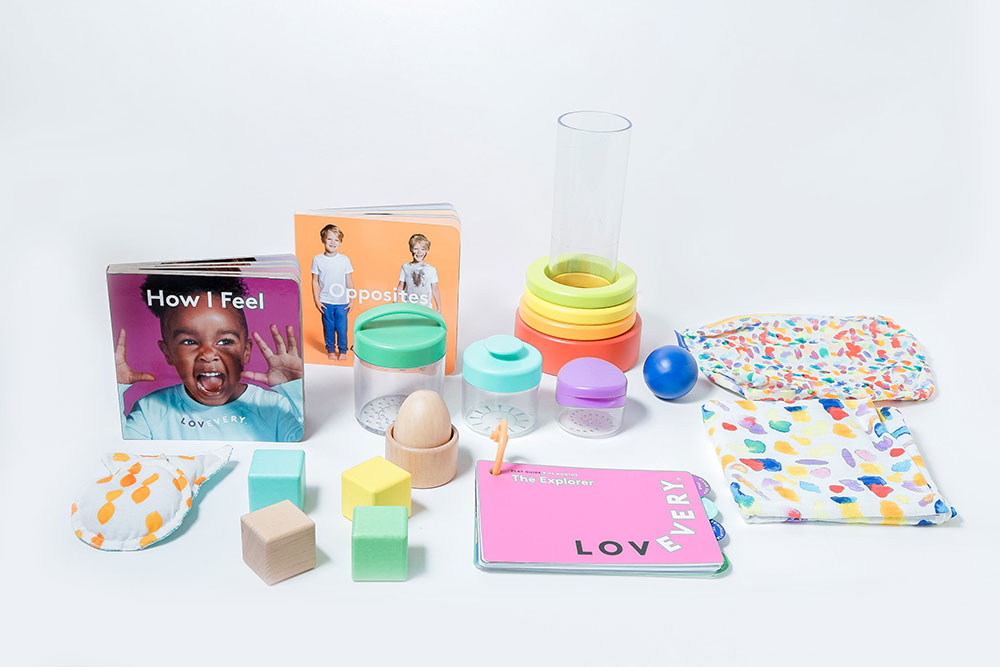 How does a Lovevery subscription work?
If you decide to go the subscription route, it's pretty darn simple! You fill out your child's information right on the Lovevery website, including their birthday/adjusted birthday. Once complete, you'll receive details on the most developmentally-appropriate box for your first shipment.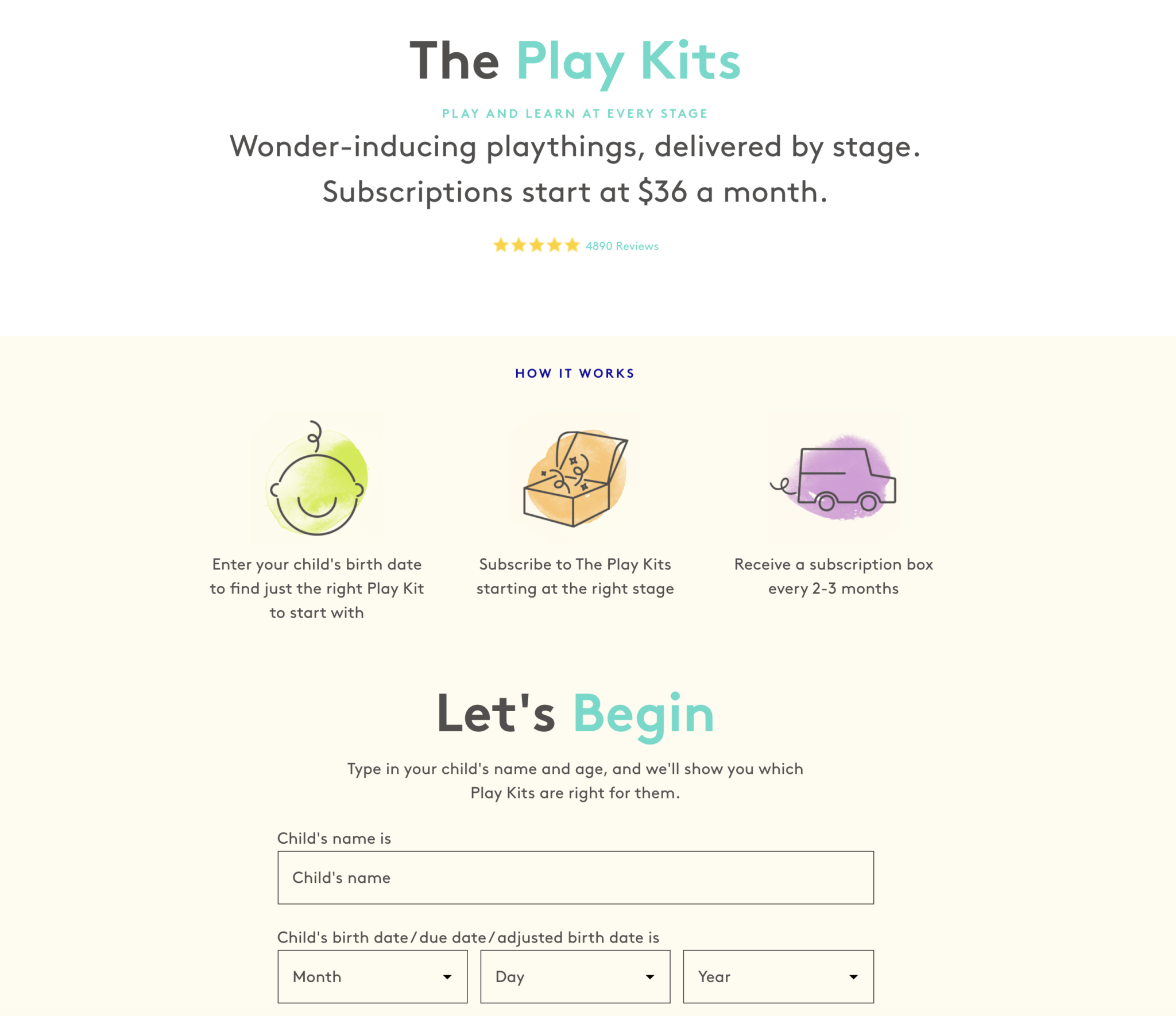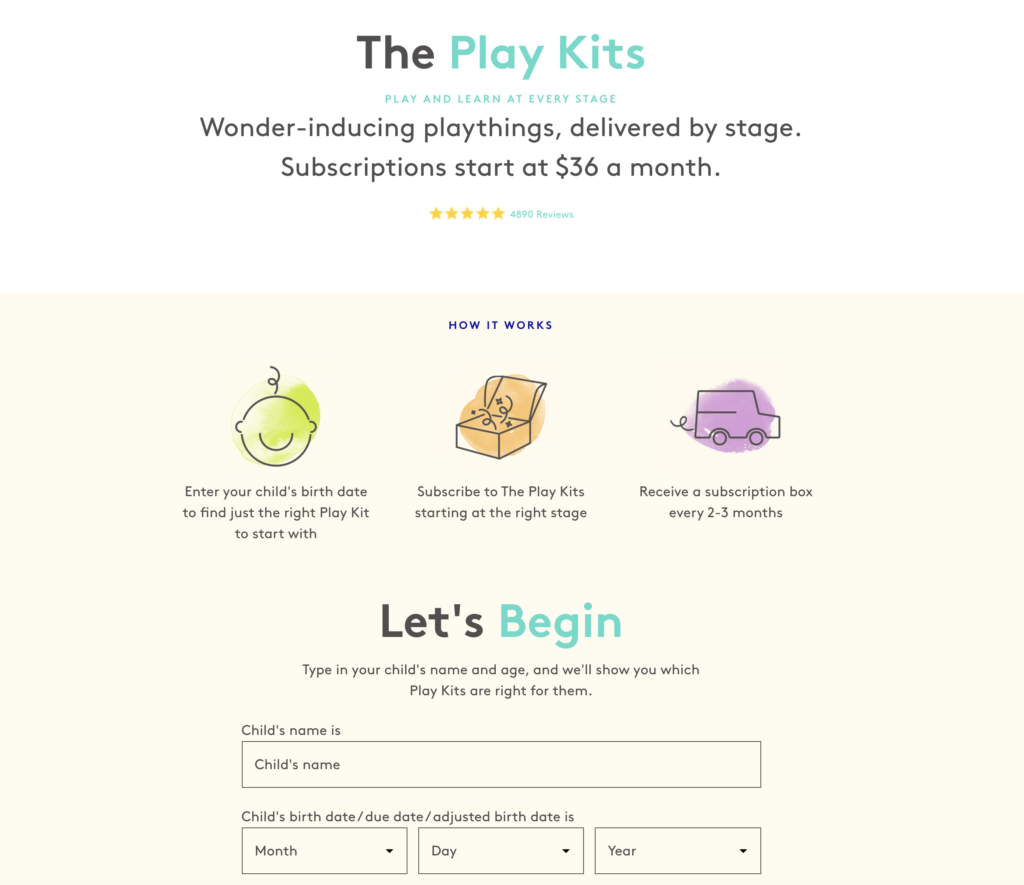 Once your subscription is up and running, you can expect to receive a shipment from Lovevery few months containing a box of new playthings and an instruction booklet for the household's adults. The instruction booklet outlines everything in the box and some developmental milestones you can expect around this time.
As you can see below, the kits are organized by age and range from newborn up to 36 months. It's fun to click around on each kit and see what you can expect to receive. You can navigate to the box details page by clicking here and scrolling down.
Is Lovevery Montessori-based?
Before I dive into whether or not Lovevery is based off of Montessori principles, it's important to share what Montessori is in the first place.
According to Motherly, Montessori is a form of education developed to appeal to a child's senses rather than fight them. This belief:
Has an emphasis on practical life
Focuses on the whole child
Encourages conflict resolution
Believes in fewer (but higher quality) playthings
Strives for freedom of movement
Prefers natural-based and open-ended toys
After using the Lovevery subscription for almost a year, I believe that yes, Lovevery is Montessori-based, but there are some distinct differences between them. If you're looking for more in-depth details, Lovevery outlines how they differ from Montessori here.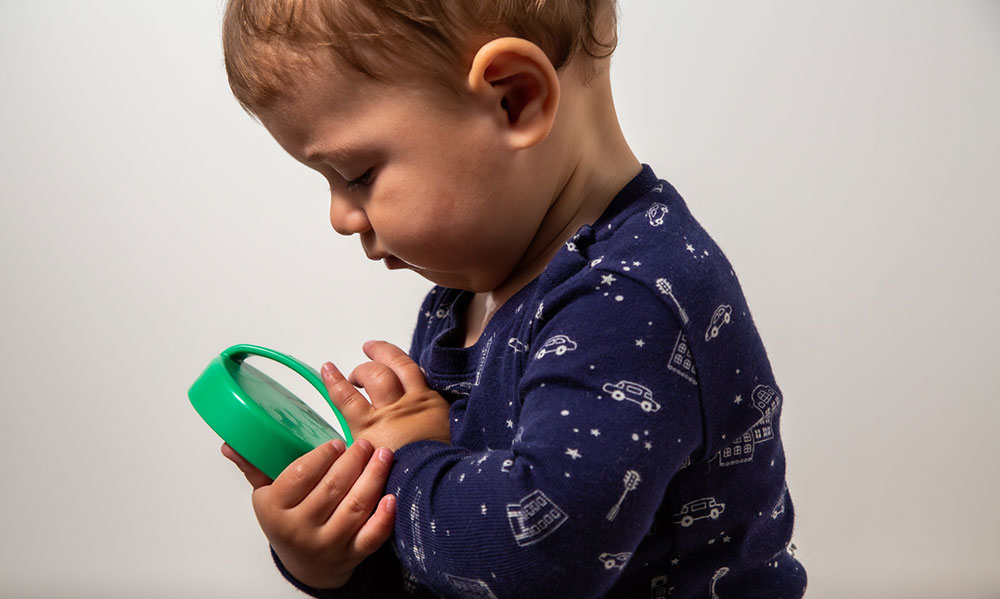 How much does Lovevery cost?
The cost of the monthly kit varies, but it comes out to about $35 a month.
Keep in mind that the Lovevery kits are delivered every two to three months, so the monthly cost mentioned above is an average number.
The beauty of the Lovevery subscription is that when you sign up, you enter your child's birthday, so their future shipments base off of their current estimated development. Meaning, you always have stimulating and engaging toys ready for your little one.
Check out the snapshot of my order history below to get a better sense of how much Lovevery costs and if it's worth it for you.
Note: the order placed in February includes the playmat and gym on top of the subscription, so the price is higher for that month.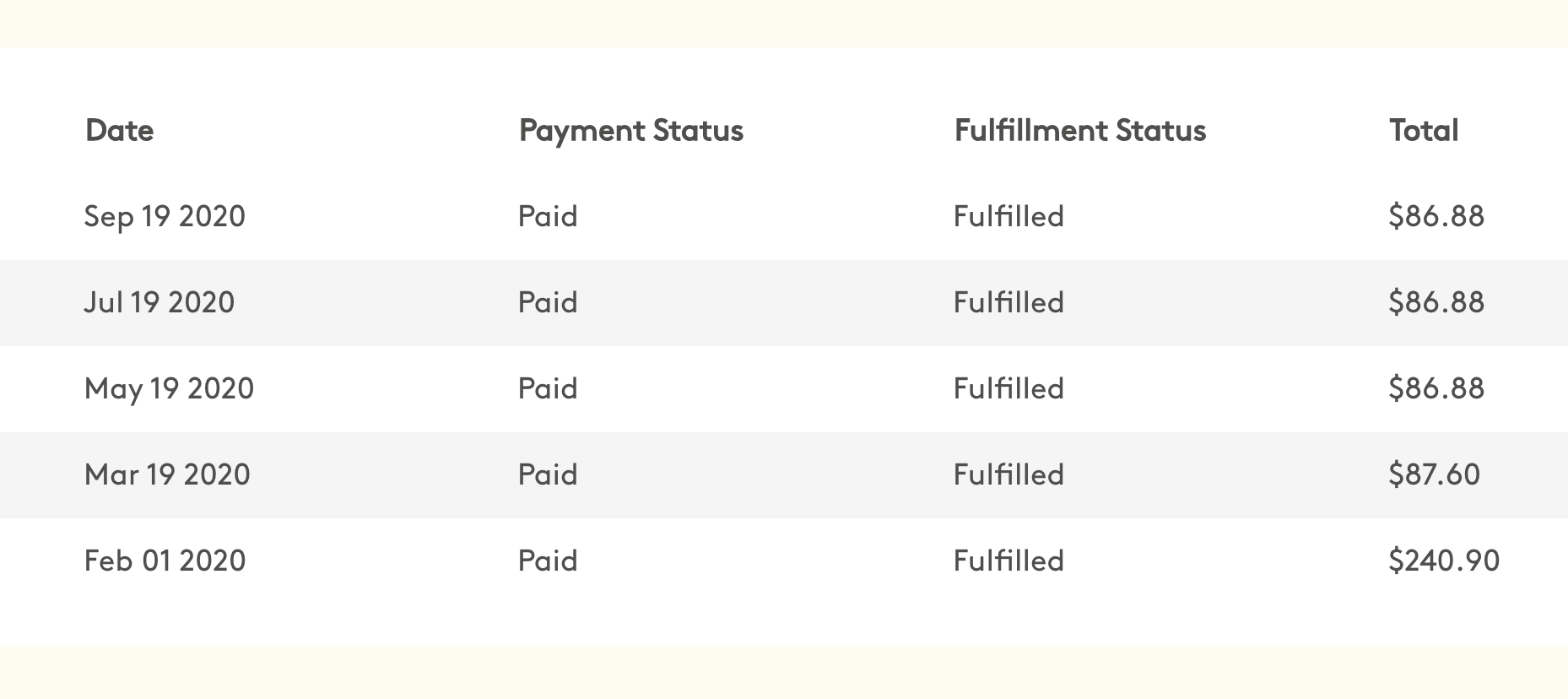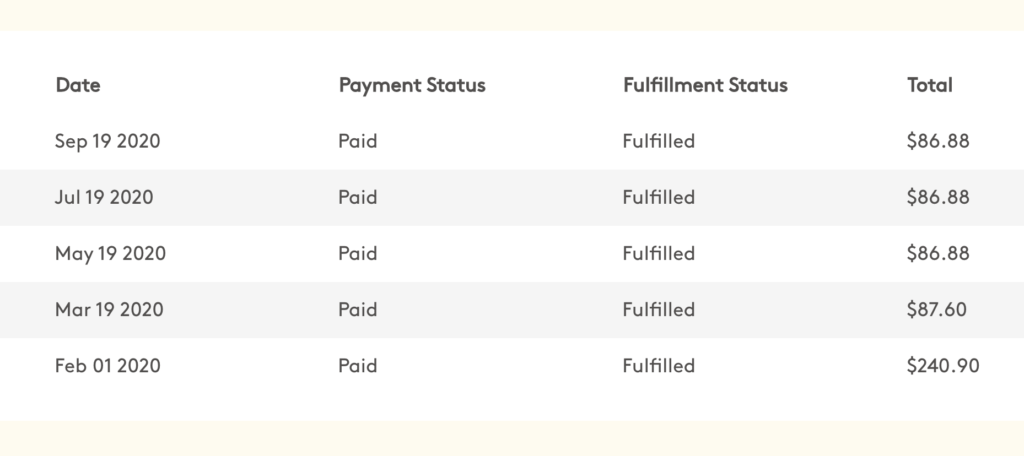 Is Lovevery worth it?
Lovevery is absolutely worth it. The subscription is the one thing I wish I put on my registry but didn't. Lovevery would even make a great group baby gift for a loved one that's expecting. You can read more about the gifting options for Lovevery here.
As you can see, the toys and games included in each kit are precisely designed to help your child developmentally and learn effectively. I can personally see a change in motor skills and spatial problem solving after only a few months of playing with the playthings found in the kits.
The subscription aspect also keeps things new and exciting for Landon and doesn't require shopping for new toys.
The benefits of Lovevery and its impact on my self-care
Sure, at first glance, it might seem silly to equate toys and self-care, but let me explain.
As a busy working mom, I've come to understand the power of outsourcing and tapping on someone to step in when I'm not the expert. Doing so allows me to release some of my mental load, frees up my time, and helps me stay focused on what I'm good at doing. Picking out toys for babies that encourage appropriate development isn't something I excel with, but Lovevery does.
When I signed up for Lovevery, not only was I saving myself the stress of researching, finding, and ordering playthings, I was also relieving myself of an immense amount of time (and clutter!). Plus, Landon loves discovering every new kit that arrives in the mail, and it's incredibly heart-warming to watch his curiosity grow.
Want to learn more tips for easier parenting? Check out my review on Yumi, the organic baby food meal delivery.