The way you unwind after a long day of work could make or break your overall wellbeing.
It can be all too tempting to flop yourself on the couch and watch TV for the rest of the night, but having a set routine, one that breaks those bad habits can empower you to relax and recover from a long and stressful day. Sometimes the last thing you want to do after a day at work is anything that requires more of your attention or the slightest bit of energy.
I get it.
Luckily, there are some pretty simple things you can start doing to boost your self-care and finally leave work at the office where it belongs. To get you started, check out my five simple ways to relax after work that you can start using to incorporate some much-needed rest and relaxation into your evening.
Why it's important to relax after a long work day
Aside from the obvious, getting into relax-mode after work is important because it allows you to really build boundaries within your life. Over time, you will train your brain to leave the stressful stuff at the office and welcome in a blissful state of being when you walk through the door, which allows you to become a happier person in just about every aspect.
So, what do you do to relax after work? First and foremost – let's agree that you'll make this practice a priority.
1. Make your home a sanctuary
Creating a peaceful home can make all the difference in your stress levels when you're trying to unwind after a long day. If this seems super overwhelming, I've found a really easy place to start is to do the dishes before heading to work so you can come home to a clean kitchen. It really can be so frustrating and energy-draining to walk into a messy home, especially if you're planning on making dinner for yourself or your family.
Also, adding in easy house plants and freshly cut flowers is an easy way to create a more positive coming-home experience and a less stressful environment. Plants and flowers will help to cleanse and purify the air, making that moment when you step in the door that much more refreshing. Plus, it's nice to add a touch of greenery to your living space!
When it finally comes to sitting down on the couch, I love to wrap up in a cozy blanket and light a non-toxic candle. Bonus points if you dim the lights and give your eyes a break.
Add an easy plant
Grab a cozy blanket
Light a non-toxic candle
2. Ditch the TB and grab a book
Once you're home from work, it can be so easy to veg out and turn on the TV to watch some mind-numbing shows for a few hours. I've totally fallen into that trap…more than once. Instead of keeping these bad habits for good, try switching up your nightly entertainment and pick up a book instead. I've been using my Kindle app on my iPad or sometimes opt for a good, old-fashioned paperback. There's something so relaxing about getting lost in a book for a few hours. Also, don't feel like you constantly have to read self-development books or live only in the non-fiction world. Sometimes doing all that thinking while reading can feel like work.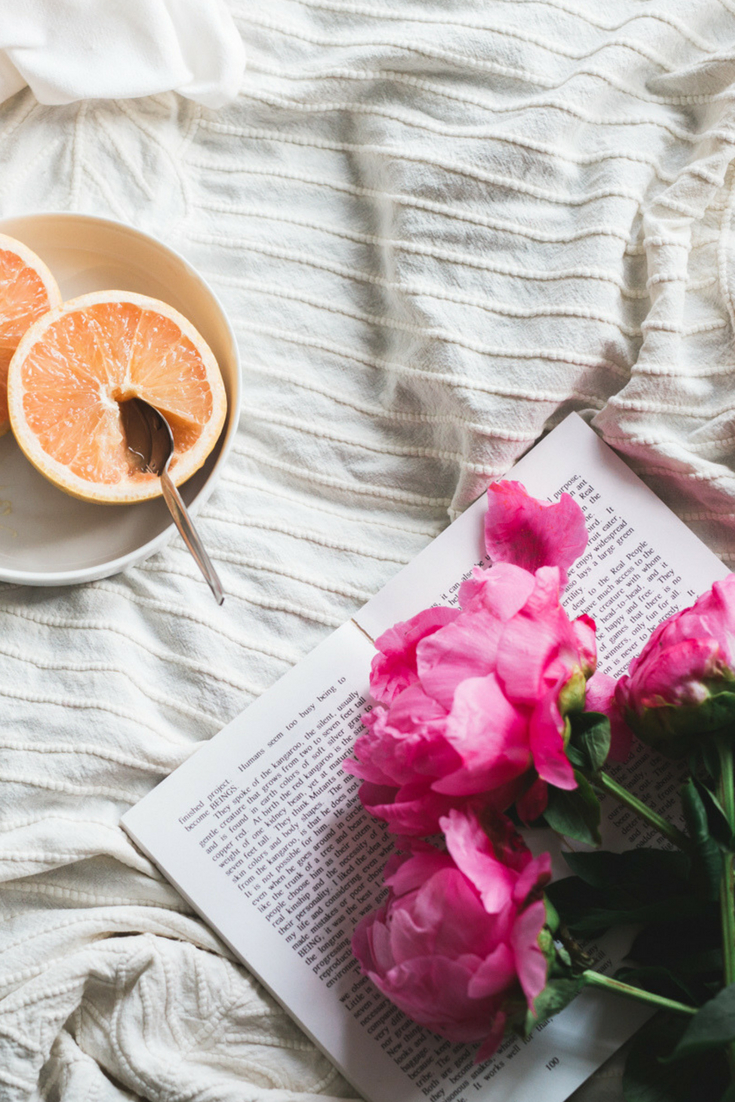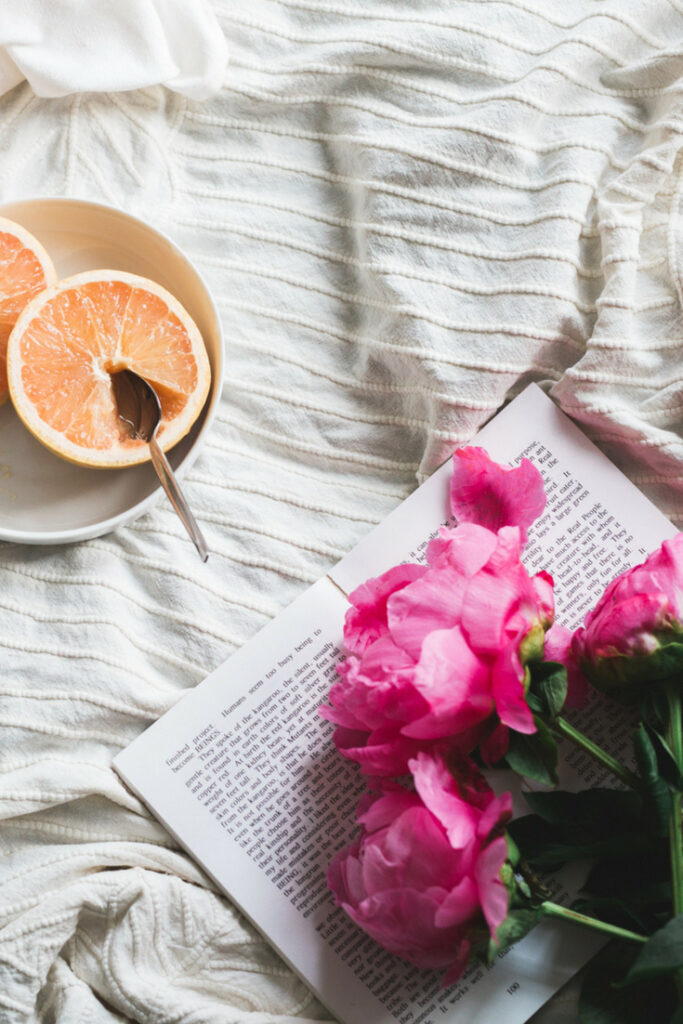 Diving into a juicy fiction novel is like total brain candy and will help you to relax as you'll find yourself getting lost in your read. Check out some of the top fiction novels of 2018 to find your next read, or check out some of my personal favorite (thrillers) below.
3. Make a healthy and easy meal
How many times have you sat on the couch and ordered delivery in the last month? Probably quite a few if you're anything like I used to be. I get it. Seamless used to make up about 50% of my credit card bill when I was living and working in New York City and it actually felt weird to cook myself dinner during the weeknight.
When I finally got into cooking, I realized just how fun and easy it truly can be. Also, my waistline totally thanked me. It's kind of gross just how many unhealthy ingredients can be hidden in your pad thai. If you're totally new to cooking and don't know where to begin, I suggest checking out the Oh She Glows plant-based app or picking up a copy of Gwyneth Paltrow's cookbook for the super-busy person, It's All Easy.
If cooking a meal sounds absolutely impossible, not to worry! You could opt for a done-for-you meal meal delivery program and get everything delivered right to you door. I personally am obsessed with Sakara since it's 100% organic – read my Sakara Life Review and discover the other reasons why I love this company.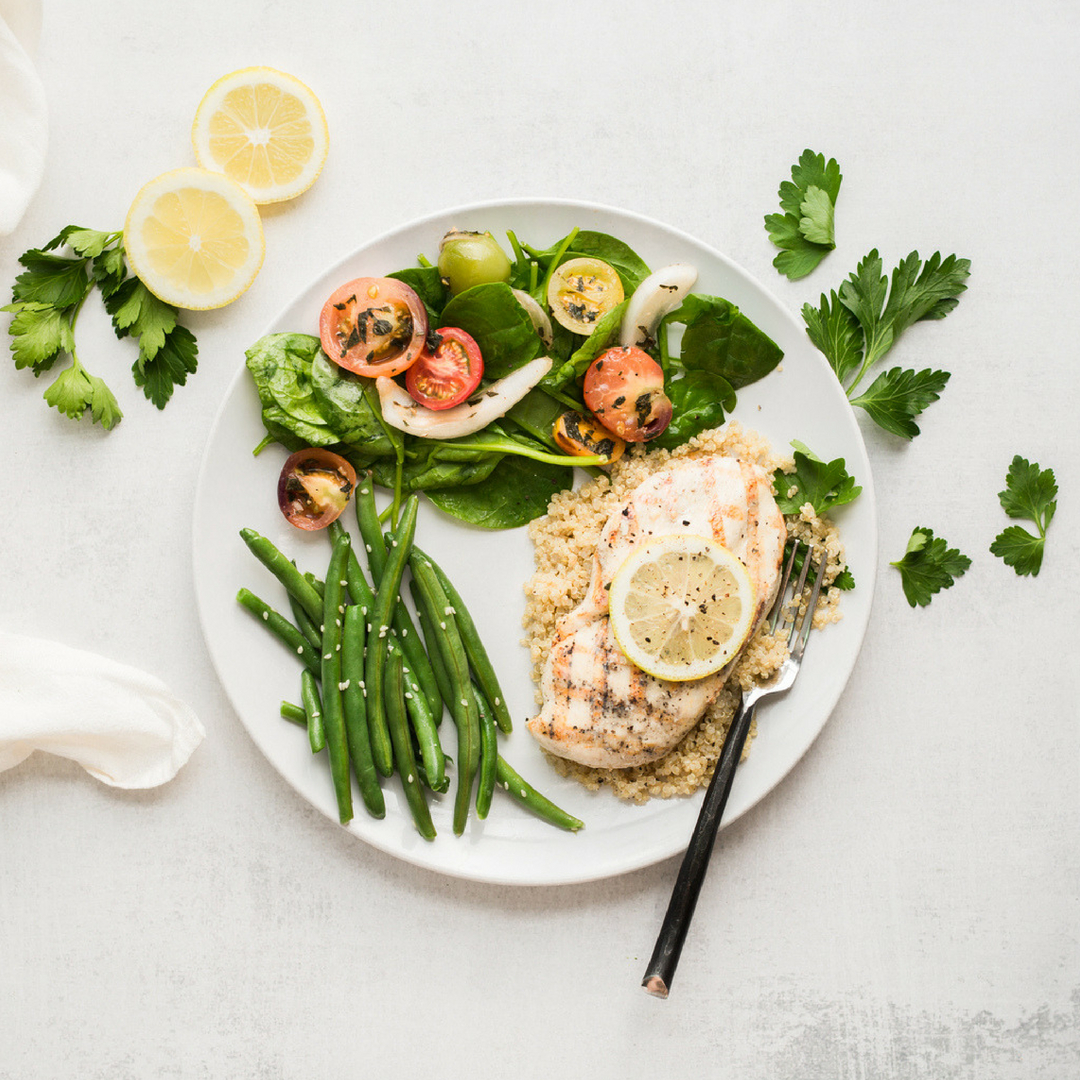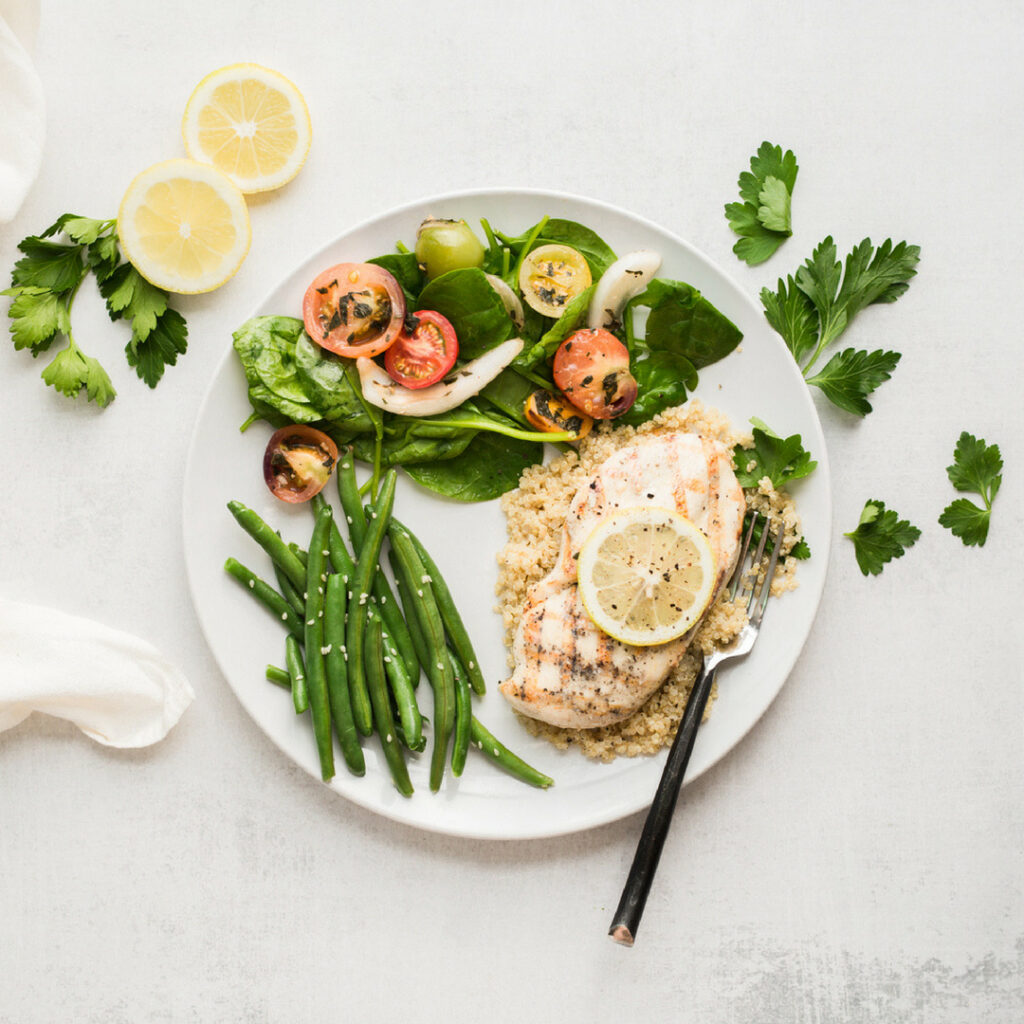 4. Put your phone down
…especially if you've been staring at a computer screen all day.
The simple act of eating with your phone on silent and face-down on the table can greatly improve how relaxed you feel while at home after work. Otherwise, it can be so tempting to mindlessly browse through Instagram or check those last-minute emails that are coming through for work.
Your worthy of having some time disconnected from the world, and I promise, it's all going to be there when you return! I've found that simply leaving my phone in another room or putting it on airplane mode for thirty minutes is enough to help me feel less stressed and more connected to the immediate moment.
Here's a bonus tip: set your phone to automatically enter night-shift mode to cut back exposure to those harmful blue lights.
5. Stretch it out
If you've been sitting at a desk all day, there's a good chance you feel super tight and stiff by the time you get home from work. Taking five to ten minutes to stretch – ideally before bed – is one of my favorite ways to relax after a long day at the office (…even though I work from home). Not sure where to get started? There is a great yoga and stretching app called YogaGlo that can help you find the perfect wind-down routine.
Stretching has so many benefits, including:
improved flexibility
reduced stress
increased circulation
posture improvement
increased metabolism
Plus, the beauty of stretching is that it is completely free and you can begin to feel your body respond almost immediately.
If you're feeling super inspired, try incorporating the same or similar nighttime routine into your morning self-care practice. Begin to take notice of how you feel changes throughout the day!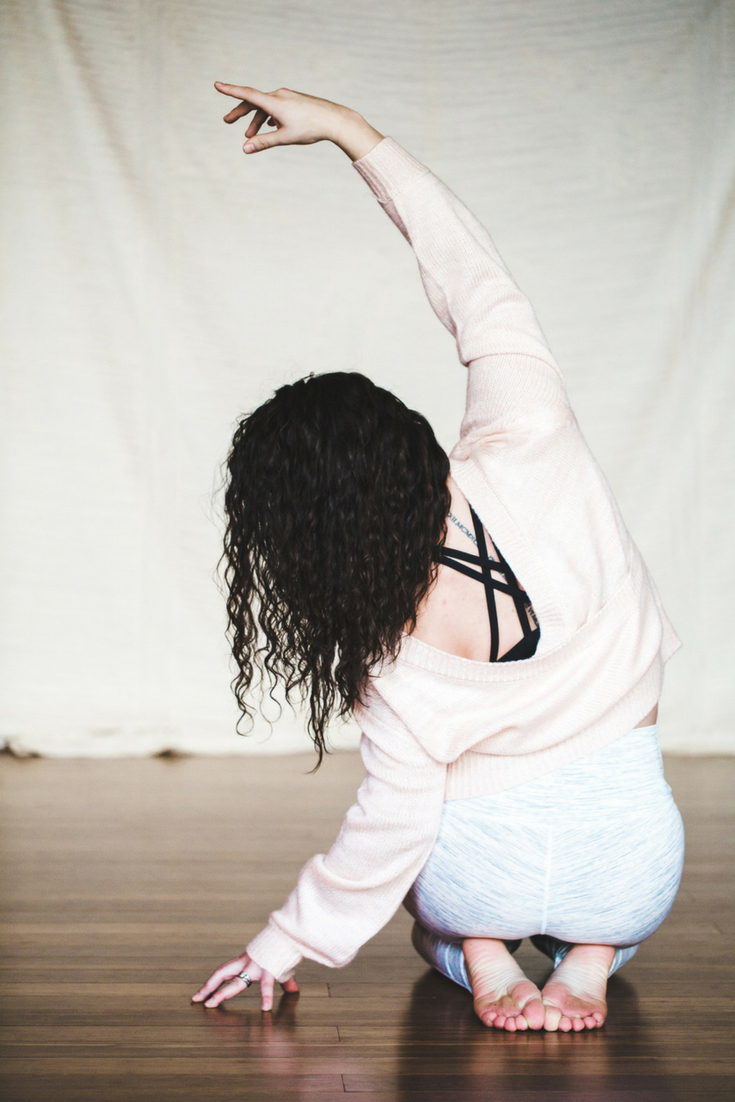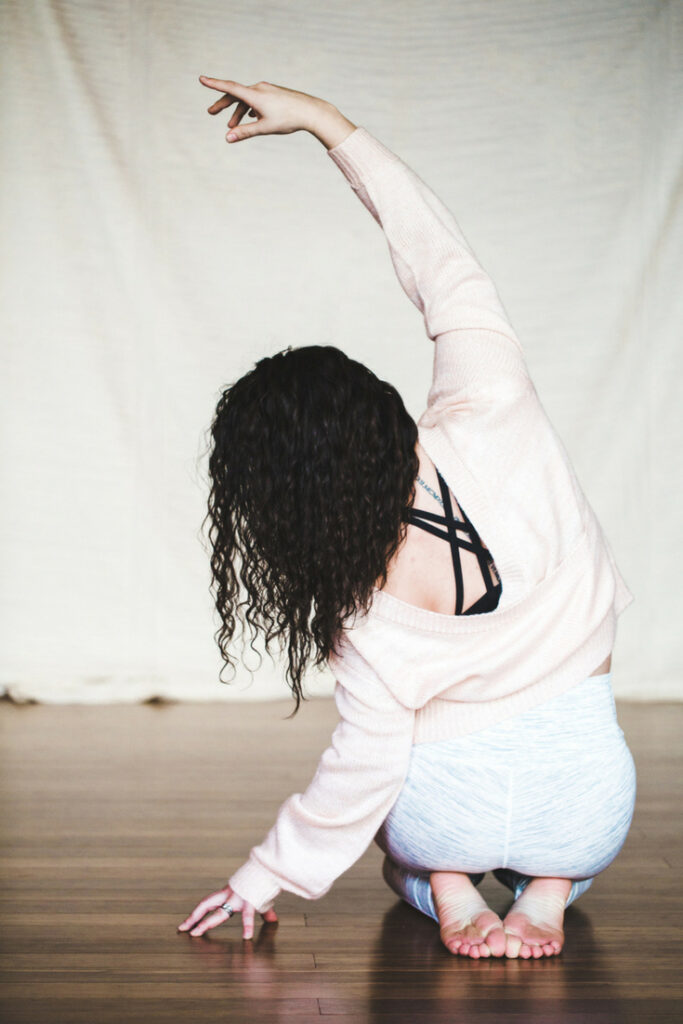 Some final thoughts
Whether you are a stay-at-home mom, a corporate junkie or someone who runs their own business, creating distinct boundaries throughout your work and play is essential to overall happiness. It's important to recognize that self-care isn't just taking a bubble bath (well, sometimes it is), but, to me, it's more about giving yourself the ability and permission to make the choices that fill up your soul and make you the happiest you.