If you're looking to release stress and improve the way you care for yourself, consider using Soothe to get massage delivered right to your door. I did – and here's what happened…
How does Soothe Work?
Simply put, Soothe is an in-home massage service that offers spa-quality massages in the comfort of your own space.
I received my first massage with Soothe when I was 14-weeks pregnant and was surprised with the ease of which I found a prenatal massage therapist. More on my massage experience below…
Booking your self-care with Soothe is super easy and intuitive. Simply open the app or head to Soothe.com to get started.
Once you've determined if you can receive service in your area, you can choose from several different types of massages, including couples, deep tissue, prenatal, Swedish, sports, or chair).
You can also select your specific therapist, gender, and length of service (I did a 90-minute massage!). Also for security and convenience, payment, and the tip is added through the app and your designated credit card. Please note that insurance is not accepted, but depending on your plan, you may receive reimbursement.
When it comes to timing your massage, Soothe claims a therapist can arrive in as early as an hour from booking. I chose to schedule my appointment a few days in advance because this pregnant lady isn't taking any chances.
Also, to make your experience even more convenient, your Soothe therapist will bring everything you need:
Massage table
Sheets
Draping blankets
Music
Massage oil
…and anything else you need!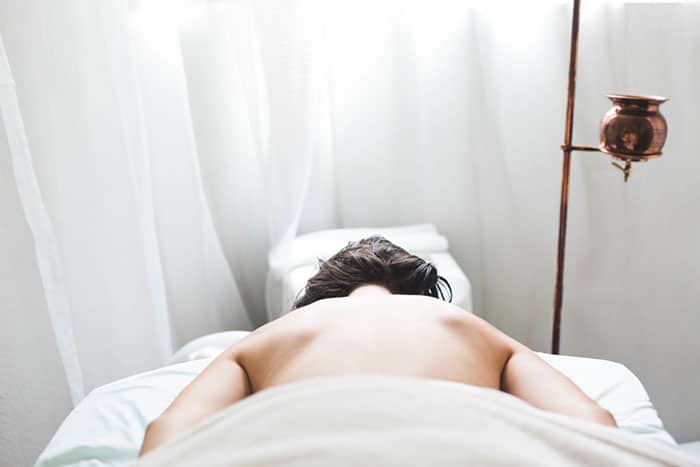 My Soothe massage experience
Booking my massage was so simple. It was as quick as ordering a Lyft or an Uber, seriously.
As I mentioned above, when I booked my services through Soothe, I was 14 weeks pregnant, so I opted with a 90-minute prenatal massage. I wasn't sure how the "prenatal" requirement would work, considering I need extra contraptions to make laying on my stomach comfortable and I don't have those tools in my home.
Thankfully, my therapist was trained and certified in prenatal massage and was quick to come up with a plan! She had me grab three extra pillows so I could lay on my side, place two pillows between my knees, and hold onto one at chest-height. I was so comfortable!
To be completely transparent with you, I've had over a hundred massages in my life and my Soothe massage was in my top five. My therapist made sure to discuss my pain-points with me before getting started and then paid extra attention to the spots causing me discomfort. She made me drift into la-la-land for a good portion of our ninety minutes together.
I didn't realize just how luxurious it would feel to wake up from a massage and be in my own space. At the same time, it wasn't the easiest to jump back into my day after that blissfully relaxing experience. I recommend booking your massage on a day that you don't have a packed schedule after your treatment. In an ideal world, of course!
The Soothe app is awesome
In addition to the easy booking experience, the Soothe app is awesome and very easy to navigate. With Soothe, I discovered you can book directly from the app or through the website, but I prefer the app.
With the app, you can easily re-book your therapist from a previous appointment, or browse for a new one. Also, prior to your appointment, you can fill out your personal information for your therapist to review. This information includes session focus points (i.e. lower back, head, neck, hips), desired pressure, or any spots to avoid.
Booking your massage with Soothe is discreet and efficient.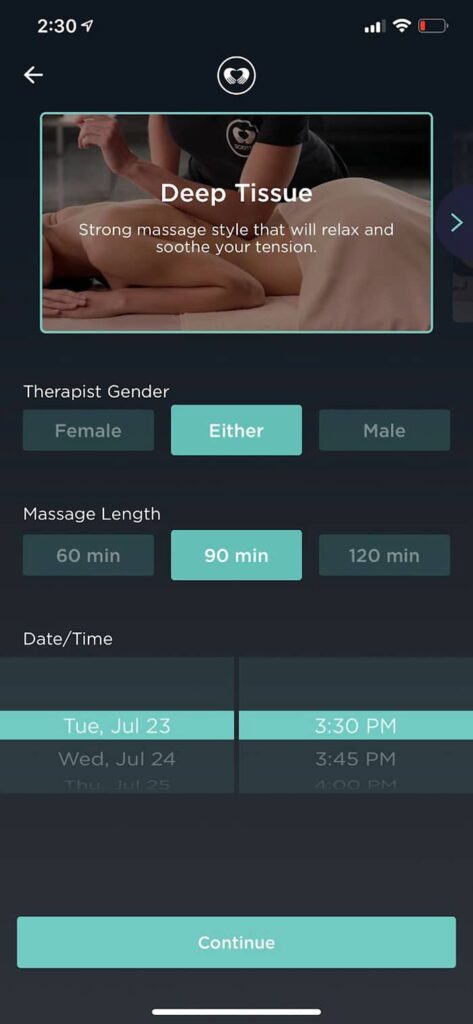 Is Soothe in-home massage safe?
My experience felt totally safe! My therapist was polite, professional and more importantly, she was very good at giving massages.
In addition, Soothe vets each therapist to make sure they are licensed or certified in their area. In most states, this requires a background check conducted by a state investigator before being deemed safe to work in public.
Soothe also only accepts ⅓ of their therapist applications, aiming to ony higher top quality, professional therapists.
Rest assured, you're in good hands with Soothe.
Benefits of in-home massage
To sum up, in-home and on-demand massages are amazing and quickly becoming a part of my self-care routine, especially as this baby continues to grow. Hello, aching joints…
No driving! I can feel so relaxed after the spa, the last thing I want to do is drive
It's so convenient and I can book at the last-minute, if needed
Easy to make the environment exactly as you like it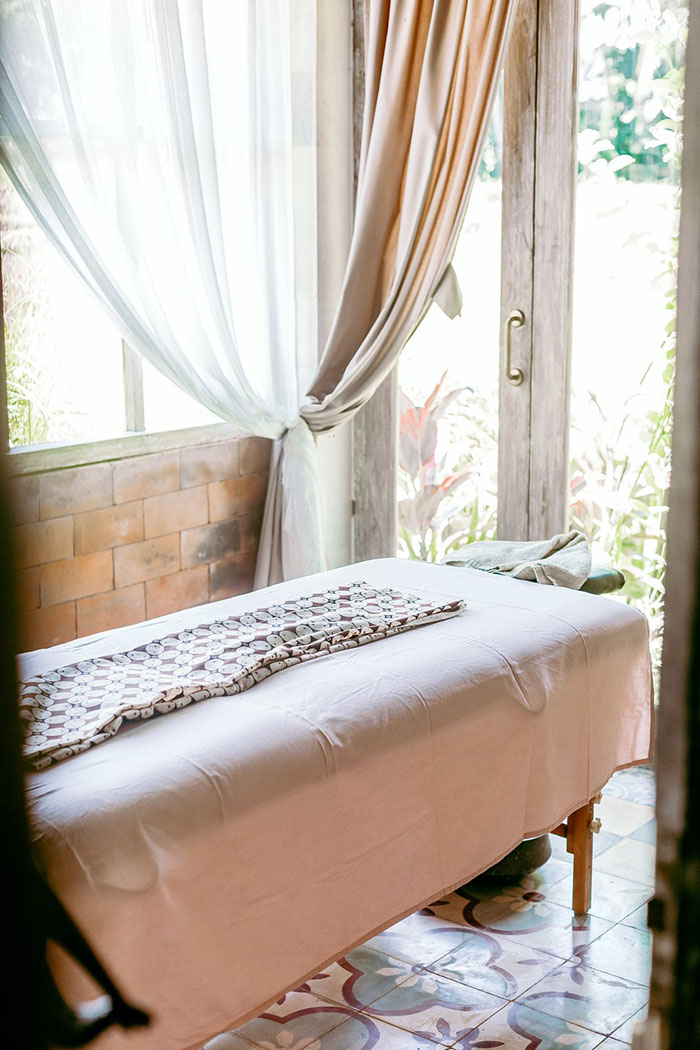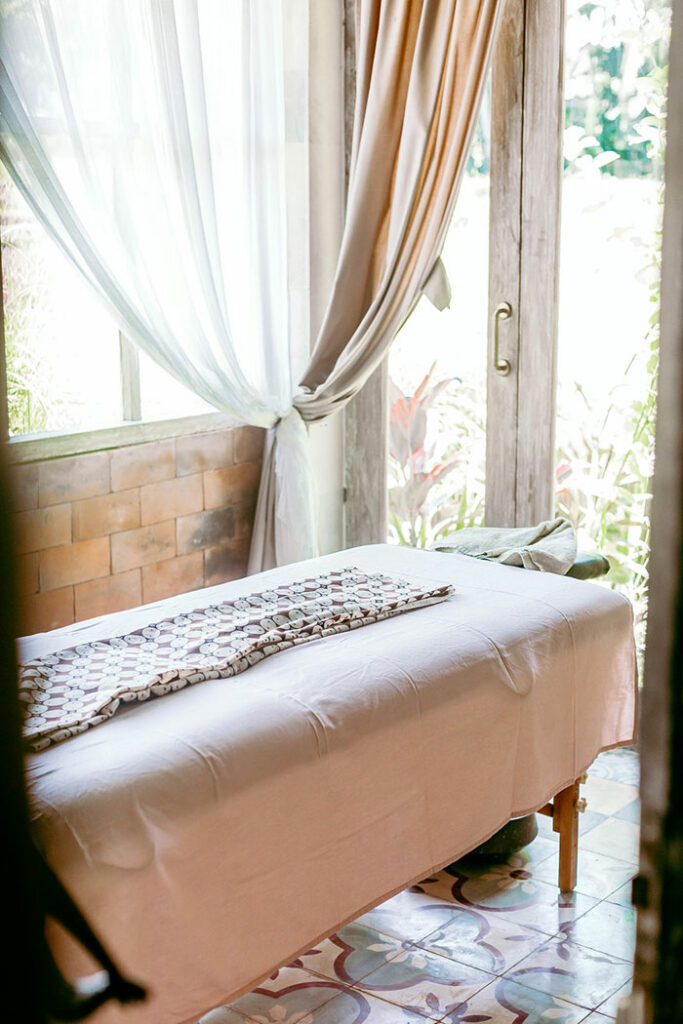 ---
Use my Sooth massage promo code
Save $10 off your Soothe massage by using my exclusive promo code:
CARLEY10
Enter the code at checkout and you'll be one step closer to a massage experience in your own home!
BOOK YOUR MASSAGE NOW
---
Massage can be part of your self-care practice
Whether you spend five minutes or two hours on your self-care each day, what matters most is that you are actively tuning into and listening to your physical, emotional, and spiritual needs.
Booking an in-home massage might not be realistic or practical for you. If you're craving relaxation, consider other ways you can begin to de-stress and unwind such as going for a walk or taking a warm detox bath.
In the meantime, know that my Soothe massage promo code will be here for you when you're ready to create some extra-special me-time.