It seems like one day, you have motherhood semi-figured out, and the next, your hair is falling out in clumps. Hopefully, these postpartum hair regrowth tips will help you navigate postpartum hair loss with more confidence.
I'll never forget the moments in the shower when I pulled out clump after clump of hair from my head. It felt like I would be bald by the time I got out of the shower. Night after night, I repeated the words "I am not my hair" to myself to help ease the creeping sense of anxiety I was feeling.
Thankfully, like most difficult moments in motherhood, postpartum hair loss is temporary, but there are some helpful things you can do to encourage regrowth and support your hair.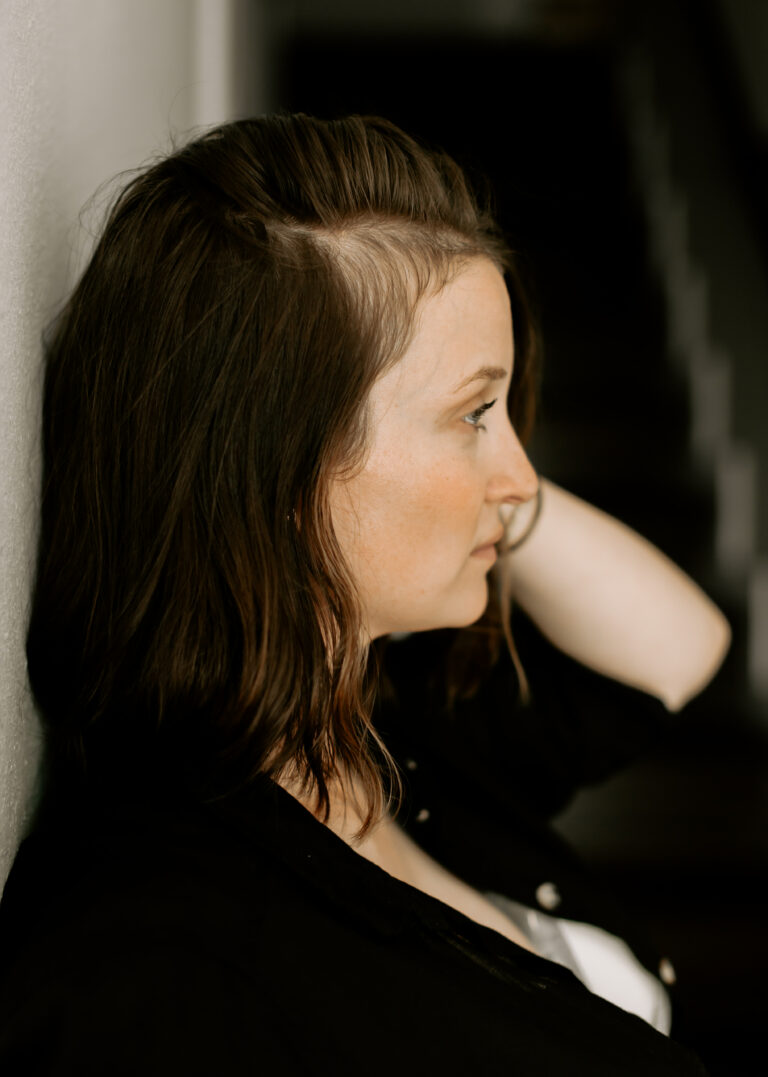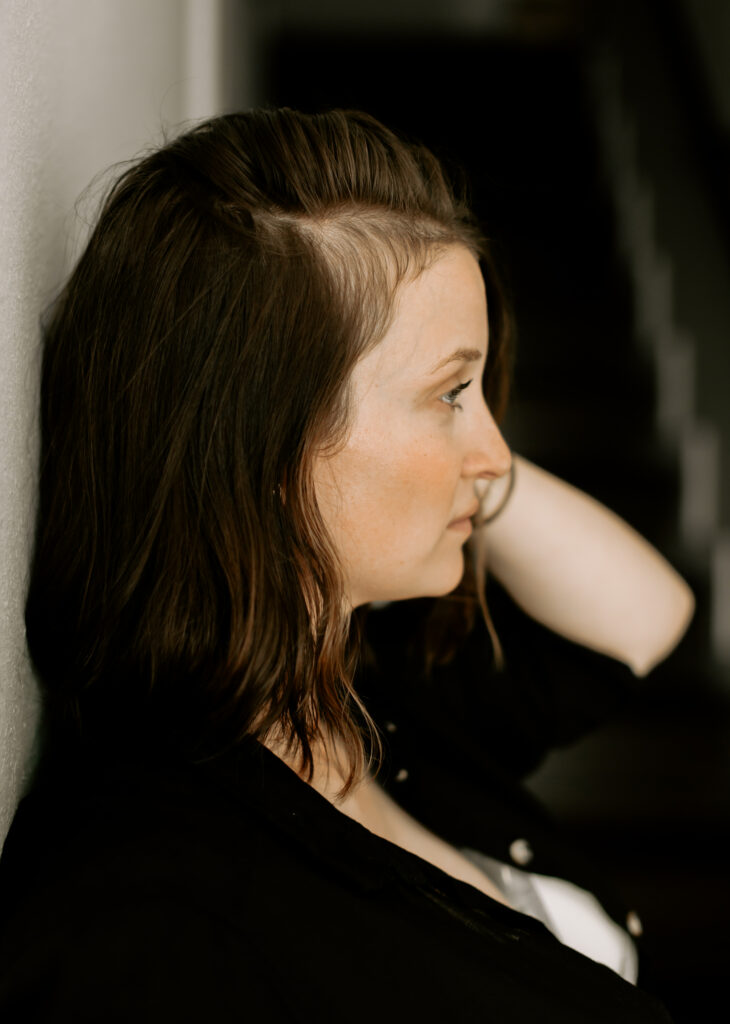 What is postpartum hair loss, anyway?
While it's not fun, postpartum hair loss is a normal part of your postpartum journey. You may find that clumps of your hair are falling out every time you wash, brush, or run your fingers through your hair, and that experience can be extremely stressful.
The truth is, postpartum hair loss can feel extremely anxiety-provoking and further encourage a disconnected feeling to yourself. Check out this picture I posted on Instagram when my postpartum hair loss was at its peak.
What causes postpartum hair loss?
While you're pregnant, many changes are happening with your hormones, including changes that help encourage that thick, shiny mane of hair. According to parents.com, after pregnancy, the drop in hormones causes you to lose all of the hair you would have lost during pregnancy but didn't.
Postpartum hair loss can last anywhere from three months to a year, but if your hair loss seems out of the ordinary or excessive, it's not a bad idea to work with a naturopathic doctor and have your thyroid levels assessed.
Top tips to regrow your hair during postpartum
Don't wash too often
Give your hair a break and only shampoo and condition when necessary. I aimed to wash one or two times per week and used dry shampoo (this one is such a good deal!) to help get me through until my next wash.
Dial in your nutrition
Focus on adding high-quality sources of iron and protein to your diet to help support hair growth. These are the two most critical elements needed to encourage the growth of your hair.
Pick medical-grade supplements
As my hair loss started to ramp up, I switched my daily supplements from my prenatal to the Sakara RX Foundation supplements.
Not only are these supplements super high quality, but they also contain biotin, which can help encourage hair growth. Not to mention, the B-vitamin complex gives this tired mama a boost of energy each day!
Add in a nutrient-rich scalp treatment
After I wash, I apply the CAKE restorative scalp tonic (look at those supportive ingredients!) to help support healthy hair growth. While it's not the cheapest option, a few drops go a long way, which helps you get a lot of use out of this bottle.
Choose a supportive shampoo + conditioner
I try to keep my skincare products as natural as possible, and the same goes for my shampoo and conditioner. Briogeo recently sent me their Blossom and Bloom line that's formulated with ginger, ginseng, and biotin to help encourage hair regrowth.
While I don't usually use products with added fragrance, their products are free from silicone, phthalates, DEA, artificial dyes, parabens, sulfates, and gluten, which helped me to feel more at ease.
Carley's Picks: postpartum hair regrowth products
In addition to the tips I mentioned above, there are some simple tools you can use to help your hair regrowth journey. Check them out below!
Slip silk scrunchies
If you do put your hair up, it's best to avoid pulling it too tight and use a silk scrunchie to minimize damage to your hair. I use these silk scrunchies because they're thinner than usual, so they feel less bulky while sleeping, and they're made of super high-quality silk.
Wide-tooth comb
Opting for a wide-tooth comb will also help to minimize the damage to your hair and will gently detangle post-wash. I love this wide-tooth comb because it's 100% natural and made out of sandalwood.
Stimulating scalp massager
This small tool helps encourage circulation to the areas of hair loss to help jumpstart hair regrowth. Not to mention, it feels amazing and helps to release stress (who doesn't love a good scalp massage?!)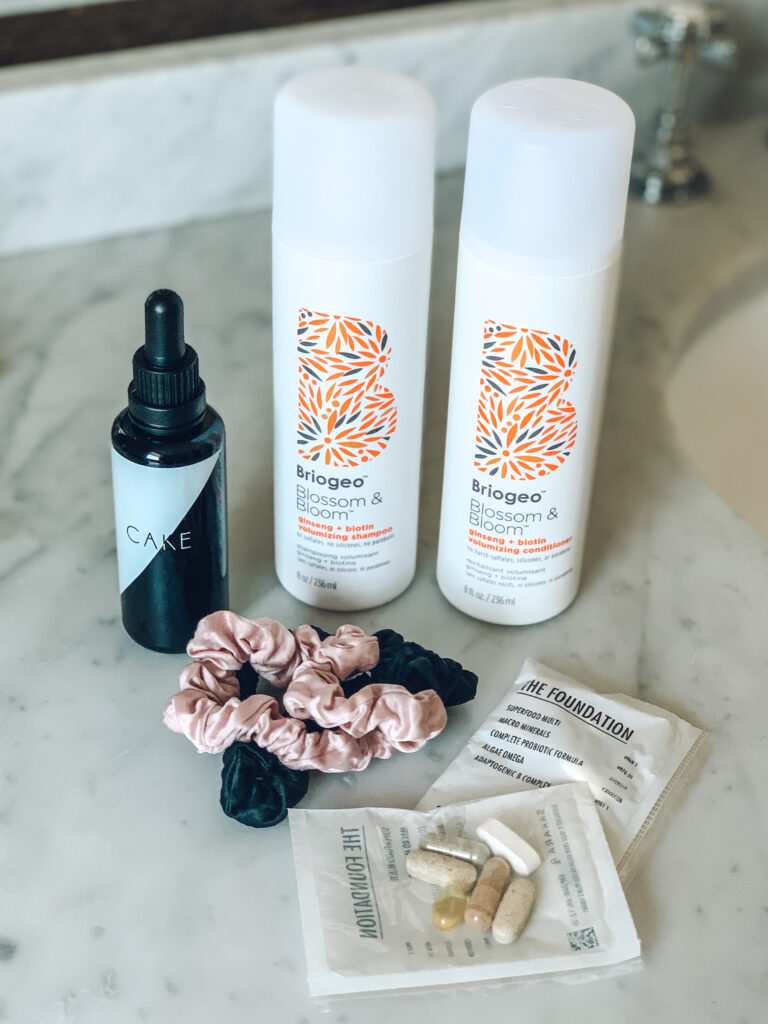 Other hair loss remedies to try
In addition to the tips I listed above, you can try using therapeutic-grade essential oils to help with your postpartum hair loss.
Some common essential oils known for promoting hair regrowth are rosemary, lavender, and cedarwood. Simply add a drop to your shampoo every time you wash!
Postpartum hair regrowth serum
I recently discovered Oh Hey Mama Hair serum made with potent ingredients to help slow down fallout and encourage healthy hair re-growth.
To use, you simply apply a few drops to your hair for a minimum of 45 minutes a few times each week. It's really helped not only helped my hair to re-grow, but it's also encouraged a healthier scalp (something that was dramatically affected postpartum).
My postpartum hair loss progress
Also, while it's probably not what you want to hear, patience is a great way to remedy your postpartum hair loss. Your hair will begin to grow again, even if it doesn't feel like it at the moment. You are so much more than the hair on your head.
Check out the side-by-side images below to see the difference a month can make with diligent care using the above tools.