I've rounded up my must-have newborn baby items that every first-time mom should have when her little one is born.
Becoming a mom for the first time can feel equal parts exciting and scary. It can feel like there are so many resources to read and reference, and a million different questions are continually running through your mind.
Take a deep breath. I've got you.
I'm outlining my must-have newborn baby items that will help save you time, sanity, and preserve your sense of self as much as possible. It's true that newborns don't require much, but there are some critical items (and some creative solutions!) that are essential.
If this list looks like a lot, I've put an asterisk by the items that I can't live without to help you prioritize things.
---
Shop by category
Nighttime essentials
Playtime and baby gear
Breastfeeding and bottles
Health and safety items
Medicine cabinet basics
Preserving moments and memories
Organization and monitoring tools
---
Must-have: nighttime essentials
Let's start with nighttime because let's be real; sleep is at the forefront of every new mama's mind. The below items helped make our nights easier after some finessing and a few fights. I'll just say: learn from our mistakes.
Diaper booster pads*
Babies often wake in the middle of the night when their diaper is too wet and full. Use these diaper booster pads to increase the absorbency of any diaper and, ideally, help your baby sleep more soundly.
Of course, change your baby's diaper if it's more than a pee diaper.
Ollie swaddle*
We loved the Ollie swaddle because, unlike other swaddles, you can customize the tightness throughout the entire body, including the hips, which was so crucial for our breech baby.
Guava bassinet
Landon slept next to our bed for most of his early days in this bassinet (once he outgrew his Baby Bjorn bassinet). If you get the entire set, you receive a bassinet and pack & play together. It's super light and easy to put together while traveling.
Goumi sleepers
These organic and adjustable sleepers are the definition of quality, not quantity.
The easy-access butt buttons make for easier middle-of-the-night changes so you don't disturb your little one, plus the fabric is super soft and cool.
Small changing pad
For convenience sake, if your little one is sleeping in your bedroom, it's nice to have a small, portable changing pad to change your little one right on your bed.
I love this one from Pehr because it folds up nicely and has a pocket for wipes and diapers. These days, we use it to travel!
Sticker-mounted tap lights*
Nursing, feeding, and changing a baby is pretty tough to do in a very dark room. Turn on any lights, and you risk stimulating your little one too much.
These sticker-mounted tap lights are a game-changer and emit a soft, warm glow that you can dim by remote. Strategically place them around the room and simply tap on and off as needed.
---
Shop nighttime essentials
---
Must-haves: playtime and baby gear
It can feel like babies come with a lot of stuff, but the reality is, your newborn doesn't need much. I've been using the same play spaces and baby gear since Landon was born (five months and counting!).
Easy (and cute) play mat
I wanted something that felt ageless and would last through Landon's toddler years. This leaf playmat is perfect! It's great for tummy time and can easily become a bedside rug or cozy spot to read.
Grow-with-baby play gym*
To be honest, I was undecided about purchasing a Lovevery play gym at first as I thought Landon would quickly outgrow it or become uninterested.
After five months, I can say that it's become his favorite baby item and something we use every single day! It's also the most aesthetically-pleasing play gym I've found.
Snuggle Me Organic
This cozy pod-like pillow is the perfect landing spot for your little one when you need a safe place to lay him down. He lived in this in the early months, and you can even fold it in half for a quick nursing pillow.
Guava Pack + Play*
I mentioned the Guava bassinet earlier, but the pack and play is a definite must-have. This pack and play is the lightest on the market and you can set it up in under a minute. Landon sleeps here whenever we're on the road.
ErgoBaby Embrace carrier*
Baby-wearing has become our favorite way to explore the world and the ErgoBaby Embrace carrier is easy to use and supportive enough for your little one from birth up to 25 pounds.
I found it way less intimidating than some of the cute wrap carriers available. We still use it to this day!
---
Shop playtime and baby gear
---
Must haves: breastfeeding and bottles
If you choose to breastfeed, there are a few items that you need for you to help make your journey as comfortable as possible. Also, our favorite bottles are listed as well!
Haaka manual pump*
If you choose to breastfeed, having a Haaka (or two!) on-hand is a must. They're great for attaching to the other breast baby isn't nursing from to catch your let down and help you create a small milk stash.
Willow hands-free breast pump
Gone are the days of being tethered to an outlet thanks to the Willow breast pump. It's saved me countless hours and a lot of frustration.
Nipple balm*
I don't need to say much about this other than your girls will thank you. I chose this organic nipple balm because it's natural, and there's no need to wipe it off before nursing.
Washable nursing pads
As your body works to even out your milk production, leaks can happen. I opted for these washable nursing pads because they're more environmentally-friendly than the disposable ones, plus they're way more comfortable.
Dr. Brown's bottles*
Every baby is different, but these are the only bottles we could get Landon to take (still to this day!). I prefer the natural-flow nipples for newborns, especially if you're breastfeeding.
Dishwasher bottle basket*
I don't know why I didn't buy this bottle basket sooner. The one we have is specifically for Dr. Brown's bottles, but it is a game-changer and helps keep bottles from taking over your countertop.
SHOP DR. BROWN'S DISHWASHER BASKET
Read next: Breastfeeding Must-Haves for Nursing Moms
---
Shop breastfeeding and bottle must-haves
---
Must haves: health and safety items
These items will help you preserve your sanity and should cover a lot of the newborn health and safety bases.
FridaBaby Basics kit*
This handy little kit contains the top four FridaBaby care items: the Windi (for relieving gas), a nail clipper + file, a cradle cap brush, plus a NoseFrida (for snot sucking). It comes with a handy silicone pouch for easy travel.
We love it so much we have two! One for the changing area and one for the diaper bag.
Rectal thermometer*
You're going to want one of these at some point. Trust me. This is the easiest and quickest reading thermometer I've found.
Diaper bag first aid kit
This small first aid kit is one of those things you don't think you need until you do need it…and you don't have it. Trust me on this one as well.
*Having flashbacks to Landon's bloody feet in the car seat and no band-aid in sight.*
SHOP DIAPER BAG FIRST AID KIT NOW
---
Shop health and safety items
---
Must have: medicine cabinet basics
Every parent has different views on how they approach treating their little one's ailments in the early days, so please, make sure to do your research and consult your pediatrician for the final word.
Little Remedies saline spray*
Newborns have notoriously stuffy noses. We used this saline spray a lot (it's way easier than the saline drops) paired with a humidifier to help keep Landon breathing as easy as possible in the winter.
SHOP LITTLE REMEDIES SALINE SPRAY
Little Remedies acetaminophen*
Compared to the usual kid's stuff, the ingredients in this acetaminophen are much more natural. That makes mama happy!
SHOP LITTLE REMEDIES ACETAMINOPHEN
Little Remedies gas drops*
Newborns usually have gas that makes them uncomfortable, and that's just how it goes until about eight weeks in. These gas drops helped alleviate Landon's pain, but we used them sparingly.
SHOP LITTLE REMEDIES GAS DROPS
---
Shop medicine cabinet basics
---
Must have: preserving moments and memories
In the early postpartum days, everything can feel like a blur. Remember the small moments and keep precious keepsakes safe.
Artifact Uprising baby book*
Although I got a late start, I wish I had this gorgeous baby book from the get-go. It's modern and neutral, so your photos and words will have a chance to shine.
Mootsh monthly photos*
If you're like me, there's no way you're ever going to remember to print photos. Mootsh.com provides ten gorgeous prints a month and all you have to do is upload your selects into their app. Then they're shipped right to your door!
Custom memory box*
This custom memory box is the perfect way to store all of your baby's keepsakes. I love the price (under $30!) and the variety of fonts available. Plus, it's nice to support a small business with this purchase!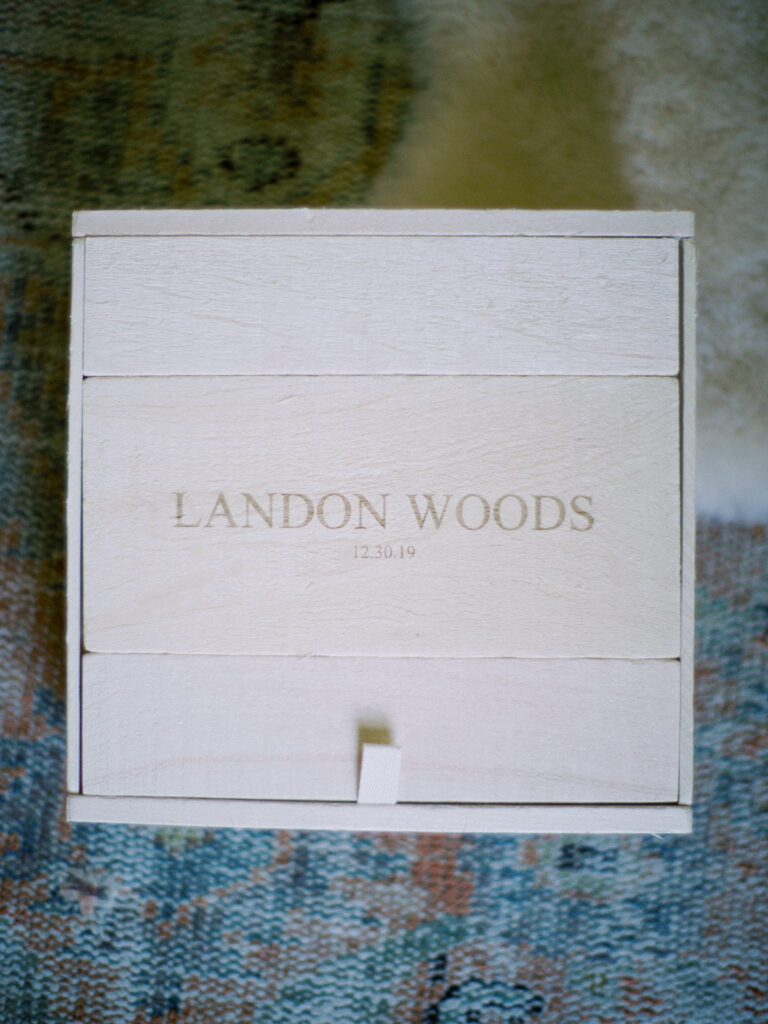 ---
Shop preserving moments and memories
---
Must have: organization + monitoring tools
Keep everything baby-related organized and all in one space with these helpful tools.
Baby briefcase*
I added this baby briefcase to our registry on a whim, and now I don't know what I'd do without it! It's essential for keeping records, bills, and relevant documents all in one place.
Baby Tracker app*
Record feedings, diaper changes, and sleep with this handy app. Just trust me, you could drive yourself mad trying to remember these details!
Miku smart baby monitor*
I love this baby monitor because you can see real-time breathing data without the use of a wearable device. It mounts on the nursery wall and you can use your phone or an iPad to keep an eye on your little one.
---
Shop organization and monitoring
---
This post contains affiliate links. We may receive a small commission for purchases made through these links. Thank you for your support!