Let's face it – summer is coming to an end. Soon those sun-soaked days will be filled with a crisp breeze and some gorgeous leaves. In anticipation of this change, I've spent the past month or so experimenting with a new fall skincare routine.
It took me regularly caring for my skin to begin to notice that with the subtle change in temperature and light, my skin is craving something different. We change what we eat each season, I think it's only natural for our skincare routines to follow that same pattern. Also, to me, taking care of my skin daily is just another way I can show myself love and carve five minutes out of my busy day and spend some time on me.
I've still been incorporating the classics from my regular skincare routine, but I've discovered some new and junk-free products that I am obsessing over right now – leave-on masks, glow-inducing highlighters, powerful face oils, and the most incredible natural bronze serum. I'm excited to share these fall skincare tips with you!
Why it's important to change it up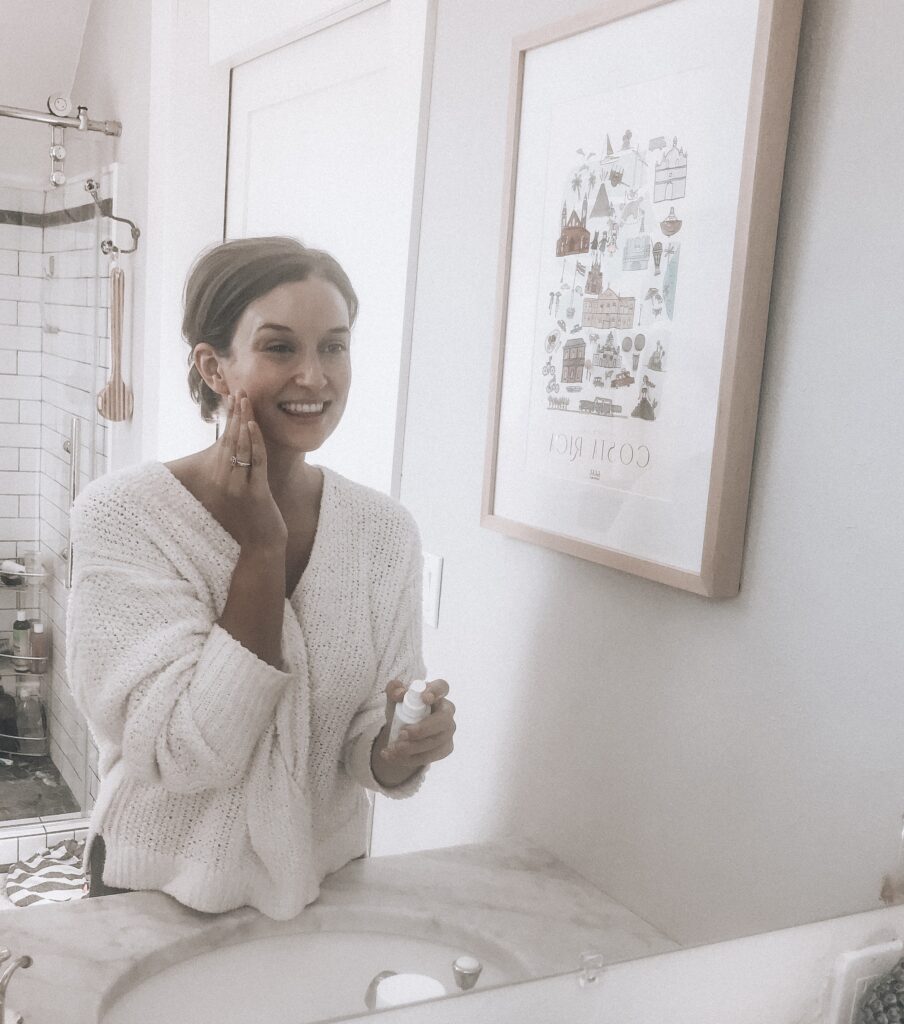 Fall is a transitional period between the super hot and humid days of summer to the cold and dry days of winter. That means your skin needs to be extra prepared for whatever the autumn weather throws at you!]There's a good chance the cooler weather will leave your skin thirsting for moisture because there is less humidity in the air than found in the summertime.
Also, as our sunkissed color begins to fade, our skin no longer offers the natural protection it once had, resulting in a loss of tone and overall hydration. Keep in mind, even though the sun might be in a hiding more often, it's important to remember to wear sunscreen every single day, even when it's cloudy out! Also, skin tends to produce less oil in the colder months, so it's super important that you're adding these lost oils back into your skin. Dehydrated skin highlights age spots, fine lines, and leaves an overall dry and dull skin tone.
The below skincare tips will help your skin to feel fresh, hydrated, and nourished throughout the crisp fall season.
My current fall skincare favorites
Face masks that save my skin
These two masks do help my skin to feel super smooth and very moisturized without feeling greasy or heavy.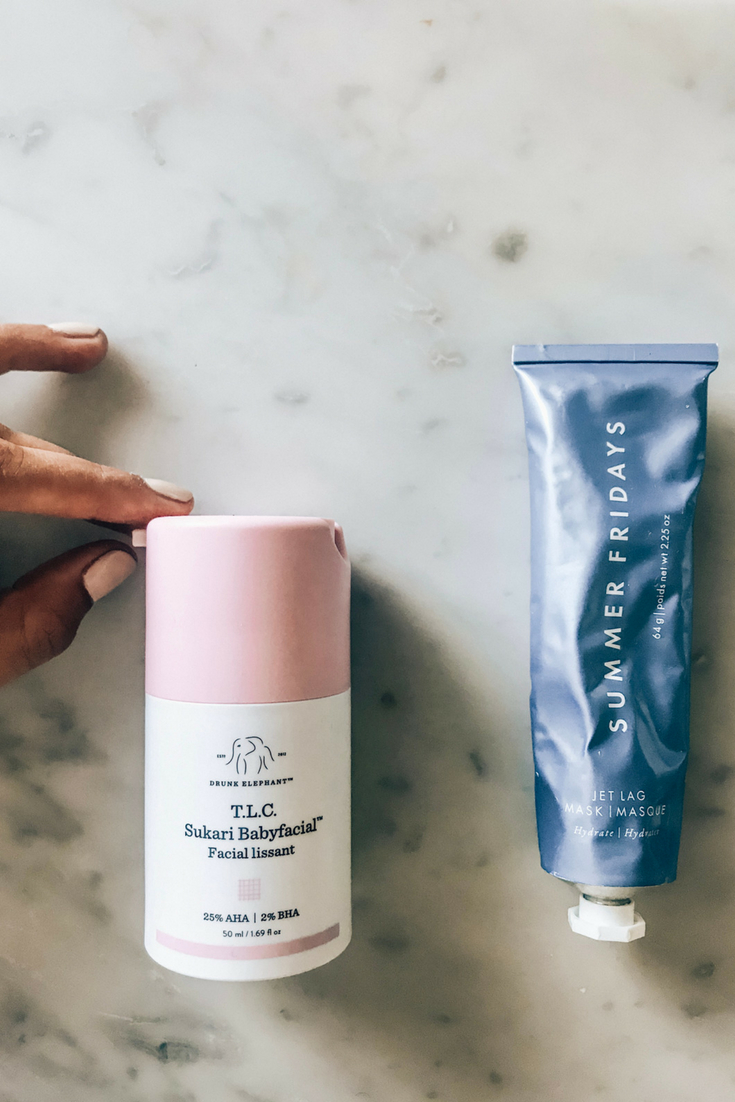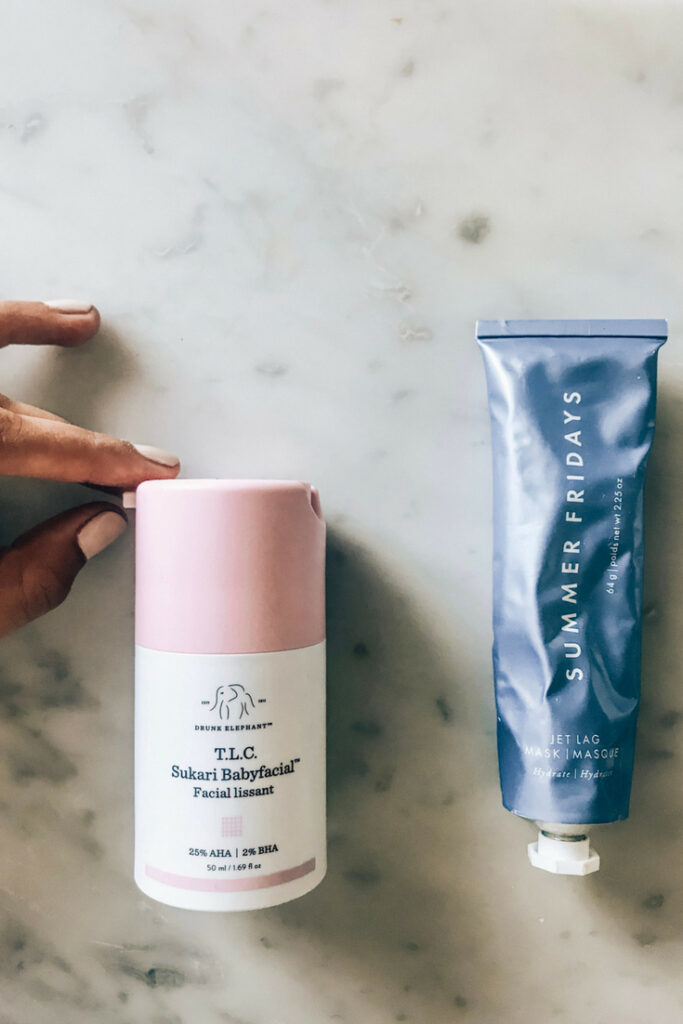 Drunk Elephant Sukari Baby Facial – Drunk Elephant aims to deliver clean, clinical, and powerful skincare products and this mask is no exception. I only use it once a week for 20 minutes and it leaves my skin feeling completely resurfaced and cleansed.
Jet Lag Mask by Summer Fridays – move aside in-flight sheet masks, this mask delivers a punch of hydrating vitamins and antioxidants. Plus, you don't have to wash it off! It soaks right into the skin.
A side note about masks on airplanes: yes, you truly should be using hydrating face masks while traveling at 30,000 feet, especially with all of the potential for crazy travel during the holidays. The Jet Lag mask is a perfect option for you, as well as (if you're feeling brave) a classic sheet mask that fits your needs.
MY FALL CLEANSER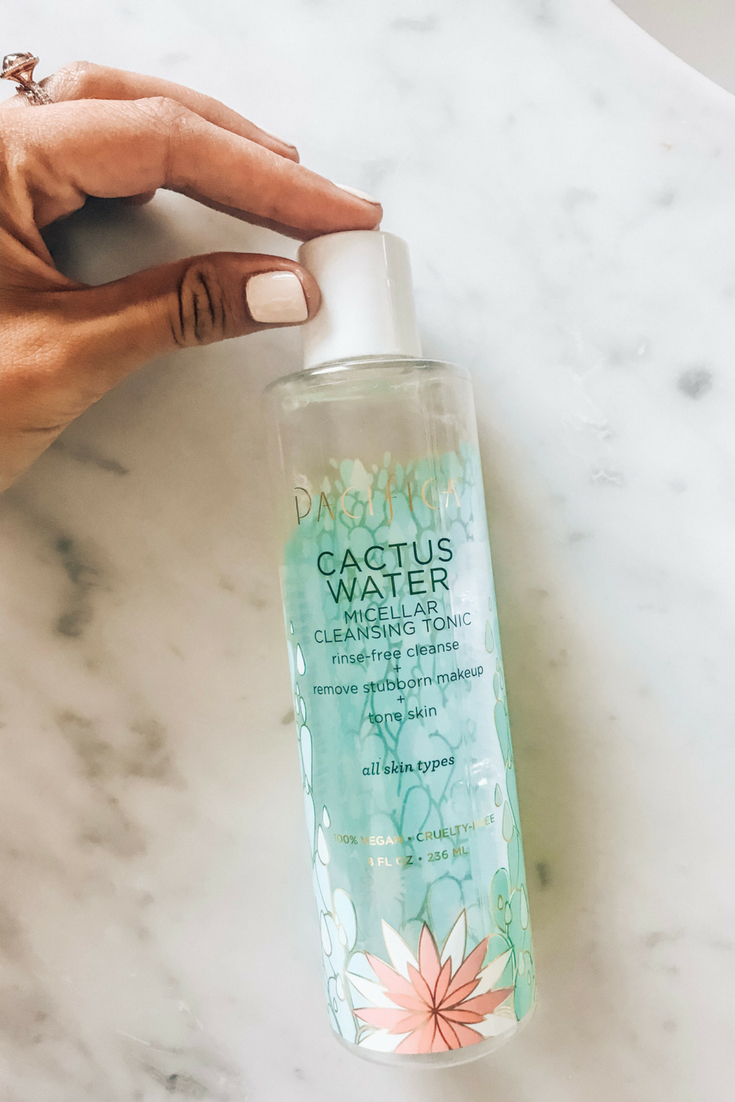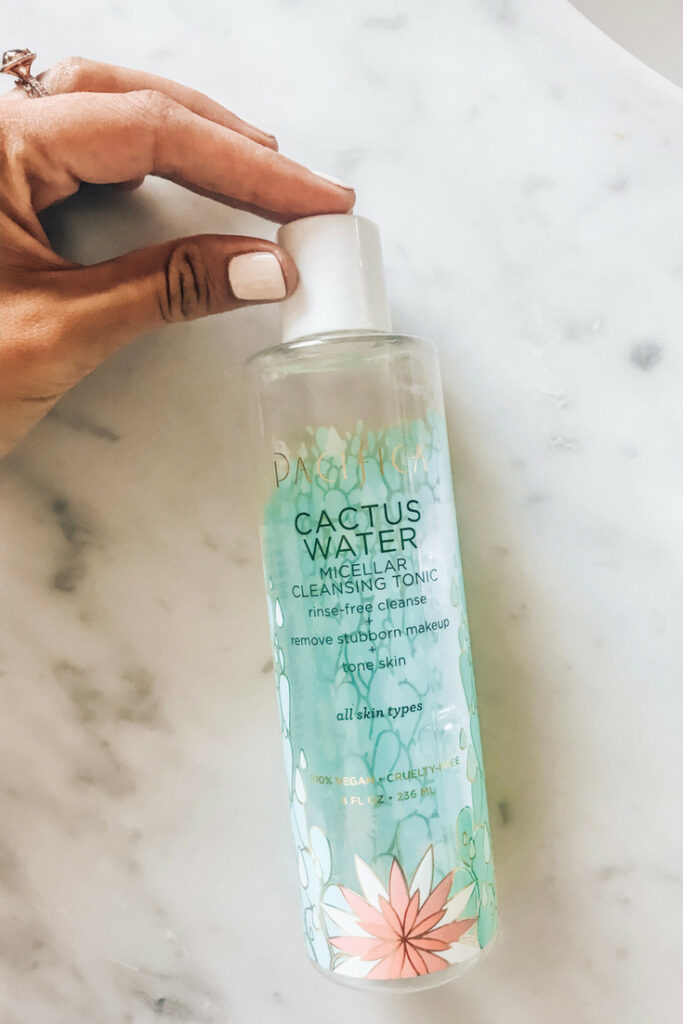 Actually, this cleanser is a 2-for-1 cleanser and alcohol-free toner and is one of my favorite skincare tips for getting more hydration into your skin. This cleanser is combined with the power of micellar water and it's available on Amazon, thank goodness.
What's a cleanser? A cleanser is designed to remove excess oil, grime, and dirt from daily life.
What's a toner? A toner is a quick-acting water that can penetrate the cells of the skin and give an extra boost of hydration.
Pacficia Cactus Water Cleansing Tonic
NATURAL MAKEUP UPGRADES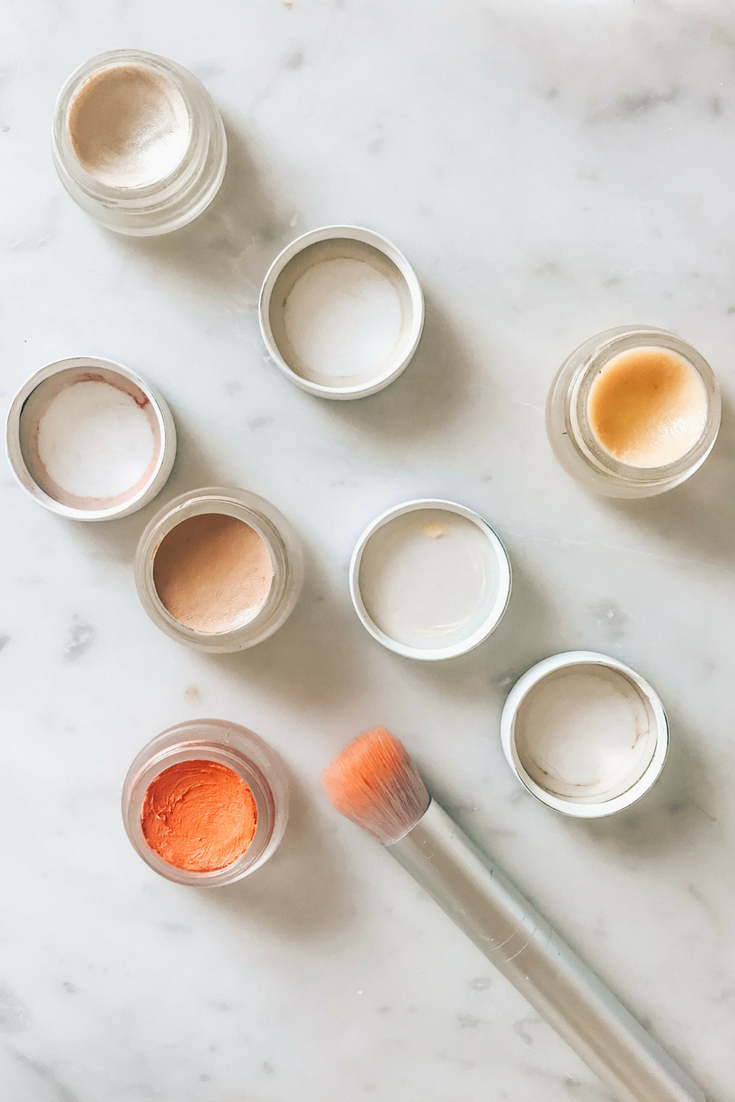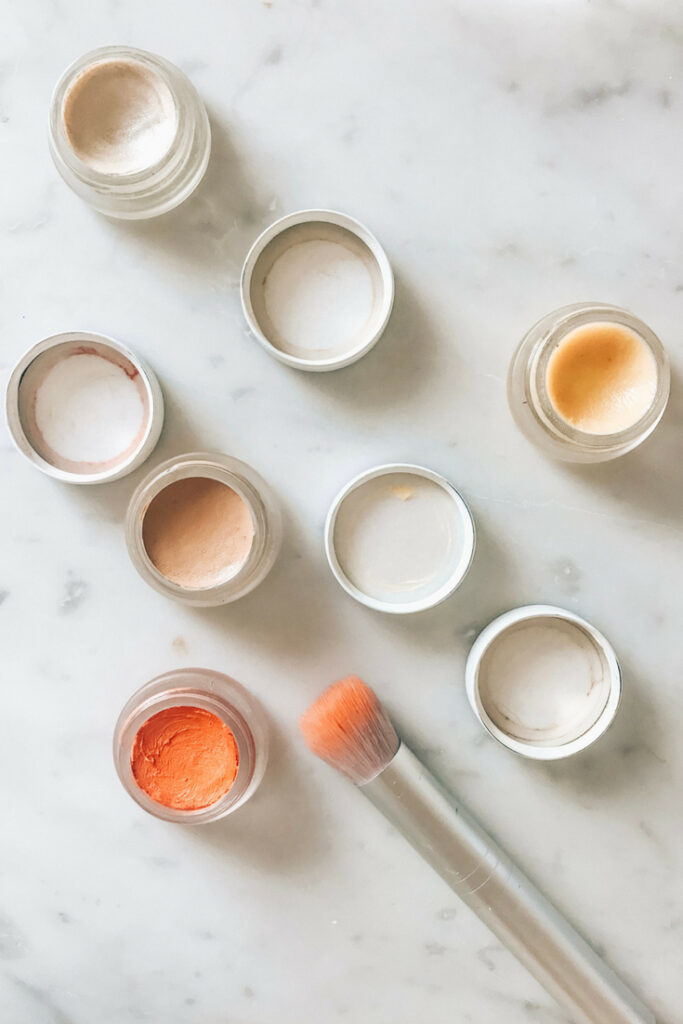 Over the past few months, I've been slowly revamping my makeup collection to weed out the chemical-filled and opt for more natural and plant-based replacements.
Lately, I am a huge fan of all things RMS Beauty because the base of a lot of their makeup products is coconut oil, making it a perfect way to get in more moisture and hydration in your skincare routine. Plus, it's a super cleaned-up version of your regular makeup products. At least, that was the case for me!
"Un" Cover-Up – for a dark-circle girl like me, this cover-up gets the job done without getting too cakey or creased. It's really light and goes on smooth!
Living Luminizer – even on days I don't wear makeup I dab a little bit of this highlighter in the corners of my eye and on my brow bone. It instantly gives you a glowy look!
Lip2Cheek in Smile – I have to thank my fabulous hair stylist Sarah Kahn for encouraging me to step outside of my box on this one. The color is so gorgeous on both your cheeks and as a lip! I use this brush to apply to my cheeks.
OTHER FALL SKIN CARE FAVORITES
The two below products are other current fall skin care obsessions of mine that fall into a category all their own, both from the Clinically Clean brand, Drunk Elephant.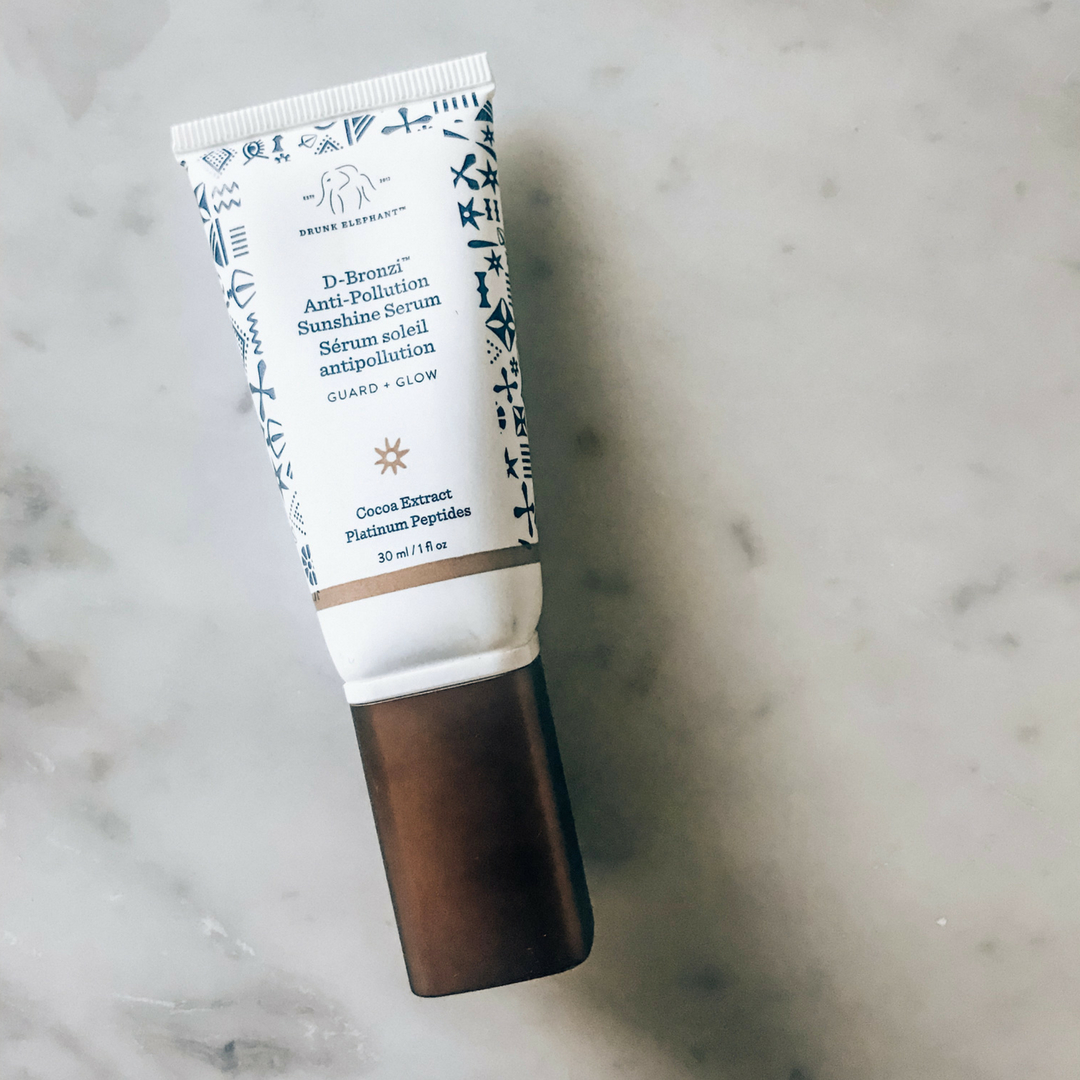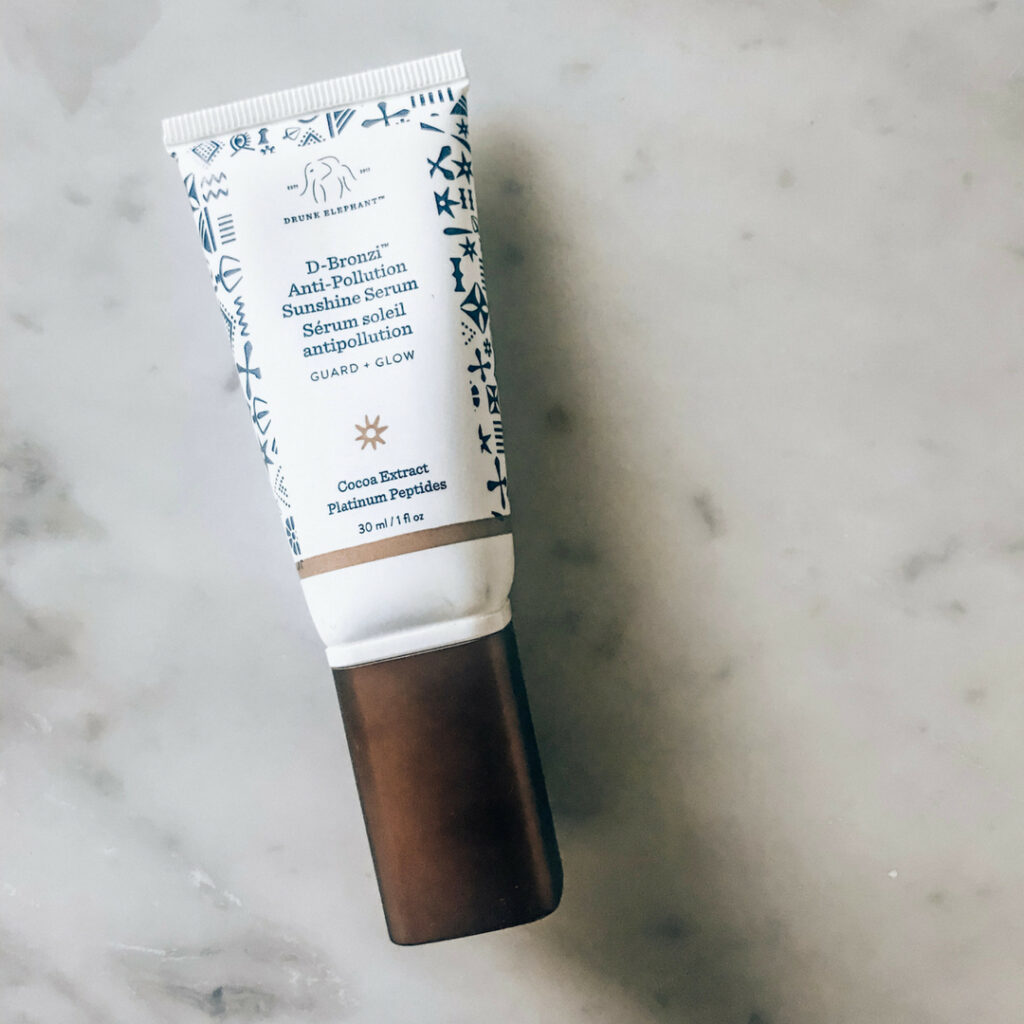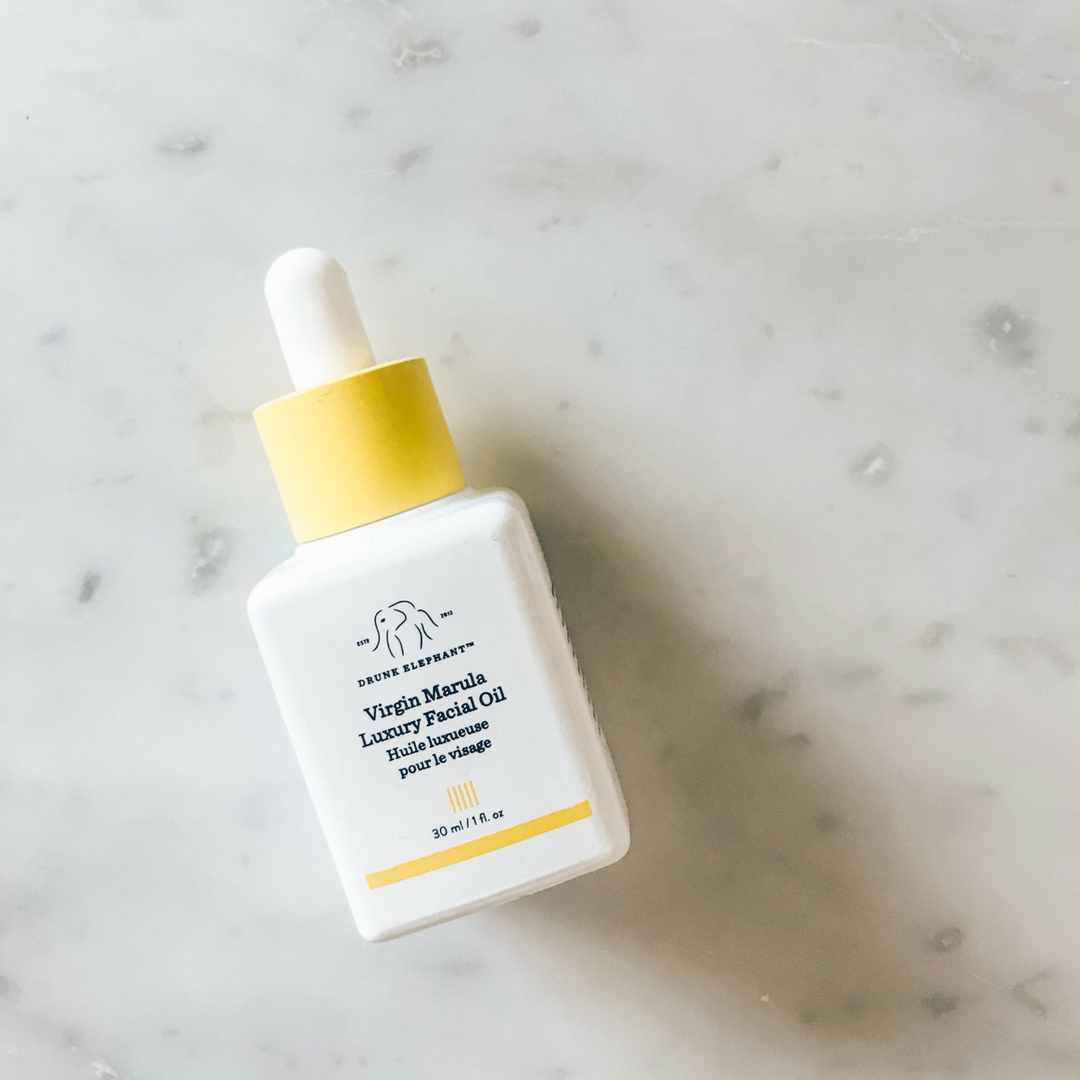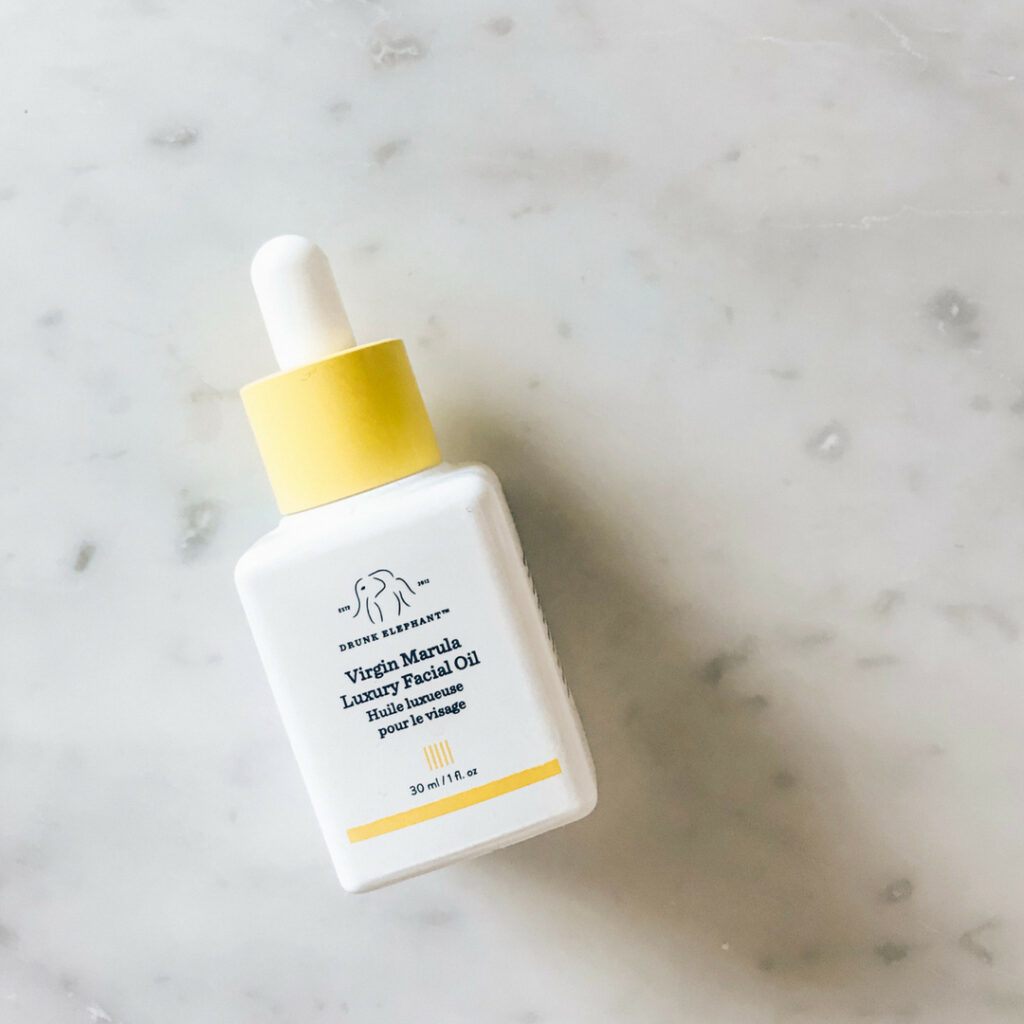 D-Bronzi Anti-Pollution Sunshine Drops – aka sunshine in a bottle. I mix this in with my regular tinted moisturizer or marula oil for a sunkissed glow without all of the sun damage. According to Drunk Elephant, D-Bronzi is packed with vital nutrients such as cocoa extract, platinum peptides, and a chronopeptide to brighten your skin.
Virgin Marula Luxury Face Oil – if you've read my regular skin care routine, you know that I am a fan of using essential oils mixed with a proper carrier oil as part of my regimen. Lately, since my skin has been craving a little more hydration, I've been obsessed with the marula oil from Drunk Elephant. It has the ability to give my skin a hydrated glow all day long without feeling or looking greasy. I'm excited to whip up some essential oil-based rollerballs with it is well!
NEXT STEPS FOR YOUR FALL SKIN CARE ROUTINE
Before you make any drastic changes to your entire skin care routine, I think it's important to pay attention to how your skin is currently feeling – in the morning, afternoon, and evening – to decide what it is your skin is craving.
At the end of the day, hydration starts from within, so make sure you're drinking plenty of water and giving your skin the nourishment and moisture that it's craving!