For a lot of women, menstrual discomfort can be painful to live with. Fortunately, there are several essential oils that can help with cramps and PMS.
It's important to note that not every woman experiences menstrual cramps and PMS symptoms during her cycle. There are also various factors – diet, stress, sleep, etc. – that can influence the severity of your symptoms every month.
In addition to cramps, some other common PMS symptoms include mood swings, tender breasts, nausea, fatigue, and headaches. Thankfully, here are some essential oils to help with those ailments!

Effective essential oils for menstrual cramps
These plant-based powerful little bottles might just be the relief you're searching for when it comes to finding natural PMS and cramp-related relief.
Every single month, your uterus contracts to start the process of expelling your uterine lining. This action is what causes painful cramps and overall discomfort in your body.
Thankfully, due to the anti-inflammatory nature of certain essential oils, you can use essential oils to ease the pain during this uncomfortable time.
1. Lavender
This oil is commonly known to aid in sleep issues, but lavender is also a great tool for period pain relief. Due to it's relaxing properties, it can encourage muscles to let go and release some tension. Also, it's a great oil to help improve blood flow which will, in turn, help reduce discomfort.
Adding lavender to your magnesium-boosting epsom salt bath would be a great way to naturally ease PMS pain.
2. Clarycalm®
This proprietary doTERRA roller bottle blend is my personal favorite for natural PMS relief. Not only is ClaryCalm® designed for daily use to help encourage the regulation of hormones, it's incredibly calming when it comes to that time of the month. I feel a difference within minutes of application.
I simply roll this blend over my lower abdomen daily and use as needed throughout the day when on my period.
3. Copaiba
One of doTERRA's newer oils, copaiba is a powerful tool for soothing tension within the body. Due to its strong anti-inflammatory properties, just a few drops under your tongue can help ease menstrual discomfort. If needed, you can also apply directly to where it hurts.
4. Deep Blue®
This cold and warming proprietary blend is my go-to for instant relief when it comes to discomfort. Just one application and you can feel the blend heat up and then cool down. It's so soothing! I am a big fan of the Deep Blue® Rub because it's easier to apply to my abdomen than a regular oil bottle.
5. Clary sage
Believe it or not, clary sage can help promote calmness and relaxation, which makes it a great choice for period pain relief. It's known to be a natural pain reliever and can even ease stomach troubles commonly associated with PMS. It's also renowned as a great oil choice to help re-balance hormones that might be out of whack.
Simply rub a two drops on your abdomen as needed or add a three drops to your lavender and epsom salt bath!
Read next: Detox Bath Guide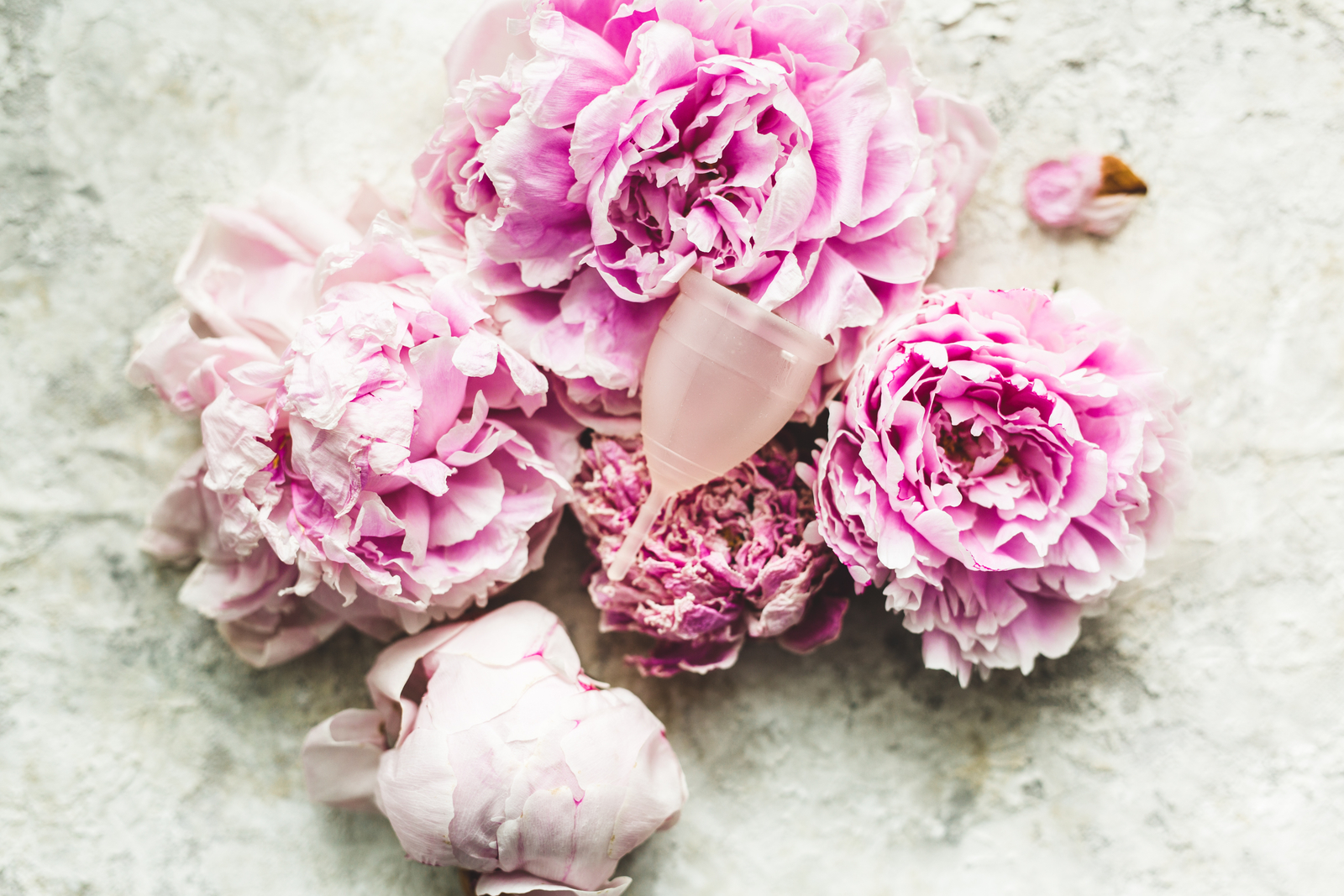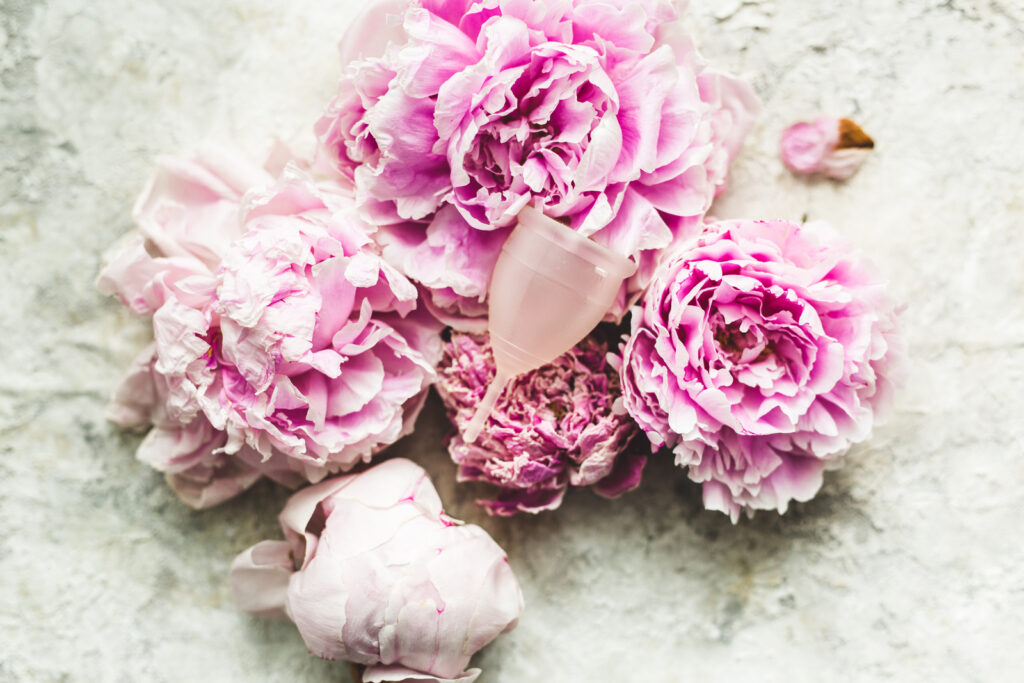 Essential oil rollerball recipes for PMS support
Feeling a little crafty? It's easy to make customized rollerball recipes to support your individual needs. All you need is fractionated coconut oil, aka FCO, plus a few 10mL rollerballs.
Also, evening primrose oil is another great carrier oil option as it has natural hormone-balancing properties.
Check out some natural PMS relief recipes below!
Menstrual Cramp Soothing Blend
9 drops lavender
4 drops clary sage
4 drops marjoram
top with FCO
PMS Blend
"Bitch-Be-Gone"
10 drops grapefruit
5 drops geranium
5 drops ylang ylang
3 drops lavender
top with FCO
Feminine Support
All-Around Oil
10 drops clary sage
10 drops frankincense
5 drops lavender
5 drops copaiba
top with FCO
How to use essential oils for menstrual cramps
In general, there are three ways to use essential oils: aromatically, topically, and internally.
For the sake of period pain and menstruation, you will most likely be using oils internally and topically. Copaiba would be a great oil to take internally (just two drops under your tongue), while all of the rollers are meant to be applied topically.
It's very important to note that not all essential oils are of the same quality. I only condone the use of doTERRA essential oils and explain why below.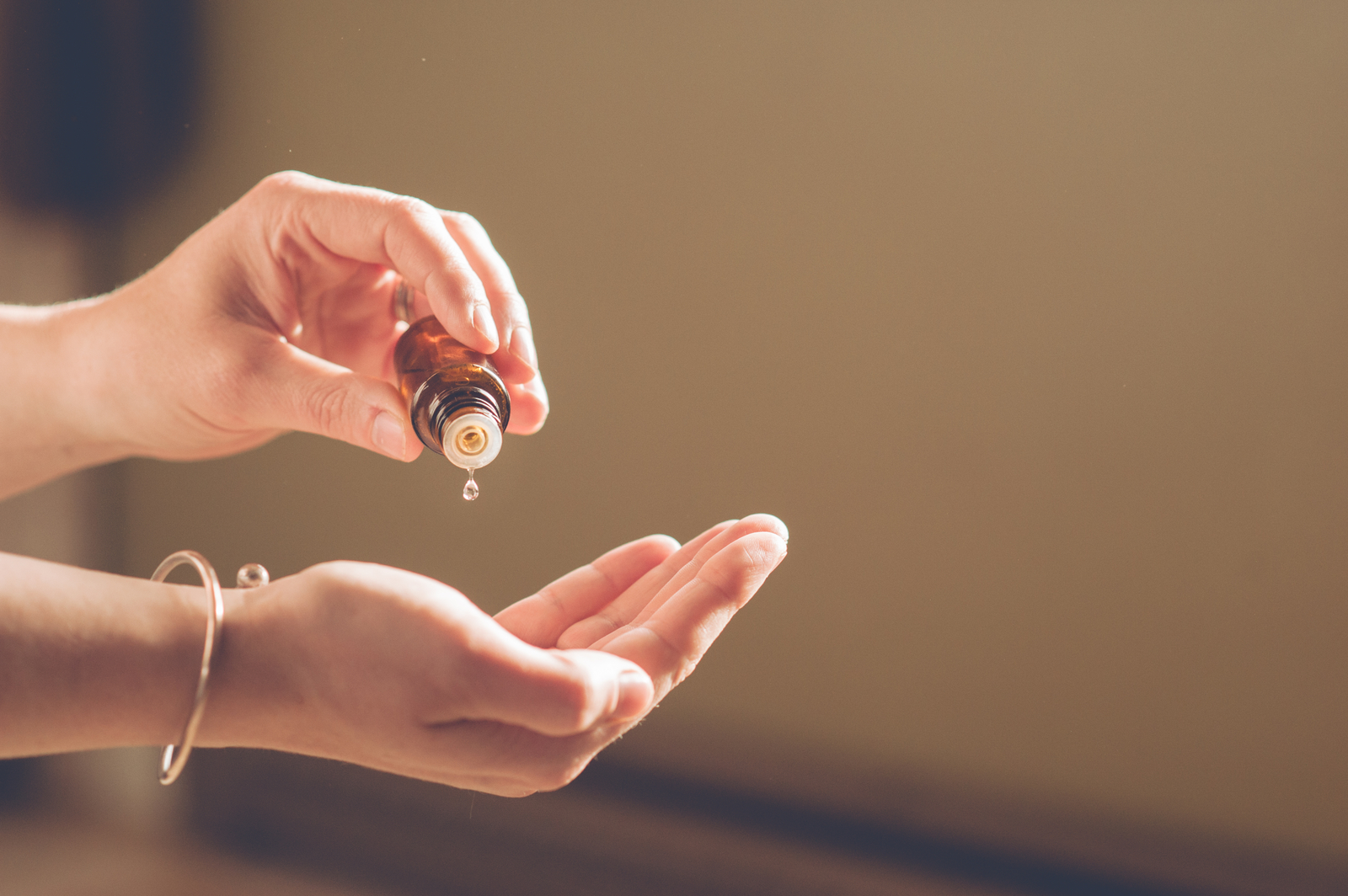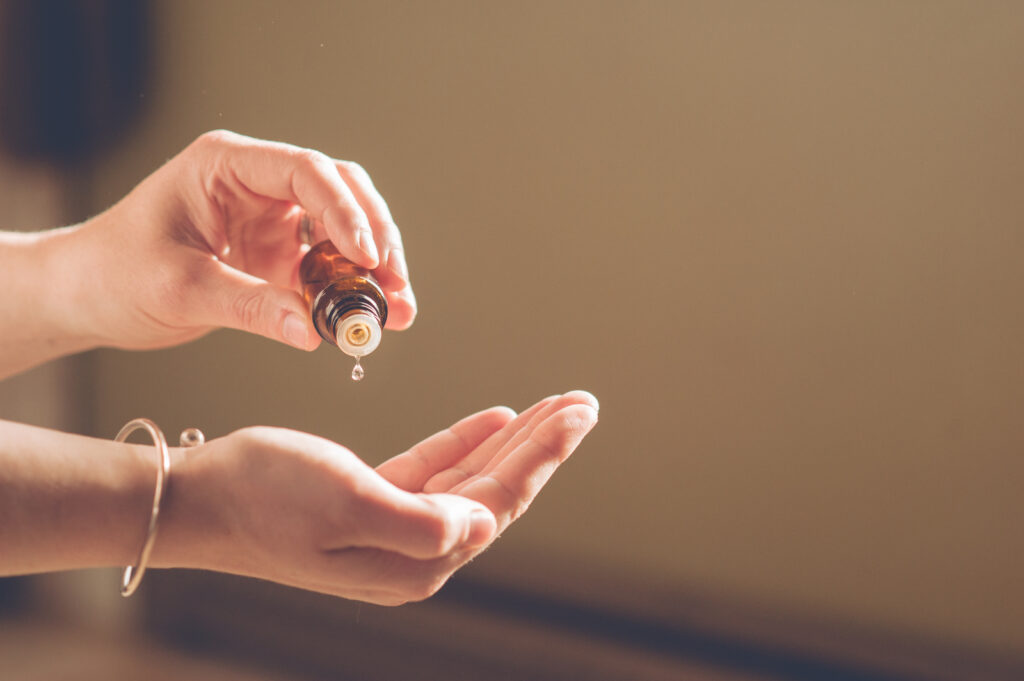 Where to get essential oils
It's important to note that not all essential oils are created equally. Like most supplements on the markets these days, there is little to no regulation around the labeling and testing.
I only use doTERRA essential oils in my personal and professional life. Here's why:
Highest third-party testing standards of any oils on the market
Co-impact sourcing model helps support farmers and communities around the world
Complete transparency with test results
Only Certified Pure Therapeutic Grade essential oils available
Trusted at over 100 hospitals around the country
Other natural remedies for menstrual cramps and PMS
Are essential oils not cutting it? Thankfully, there are some other natural remedies that can help to ease your menstrual pain.
1. Organic CBD oil
This organic CBD oil has been an absolute life-saver for me when it comes to the first two days of my period. Especially when paired with two of doTERRA's Copaiba soft gels.
Personally, I use and trust the brand Soul Addict. Their organic CBD oil is grown in the US on the founder's family farm. You can feel the love that goes into Laura's product. 
Save 20% on your first order with discount code SA_carley20 at checkout. Shop Soul Addict now.
Read next: Learn More About Soul Addict
2. A heating pad or patch
A good old-fashioned heating pad could be your best friend this time of the month. The applied heat can encourage relaxation throughout your lady parts. Plugin and chill, lady.
You could also try these on-the-go heating patches designed for quick menstrual cramp relief. They're infused with five different herbal elements for the ultimate support.
3. Magnesium supplements
Whether or not it's in supplement form or absorbed during a hot bath via Epsom salts, adding in magnesium during your period can help. Magnesium works by relaxing the nervous system and the smooth lining of your uterus.
I've started taking magnesium nightly and am blown away at how much it helps me in other ways! Including improving my digestion and easing migraine pain. These are the magnesium supplements I use.
4. Cycle-syncing
Using the protocol from Alissa Vitti's book, Woman Code, it's possible to use diet and lifestyle to improve your monthly PMS symptoms. I'm also a massive fan of learning about my cycle by using her app, MyFLO.