MYX Health is taking wellness to another level by offering truly personalized recommendations. No more cookie-cutter suggestions for your health. With a simple at-home blood test, you can learn how to improve your health and wellness.
Health and wellness aren't one-size-fits-all. What works great for your friend or partner doesn't mean that it will work for you. You may find yourself backtracking or getting frustrated when you're not seeing the changes you want (I'm not just talking about weight loss).
Psst! Here for the MYX Health coupon?
It's critical to understand that to achieve optimal wellness, not only is a lifestyle change required, but you also need to be aware of your individual health needs. MYX Health has set out to pair affordable at-home blood testing with a custom Superfood Myx delivered right to your door.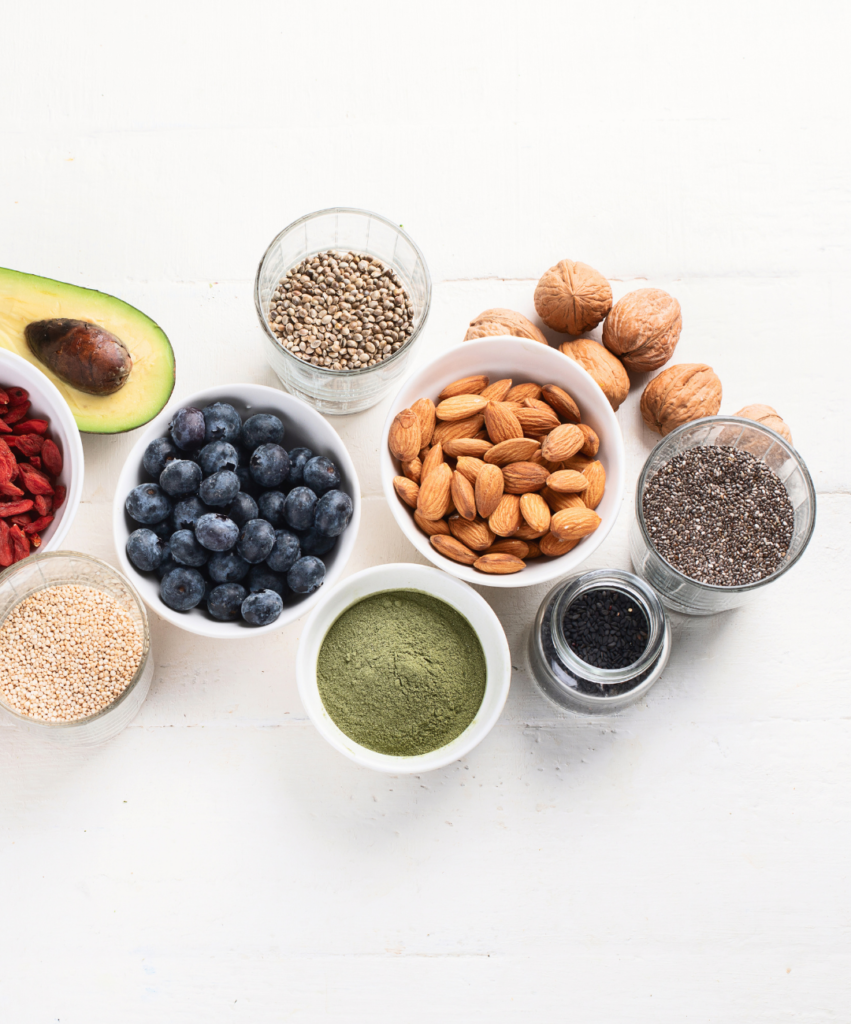 What is MYX Health, anyway?
I believe that MYX Health is set out to disrupt and shake-up the cut-and-dry health industry with its truly personalized wellness plan, superfood mixes, and coaching support. Oh yes, did I mention that once you've received your myx, you're connected wither a health coach to walk you through your test results and make a strategic gameplan for your health?
Support is critical when you're making lifelong lifestyle changes.
The MYX Health blood test process
While pricking your finger is never fun, it at-home blood testing process is super straightforward and relatively painless. I found that the testing steps were clearly explained and took under ten minutes to complete.
What's cool about testing with MYX Health is that your blood collection is sent to a certified lab and then examined by a licensed doctor in your state. That means you're getting trained eyes on your blood test who can keep an eye out for any major red flags and give you a ring if needed!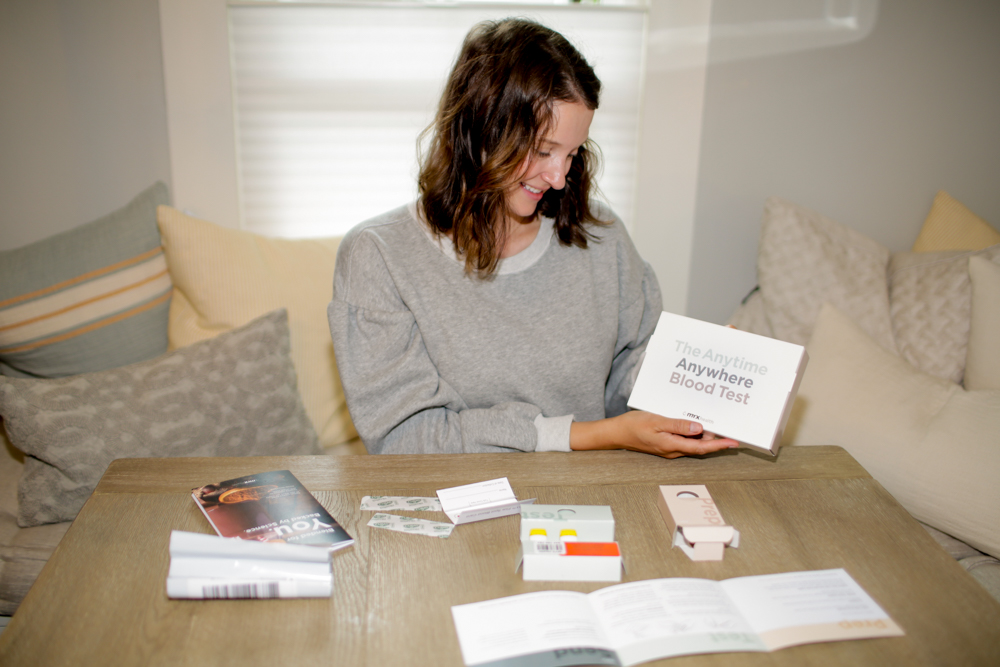 Once your results have been analyzed, MYX Health creates your fully-custom superfood mixes based on your blood test results. The blood test tests for specific health-related biomarkers, including:
HDL: the healthier type of cholesterol
LDL: the less healthy cholesterol
Triglycerides: fats in the blood
HbA1c: average blood sugar
hs-CRP: a marker of inflammation
The blood test also examines your cholesterol ratio based on your HDL, LDL, and triglyceride numbers and gives insight into your overall health.
Did I mention that the blood test is less than $30? That is an unbelievably low cost considering you can rack up a hefty bill getting a blood test through a naturopath or primary care physician. Also, MYX recommends retesting every 3-6 months to give your body time to adjust to the changes you've made to your diet and lifestyle.
My personalized results + recommendations
I was a little nervous to read my blood test results. As a new mom, I'm constantly on-the-go, and I have a high cholesterol family history. Much to my surprise, my health score came back at 80, which puts me in their "thrive" category. Yay!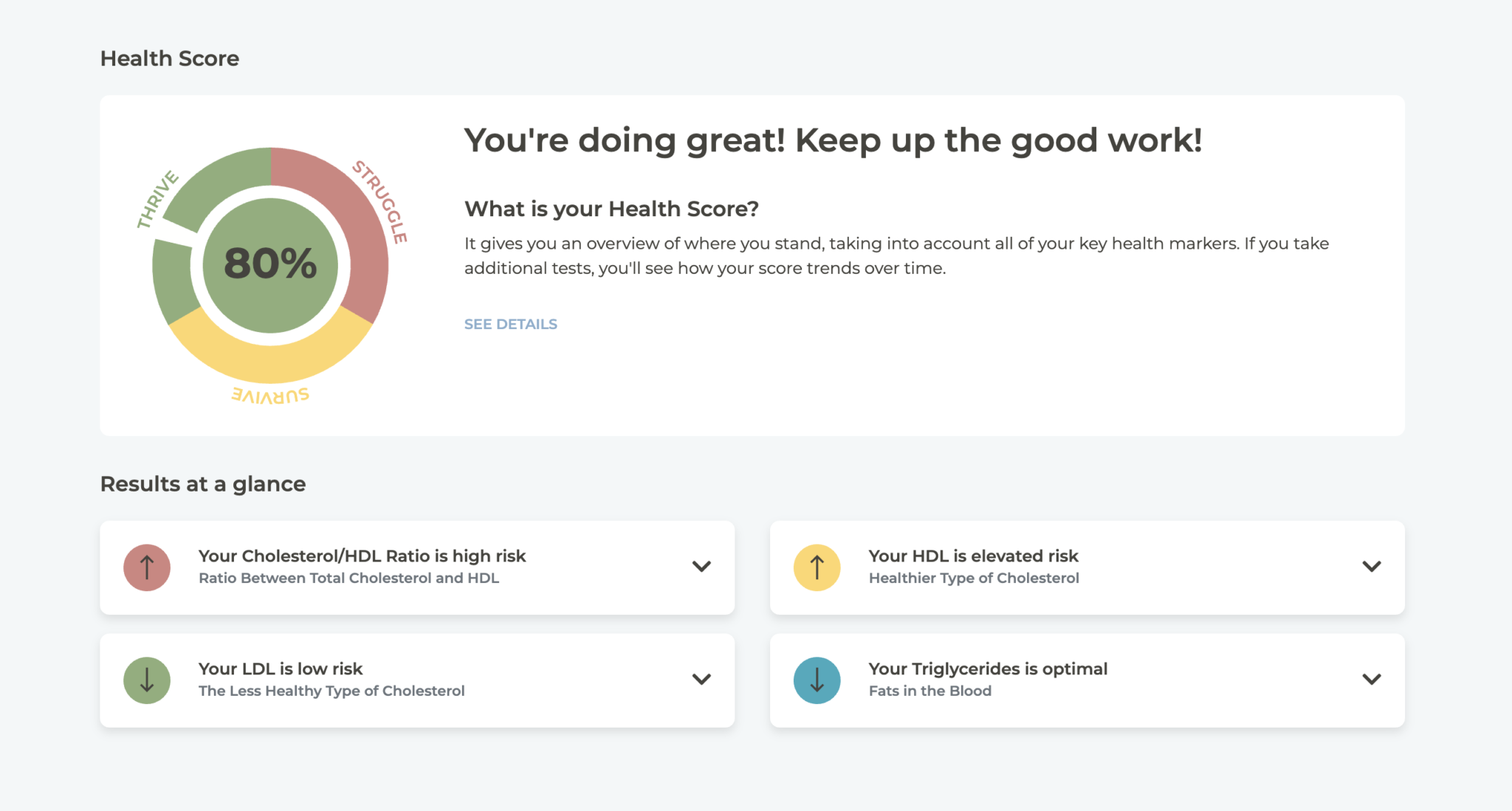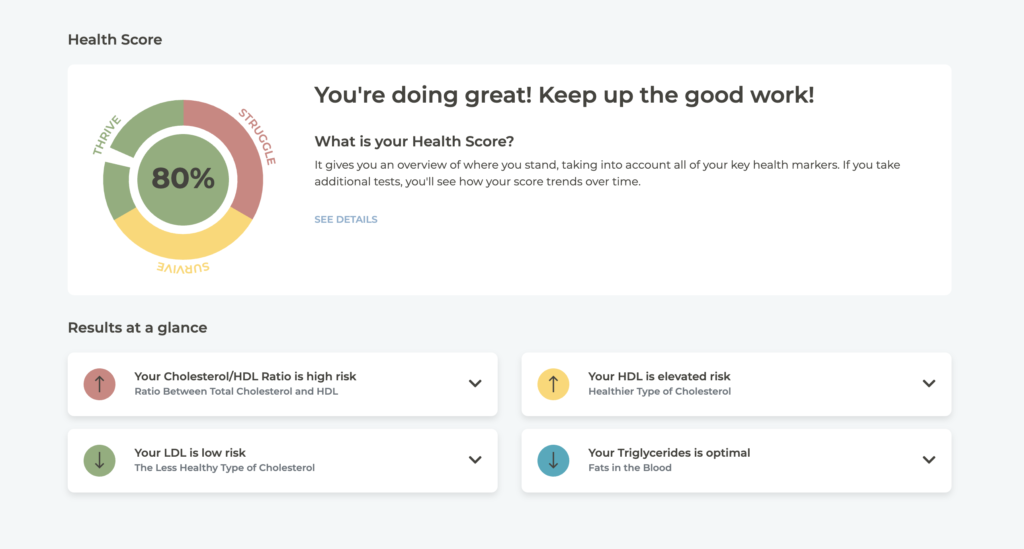 The main feedback I received was to up my healthy fats to positively influence my cholesterol ratio. More on that below! In addition to my blood test results, MYX takes it a step further and breaks down recommendations for improvement in four categories:
Nutrition
Stress
Exercise
Sleep
Under the nutrition section, for example, you'll find recommendations on which superfoods to add to your diet based on your blood test results. Check out the superfoods MYX suggested for me below!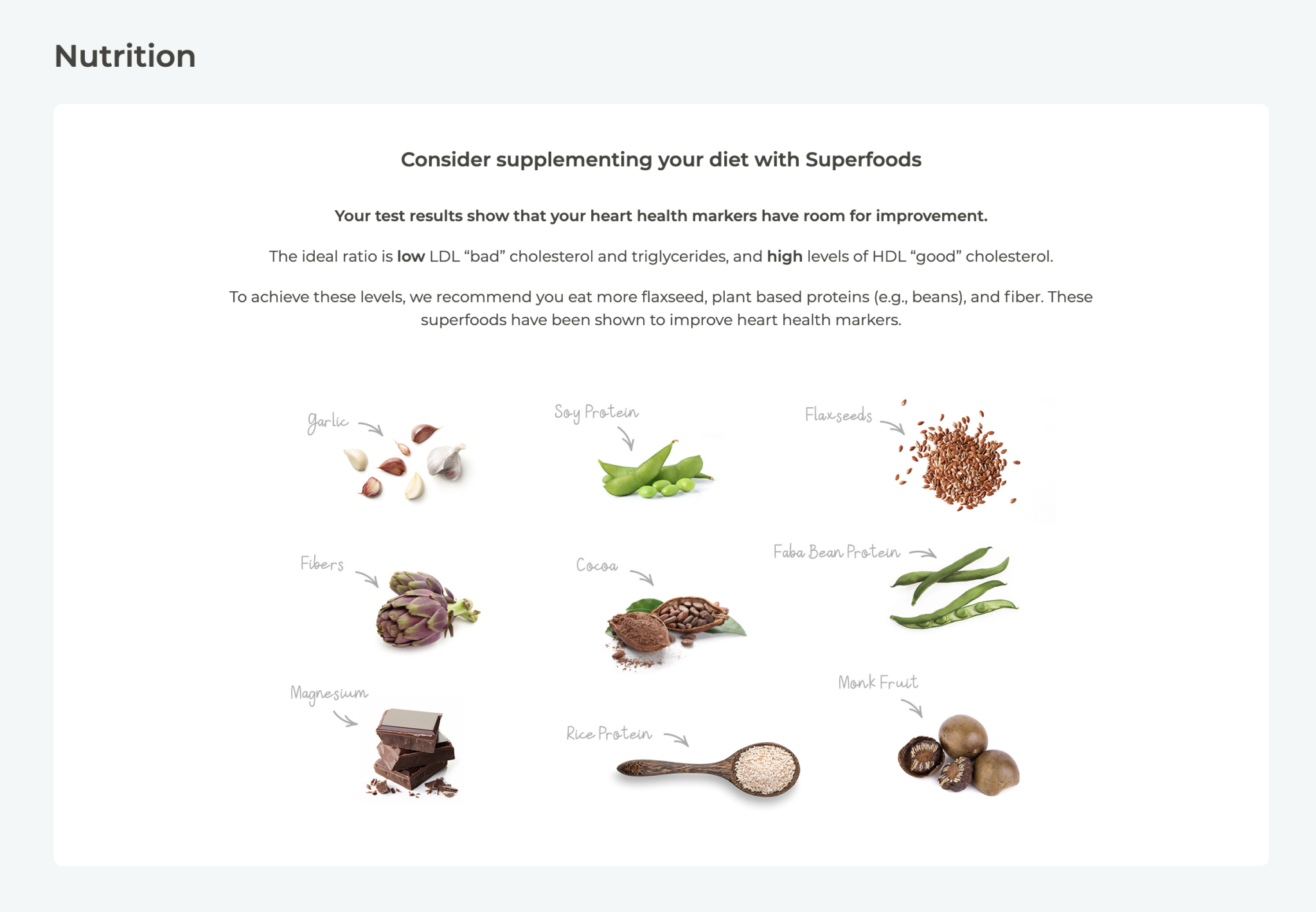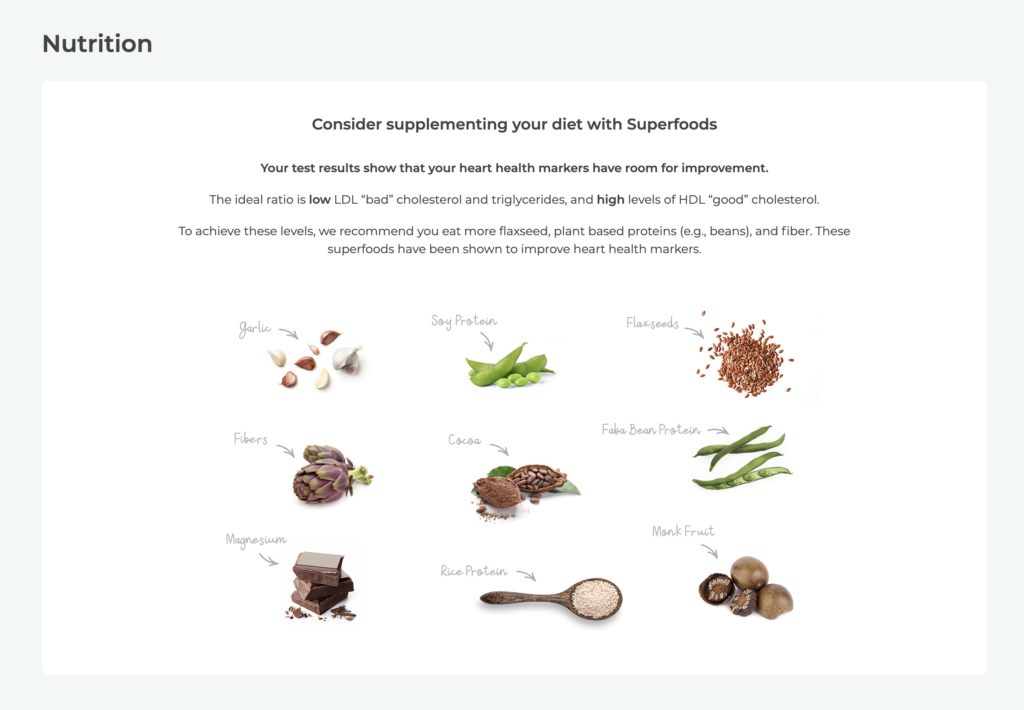 Besides nutrition, you'll also see some general recommendations for the stress, exercise, and sleep categories. I love how MYX is holistically approaching health by including factors such as stress and sleep in the recommendations, as it's critical to think about your wellness as big-picture as possible.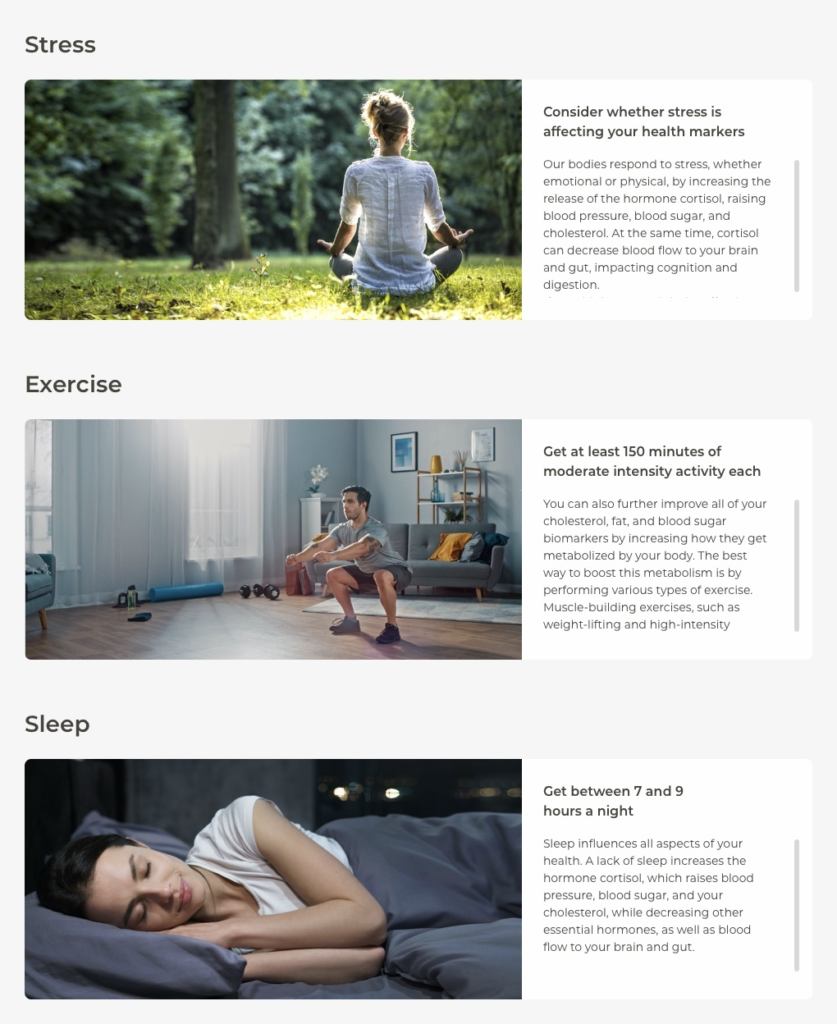 The MYX Health Superfood Myx
I'm excited to share more with you about the actual Superfood Myx itself. I was so pleasantly surprised by the ingredient and the taste. Remember, each Myx is custom to your health needs, but they are all chocolate flavor with a base of soluble fiber, faba bean protein, rice protein, soy protein, cocoa, natural chocolate flavoring, monkfruit, and a vitamin blend.
You can drink the Myx either hot or cold, and it's delicious on its own. I'd imagine it'd be a great after-dinner drink instead of reaching for dessert. Think superfood-infused hot chocolate!
Add it to your smoothie
Mix with any hot or cold beverage
Use for post-workout fuel (13 grams of protein per serving!)
On-the-go breakfast or snack
Also, it's important to note that the Superfood Myx packs in 6g of fiber per scoop! Fiber is a critical nutrient in our diet that is often overlooked and not consumed enough. According to UCSF Health, adults should aim for 25-30 grams of fiber per day, but most are only consuming around 15 grams.
Note: if you are pregnant or breastfeeding, please consult with your doctor before introducing any new supplements to your diet.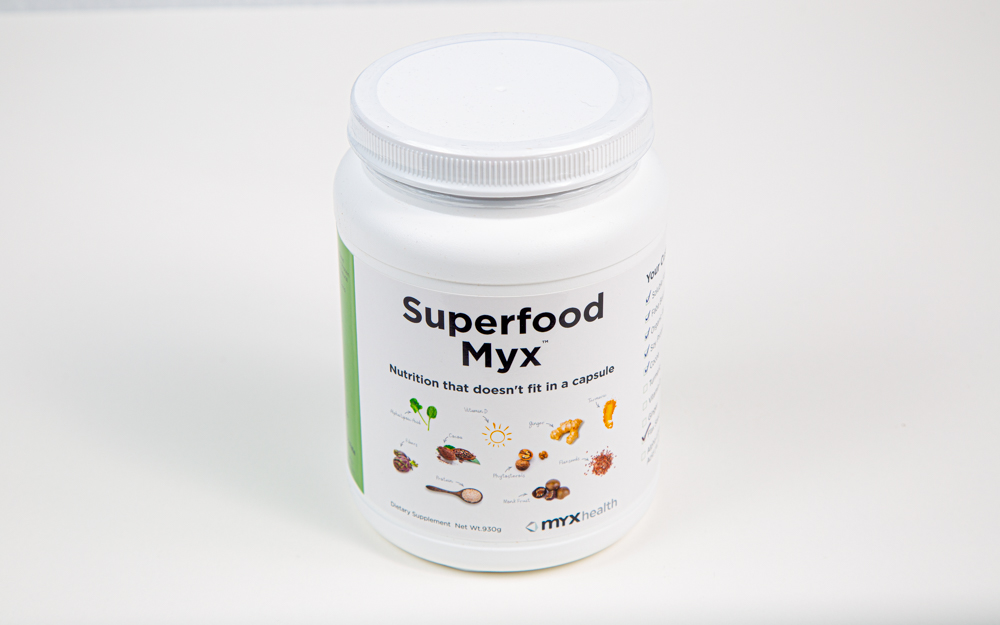 Coaching + guidance from MYX Health
On top of the incredibly in-depth portal, MYX Health also offers one-on-one coaching with an RDN (registered dietitian nutritionist) to help you walk through your results.
When I chatted with Libby about my personal results, she was able to give me some easy-to-implement ways to help improve my overall cholesterol ratio. Her approach felt sustainable and realistic for me, even as a busy mom.
For example, did you know that in order to unlock the healthy fats in flax seeds you have to consume ground flax instead of the seeds? I had no idea!
How much does MYX Health cost?
If you're interested in moving forward with Myx, you should know that the blood testing kit is already 50% off! It's regularly $59.99, but currently on sale for $29.99. This is for the blood test only.
If you're interested in the blood test kit and Superfood Myx bundle, you can snag that for only $47.99 This bundle includes your unique superfood blend which is shipped to you after you get your results. Plus, with my discount code, you can save an additional 15% on your order.
My final thoughts + verdict on MYX Health
Overall, if you're looking to create impactful and sustainable changes to your health and wellness, MYX Health is a great step in the right direction. With Myx, you will be able to make informed decisions around your health and wellness, all with the added visibility of blood tests and biomarker results.
As a mom, my health and wellness are more important now than ever before. I want to show up as my best self for my kiddo, and that means taking care of myself first. MYX makes it easier for me to do just that.
Save 15% on your MYX Health order with code CARLEY15

Simply click the button below to automatically apply your discount at checkout
---
This post contains affiliate links. If you choose to purchase through a link on this page, I will receive a small commission at no extra cost to you. Thank you for supporting our family's small business!
---