I took an at-home fertility test at 28 years old, and here's what I uncovered about my fertility status.
Psst! Here for the Modern Fertility Discount Code?
Like many millennial women, I was on hormonal birth control for almost 13 years. Between the pill, ring, and IUD – I've pretty much tried them all.
In February of 2017, I made the decision to have my Skyla IUD removed after experiencing some unexplained symptoms like brain fog, increased anxiety, moodiness, and an overall disconnect with my body.
Since that time, my husband and I have very seriously considered starting our family, but I always had this deep fear that I wouldn't get pregnant after the years I spent abusing my body with synthetic hormones.
Whether these worries were rational or not, I couldn't seem to shake my feelings, and I felt I needed to get more data on my current hormone status before we ventured down the road to pregnancy.
That's when I met the at-home fertility hormone test from Modern Fertility.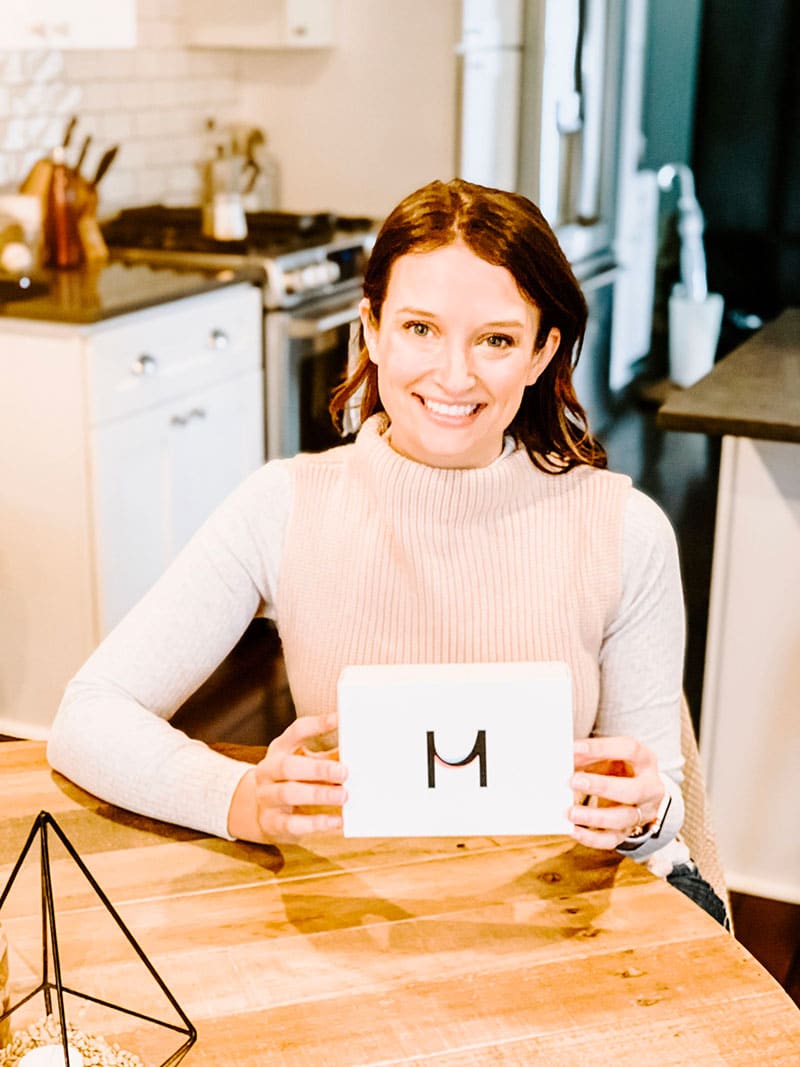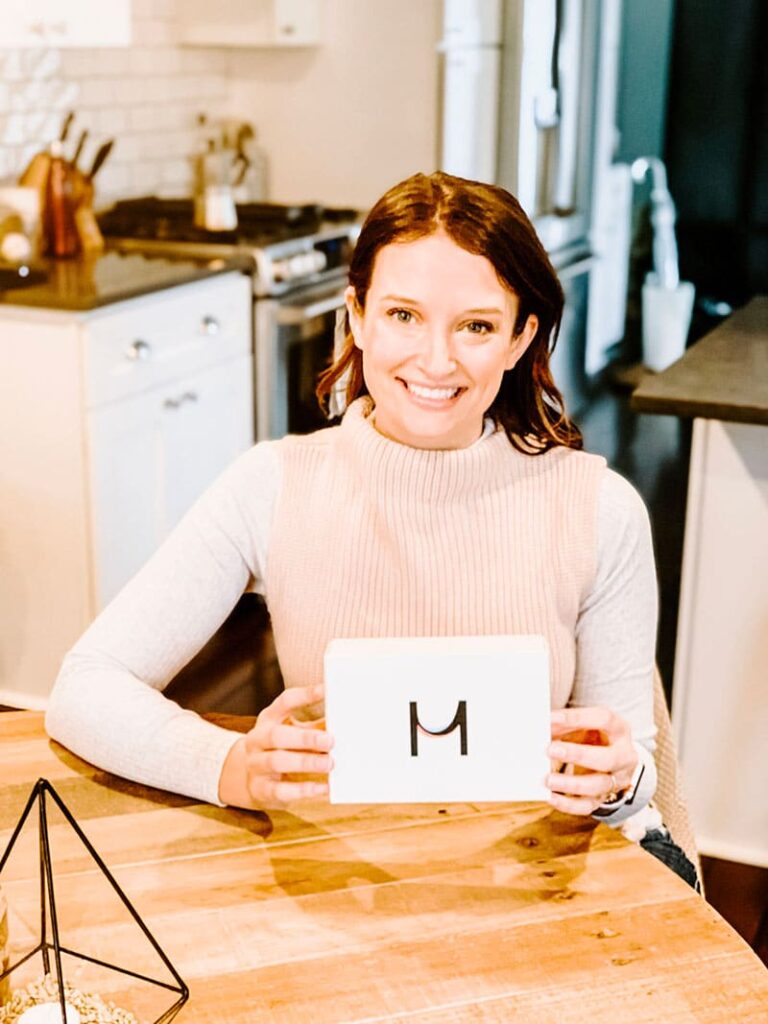 Why Modern Fertility?
Let me preface this review with everyone's journey with fertility – whether you aim to get pregnant now, in the future, or never – looks completely different.
In addition to what I shared with you above, I'm also self-employed, have crappy insurance, and quite honestly, avoid going to doctors at all costs.
According to Modern Fertility, "we called eight clinics in the San Francisco Bay area to understand how much hormone testing costs. Across the clinics, the initial consultation ranged from $225 to $1050. The cost of blood work ranged from about $800 to $1500, but this price can depend on a variety of factors including how many hormones are tested, if the clinic relies on a third-party lab for testing, and how many tests the doctor recommends or requests. Assuming insurance or your employer doesn't cover fertility testing, these are out-of-pocket costs."
Considering my current status, the convenience of Modern Fertility's at-home testing kit made the most sense for me – due to the ease of testing and approachable price point.
So, how much is a hormone test from Modern Fertility?
The Modern Fertility at-home fertility testing kit is $159, but you can save $10 with my exclusive discount code.
Here's what you receive with your testing kit:
A customized fertility test based on whether or not you're currently on hormonal birth control
Access to your raw data results so you can easily chat with your doctor about your results
Personalized reports that explain your hormones and how they relate to ovarian reserve, egg freezing, menopause, and IVF
A 1:1 consultation from a fertility nurse and access to weekly "Egginar" webinars for more support
A safe place to connect with other Modern women
When compared to the standard prices for fertility testing, it's no doubt Modern Fertility is making fertility testing more accessible to women around the country.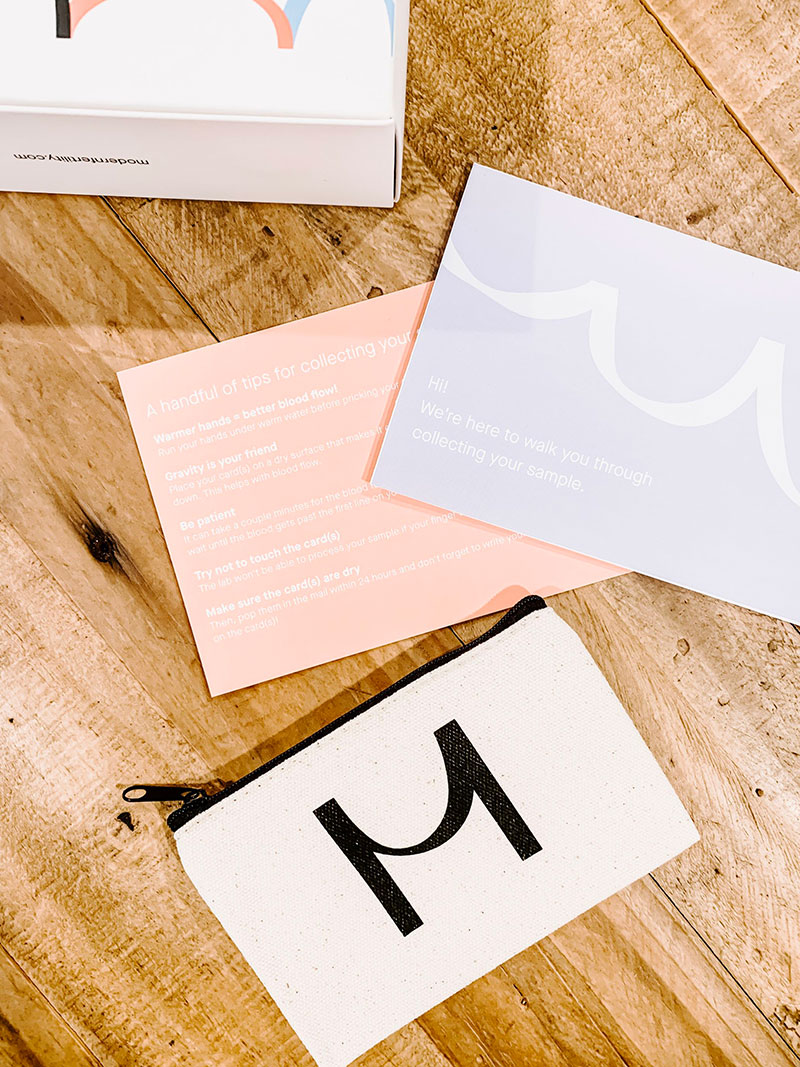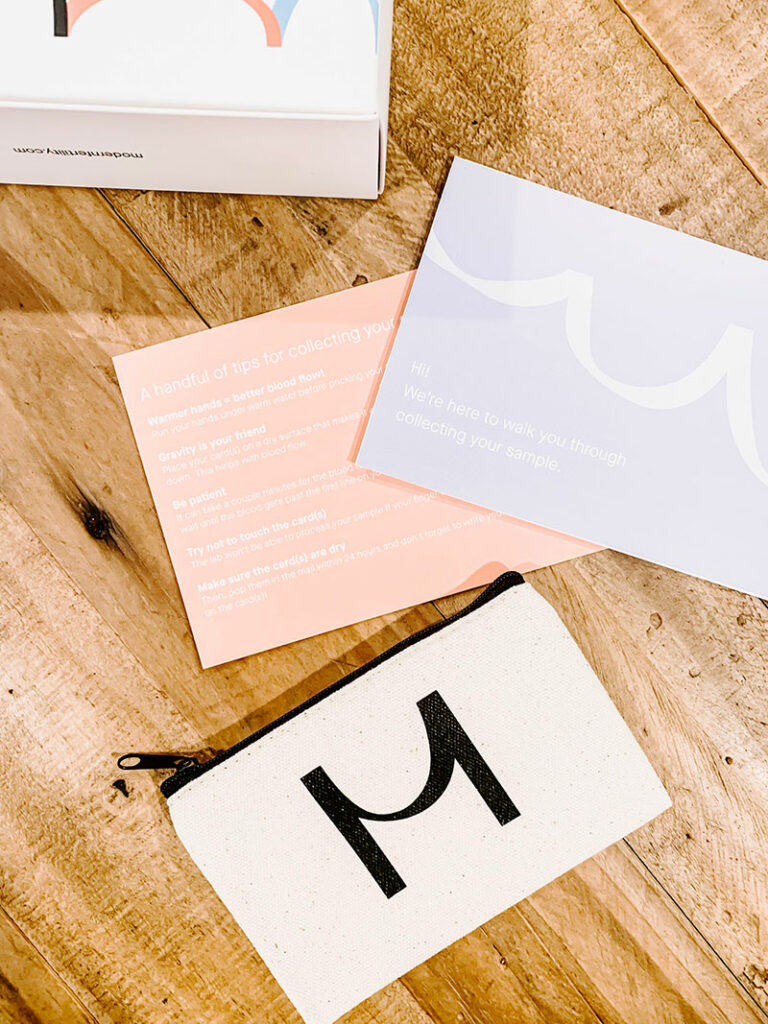 How does Modern Fertility work?
The testing process for Modern Fertility is straightforward. It requires you to do a finger-prick blood test (no, it didn't hurt) and, depending on your test, fill up either one or two cards with your blood.
Also, to receive the most accurate level of hormone testing, you must test on the third day of your period.
Once you've finished the blood capture process, you just let your card(s) dry for at least an hour. Then, pop the sample cards in the designated bags, put your sample bags in the shipping pouch, and send it off to the lab.
I received my results within two weeks. I was pretty impressed with not only the speed of my results but also how Modern Fertility communicated with me along the way. They let me know when my samples arrived at the lab, and I received some information via email to read while waiting for my results.
What also impressed me about the Modern Fertility testing process is that the test you receive at home is the same caliber that you'd receive at a traditional fertility clinic.
When it comes to the actual hormones tested, Modern Fertility takes a look at levels for hormones that can help determine egg count, ovulation, overall body factors, and any red flags as they relate to fertility. You can see a full list of hormones below and, if you're interested, you can learn more about the science behind modern fertility.
The new timeline tool
Modern Fertility realizes that people are waiting longer now to have children. They recently published a helpful timeline tool for planning the timing of your pregnancy journey.
You can enter your current age, the age you'd like to have your next or first child, and the total number of kids you want. Plugin the numbers, and the tool provides some useful information, such as the risk of miscarriage (percentage) based on age.
From there, you'll receive a better understanding of when you should aim to conceive or how to space out your pregnancies. Check out the example below!
My hormone test results
Let me preface this section with the world of science, hormones, and fertility is a new zone for me. It's been only in the last few years that I've discovered fertility tools such as my Daysy fertility tracker, seed cycling, and how lifestyle can affect our menstrual cycle.
I felt I was on birth control for way too long and was very out of touch with my body and her phases. As of today, I have an appointment on the calendar with my nurse-midwife to discuss my results more thoroughly.
I'll be honest, some of my markers caused me to worry slightly, more specifically my FSH level due to its slight elevation. Once I walk through my results with my nurse-midwife, I will update the post with her take on the data.
AMH or anti-mullerian hormone is a substance produced by granulosa cells in ovarian follicles. AMH blood testing is used to attempt to measure the size of the pool of growing follicles in women.
FSH or follicle-stimulating hormone that is released by the pituitary gland and is responsible for stimulating the growth of eggs in the ovaries.
An update to my Modern Fertility results (2018)
I met with my nurse-midwife to discuss my lab results from Modern Fertility, and she was so impressed by the data chosen to test. She mentioned that not every fertility test tests for a specific thyroid hormone that Modern Fertility did test.
Also, my concern about my slightly elevated FSH levels wasn't a concern for her, which provided me great relief.
Bottom line: if you see anything slightly troubling in your Modern Fertility test results, chat with the complimentary fertility nurse provided with your purchase or touch base with your current healthcare provider.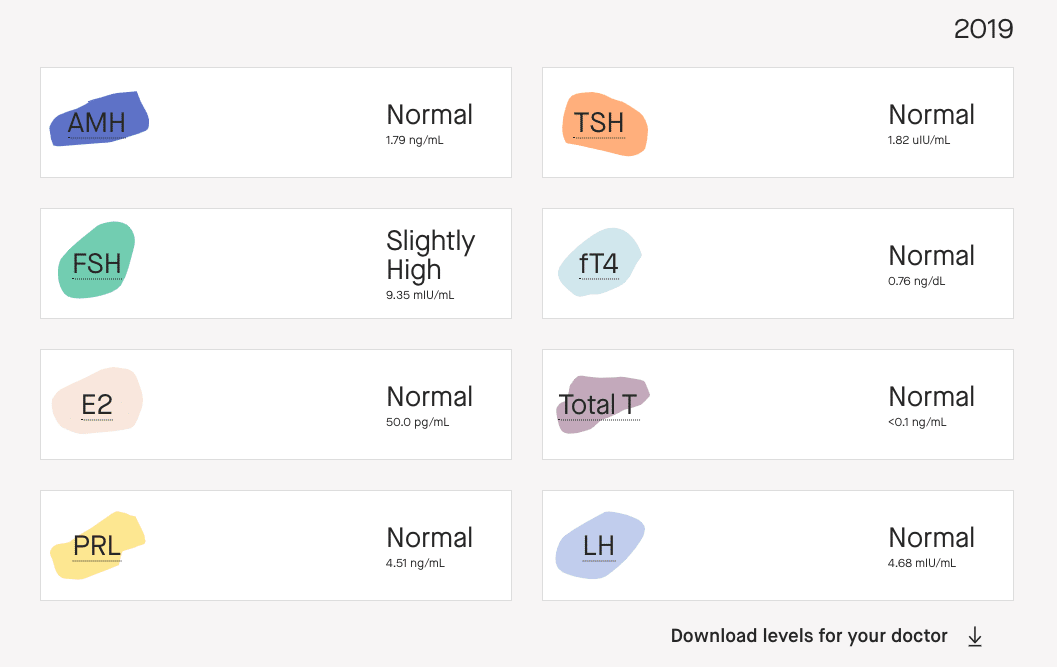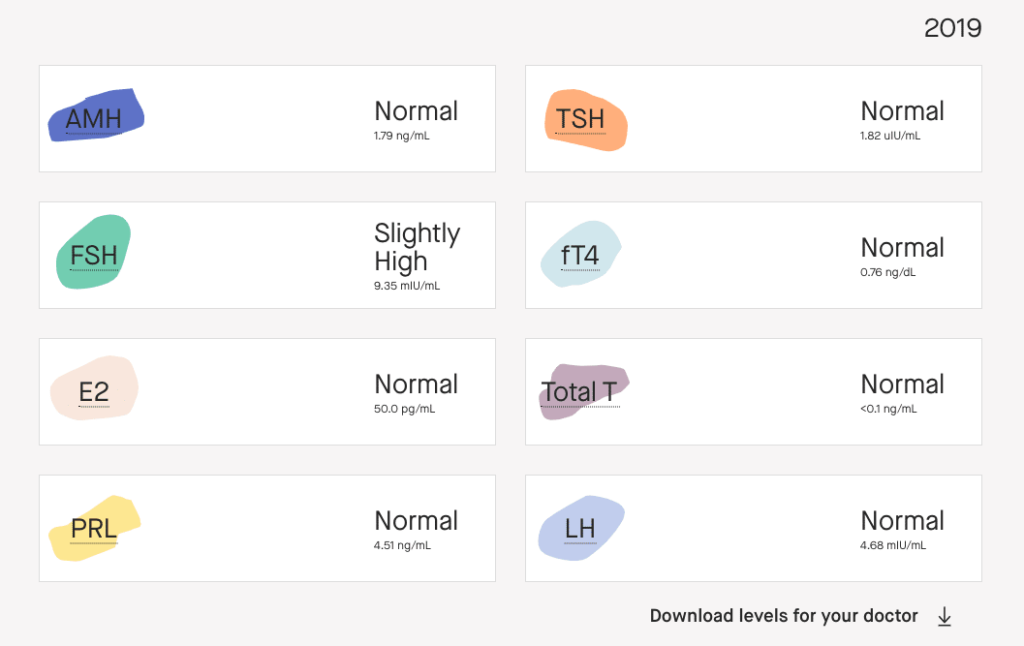 Modern Fertility offers complimentary counseling
Included in your test purchase is a complimentary 1:1 session with a fertility nurse. I have yet to take advantage of this perk, but this session is on my to-do list.
In addition to the 1:1 consultation, you receive access to a weekly "Egg-inar" webinar to help you better understand your Modern Fertility portal and results.
It's important to keep in mind that Modern Fertility is delivering sensitive information that can cause various emotions, depending on your results. I'm grateful that there are support options provided by Modern Fertility, plus you can download your raw data to discuss with your doctor or a specialist if needed.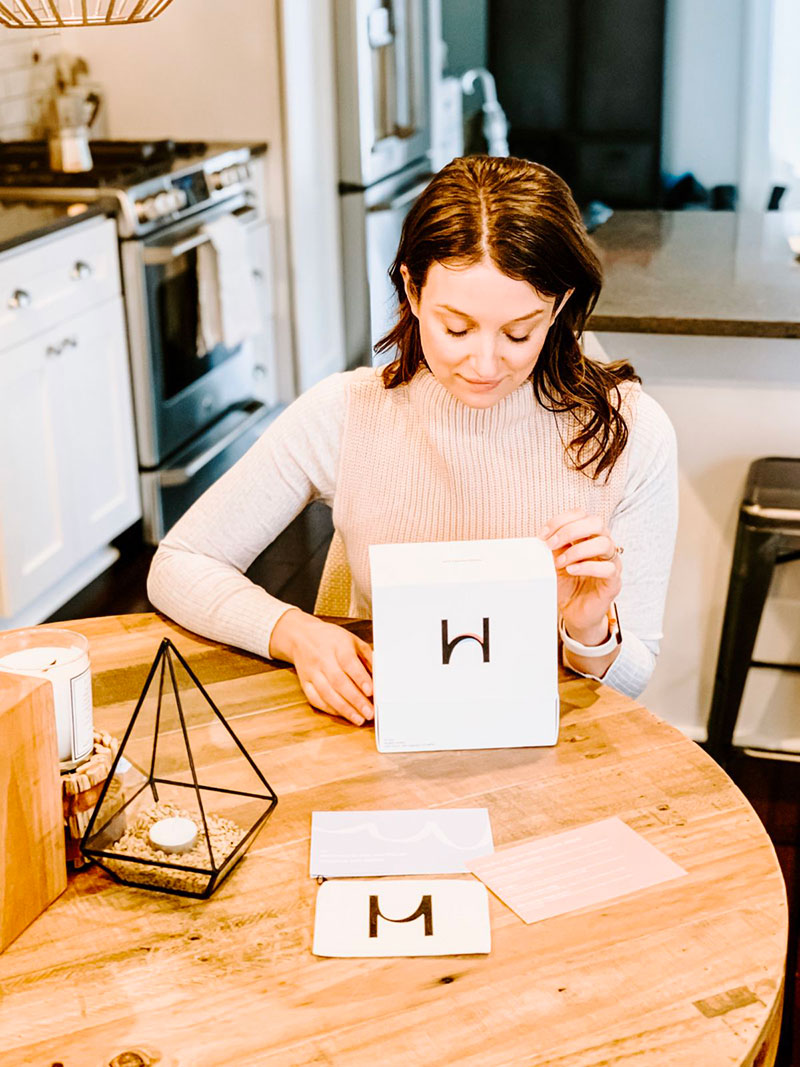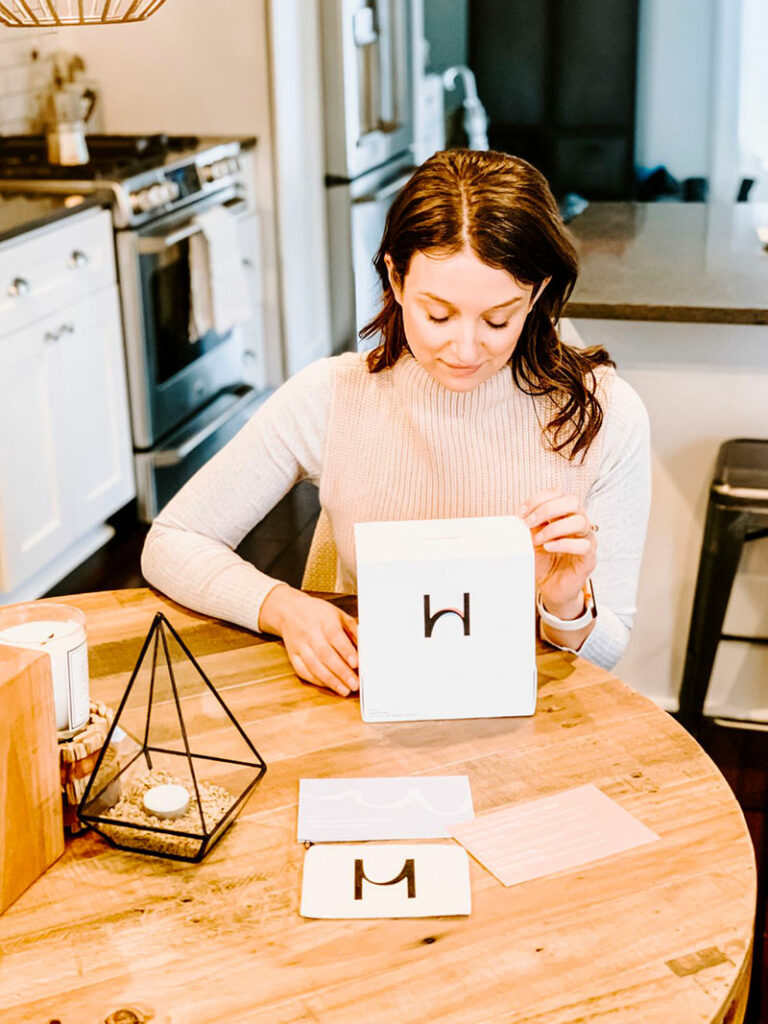 Modern Fertility is not a doctor
It's important to recognize that testing with Modern Fertility does not replace working with a doctor or endocrinologist. Please also note, as with any at-home test, there is a margin of error to consider:
Did you let the blood dry long enough?
Did you fast for a proper amount of time?
Did you draw enough blood?
Modern Fertility does recommend re-testing after a certain period. For me, Modern Fertility suggested that I re-test my hormone levels in October 2019.
Update: I ended up not testing in October 2019 because I was pregnant with our first child!
Also, as I mentioned above, I uncovered a few areas of concern with my test results as it pertains to my hormone levels. I will be working with a local midwife to dig into my raw data to make lifestyle adjustments and to plan accordingly for our future as a family.
Above all, I am so grateful that I have an insight into what's actually going on inside my body. There is no more guessing or anticipating when it comes to my fertility status and, even though it's slightly less than ideal, I feel very empowered having a clearer picture of where I stand.
What's impact does Modern Fertility have on society?
As with anything, it's important to consider the more significant impact.
Will a testing service like Modern Fertility cause a woman to prematurely freeze her eggs or plan a pregnancy? While I can see how some women might feel they need to rush a decision if they receive worrying results, I believe that whatever decision a woman makes around her next steps is her decision.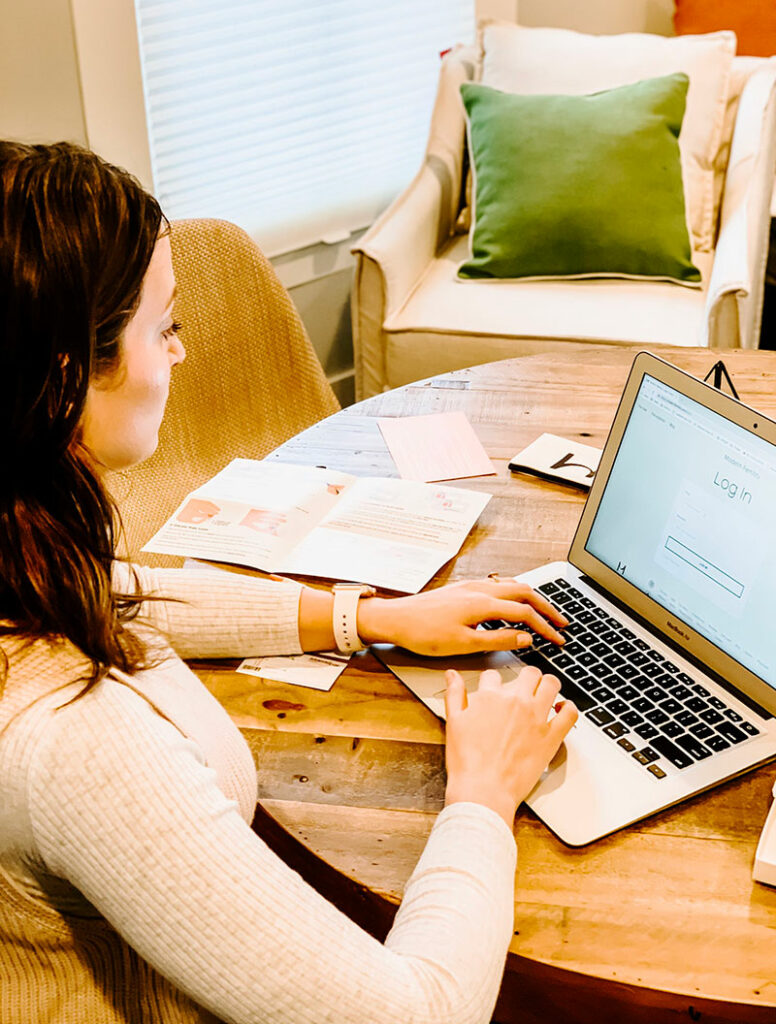 I do encourage walking through your results with a trusted professional so you can make the best decision based on your results, your timeline, and ultimately, the type of life you desire to create.
Here's how I see it: the more precise the snapshot is that you have of your body and what's going on inside, the more effectively you can care for yourself.
To me, knowing about my fertility status and what the future could bring is better than not knowing at all. Now, I feel more empowered to care for my body and pay closer attention to the clues my body sends off during each phase of my cycle.
You might enjoy: Learn How I Track My Fertility Status with Daysy
---
Save with a Modern Fertility discount code
Save $10 on your at-home Modern Fertility hormone test
Click the button below and the discount will automatically apply at checkout.
---