Taking cues from our early 1900s farmhouse, I designed a modern farmhouse nursery while carefully mixing new with nostalgia.
Decorating our son's nursery was a cathartic project for me and something I genuinely enjoyed working on in my third trimester.
From the beginning, I had a vision of a relaxing space filled with neutral, calming colors layered with various textures – nothing overly "baby," but instead, charming touches of youthfulness throughout the small space.
All photos are credited to Ryan Flynn Photography unless otherwise noted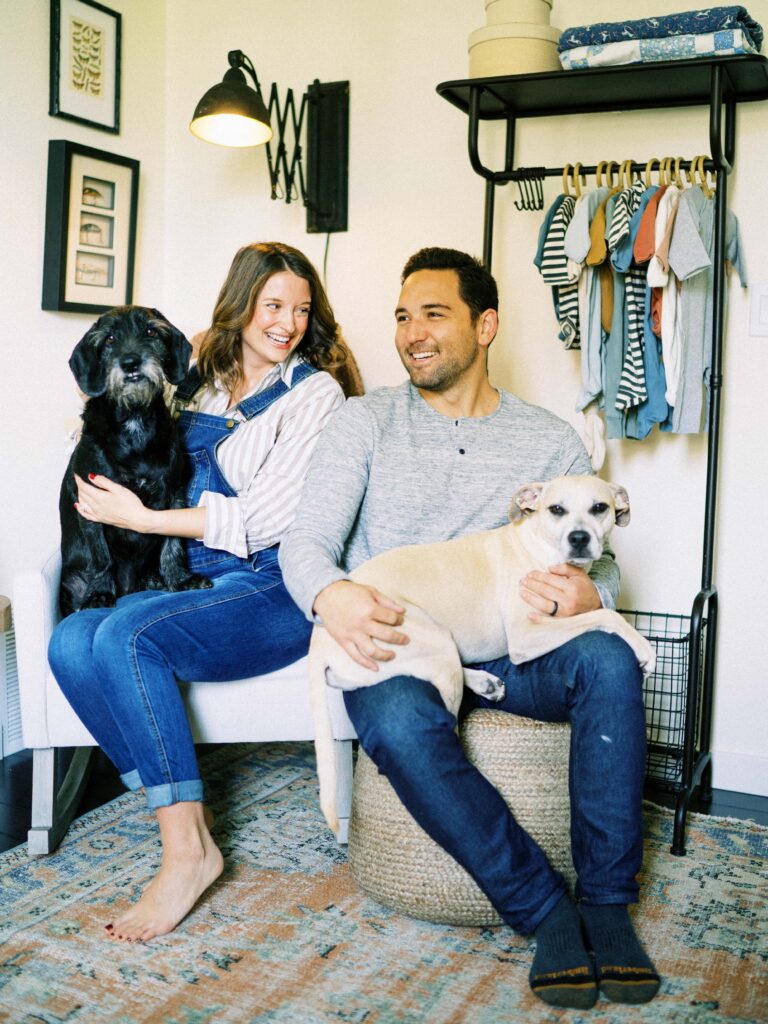 Finding the perfect modern farmhouse nursery furniture
Deciding factors for the crib
I decided that I was going to pick the crib first and then work from there. While many nurseries these days have light wood or white cribs, I knew that I wanted to go with a black metal one.
Something about the clean lines and contrast of the dark metal against softer neutrals struck me; plus, the crib I decided on is versatile enough to last through our son's toddler years. I also loved how thin the railings are, and I didn't want anything too clunky or overbearing for the small space.
Once the crib was decided upon, everything else began to fall into place.
CRIB | MOBILE | SHEETS (SIMILAR)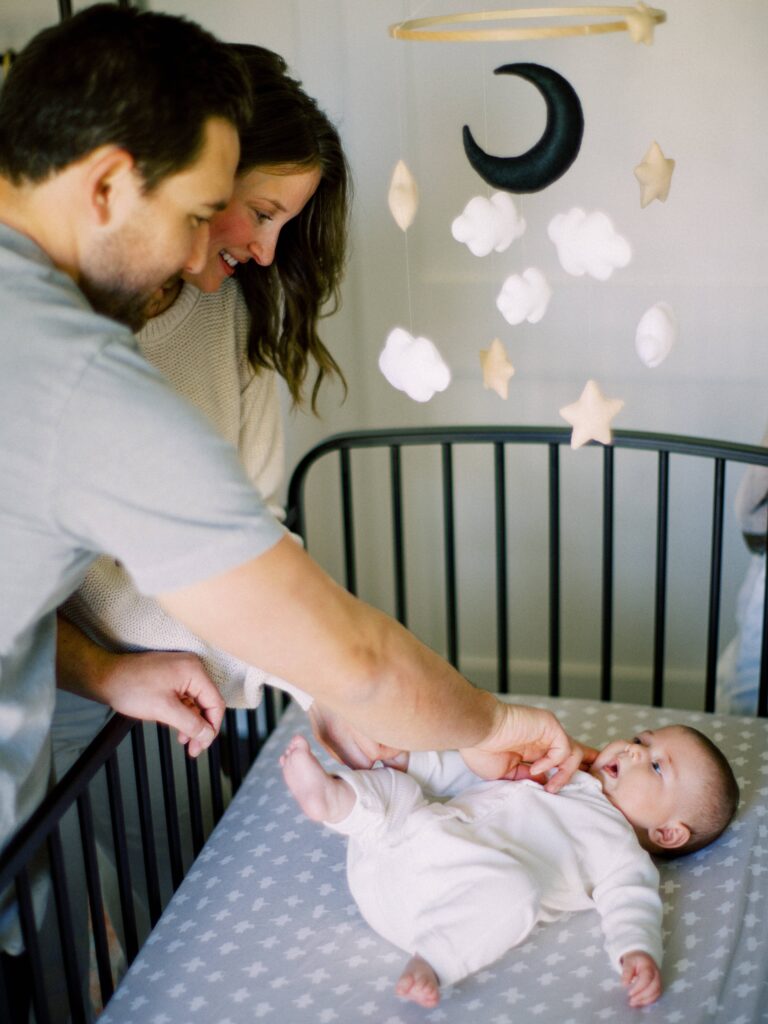 The hunt for the perfect rug
For the floor covering, I knew I wanted something busy but neutral, and ideally, filled with both warm and cool colors. We have beautiful dark bamboo floors throughout our house, but they felt a little too cold for the calming nursery I envisioned.
After scouring the internet for the perfect rug, I ended up getting a vintage Turkish rug shipped from Turkey on Etsy.
Yes, it was a risky move, given the odd dimensions of the rug and the fact that I hadn't seen it in person, but it fits the space beautifully and ties everything together. The rug itself is perfectly imperfect, with repairs sewn together with careful stitches.
I recommend first measuring your room and then browsing Etsy with your dimensions in mind and know that you can find the perfect rug for your space with some patience.
Also, I added a cozy sheepskin to give the space some extra warmth next to the crib. It's quickly become a favorite spot for our dogs to lay on while I'm nursing.
You can see some of the rug (and more of the crib!) in the picture below.
CRIB | HAMPER | TASSEL BLANKET | SHEEPSKIN (SIMILAR)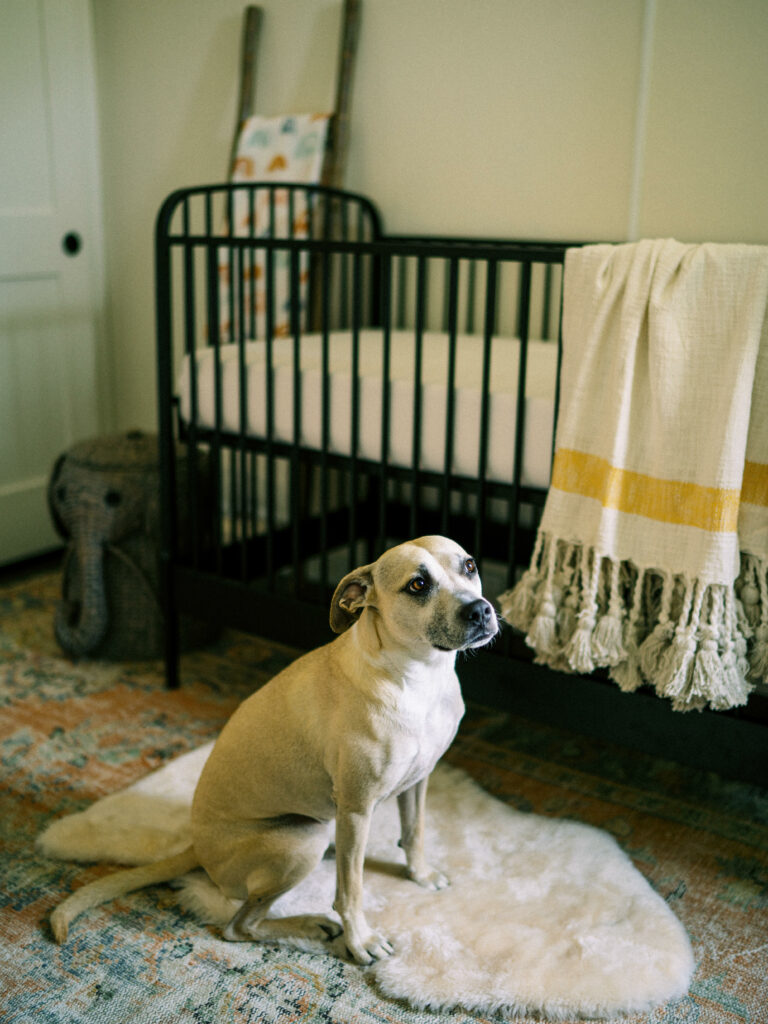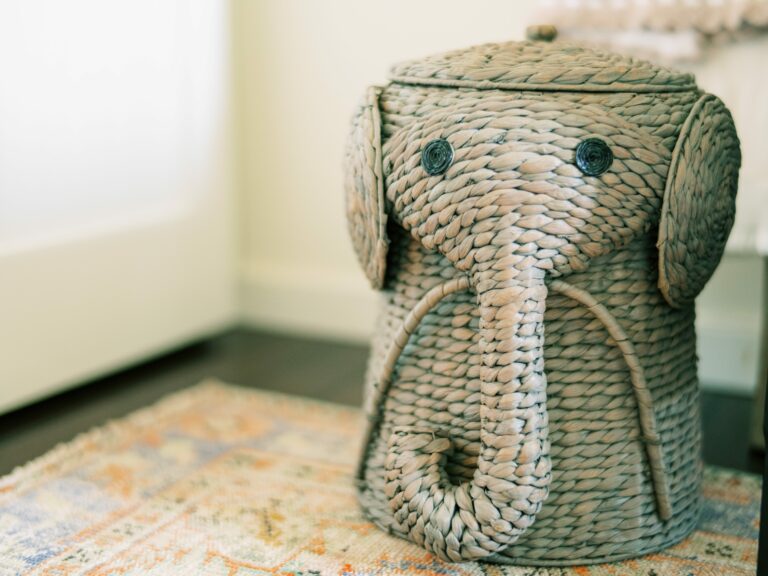 The ideal dresser + changing table station
Due to the small room (and lack of closet space), I knew that a large dresser that doubled as a changing station was essential. After many hours of debating, I decided to go with a simple black chest and was able to find the perfect one on Wayfair.com for half of the price I was budgeting – yay!
Unfortunately, the exact dresser I purchased is sold out, but what I loved about it were the deep drawers and rich-feeling matte black finish.
When it came to filling the drawers, these collapsible organizing boxes were a lifesaver (still are!), and I keep all of Landon's diaper essentials nicely organized in the first drawer right below his changing station. All six drawers have various configurations of those boxes.
CHANGING BASKET | VINTAGE BOOKS | RAINBOW PRINT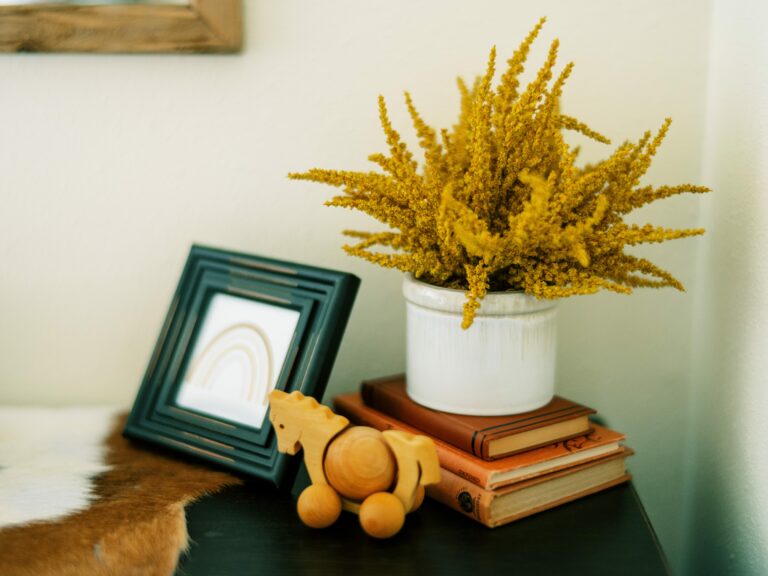 A comfy and calming nursing corner + rocking chair
I anticipated spending a lot of time nursing in whatever rocking chair I decided on, so I wanted it to be comfortable and functional, but also not a complete eye-sore. Ideally, it would become a piece that could transition from room to room, as needed.
After a lot of consideration, I ended up going with this rocking chair in putty. As you'll see, some of the fabrics are custom and can take 4-6 weeks to deliver as they are made to order. Make sure to factor in delivery windows in your timeline so you don't get caught without a rocking chair!
Because the rocking chair doesn't have a built-in recliner, I bought a separate pouf (ended up getting this one) to have a place to kick up my feet when nursing. Trust me, a place to rest your legs is essential. I love this pouf because it adds in more of those neutral textures I mentioned earlier. Plus, it will easily transition throughout our home when it's nursery days are over.
Also, I added in this swing arm lamp at the last minute that uses particular light bulbs that connect to our Amazon Alexa. It's so convenient to ask Alexa to turn on or dim the lights when I don't have a spare hand – there's no doubt that this lamp has saved me from many late-night frustrating moments.
END TABLE | ROUND PILLOW | BLANKET IN AMPHORA | POUF | LIGHT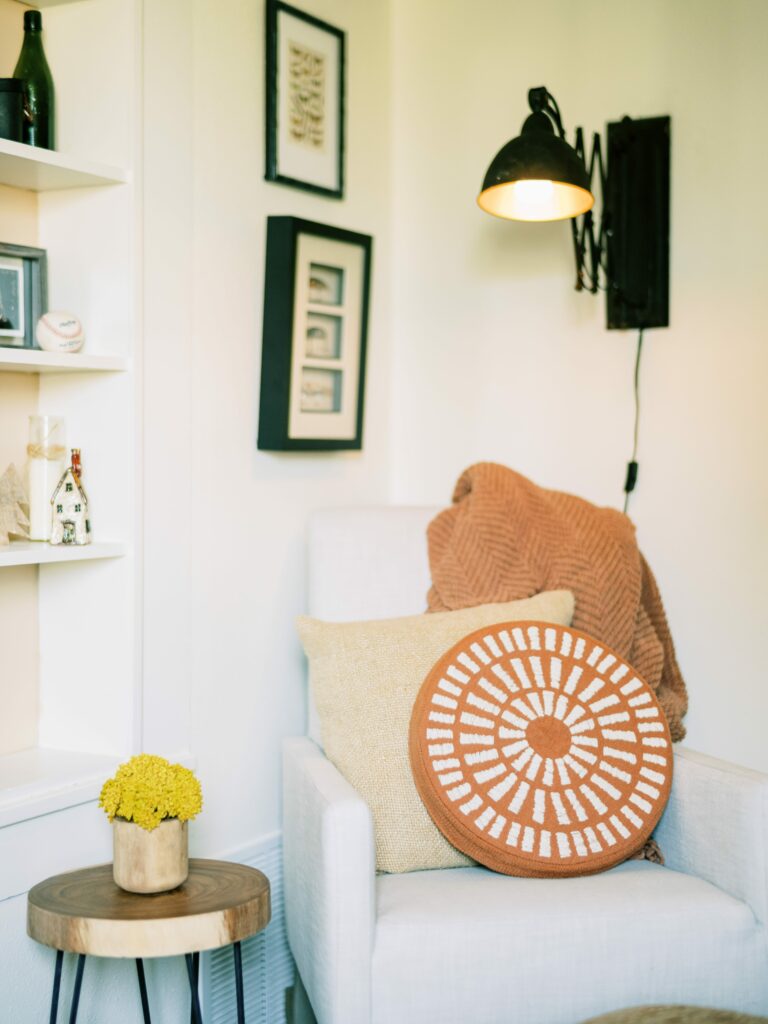 Finishing touches: layering in new + nostalgia
While I purchased a lot of new pieces for this space, I wanted to ensure that I added in sentimental pieces throughout. Our home is over 100 years old, so it's always been a priority of mine to keep her heritage and history alive while transforming spaces.
I've always been the type to buy items I love while traveling – big and small. It's the perfect way to keep memories alive, and I love the challenge of finding the ideal space for the piece to live within our home.
The two prints in the image below are extremely special to me, here's their story:
The top one was a piece I found while rummaging in a vintage store in the small town of Český Krumlov while on a European cruise with my 89-year-old Nan. I was seven weeks pregnant at the time, and I had no idea if we'd have a boy or girl, so I wanted something that would fit either space. Every time I look at it, I'm reminded of that trip and our precious memories.
The bottom piece was gifted to my husband by my mom as a wedding present. It's a collection of my late grandfather's fishing lures that were lovingly framed and perfectly preserved. While I never had the honor of meeting him, I like to think that he's with us every time I pause to reflect in this space.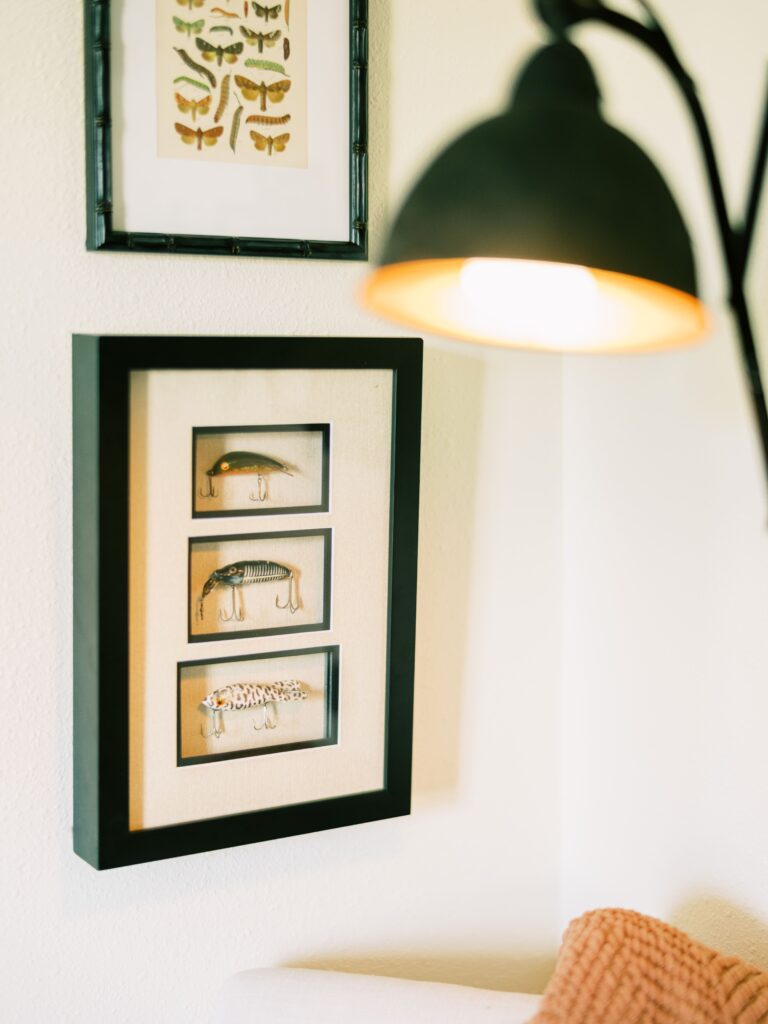 The guest bedroom-turned-nursery thankfully, already had built-in shelves, and we ended up painting the back wall to give the space some more warmth and dimension. We used Arizona Tan by Benjamin Moore to help draw out the colors from the rug.
Within these shelves, you'll find pieces that have a story and some that are from random online retailers. My favorite nostalgic pieces are:
The trio of small medicinal vials gifted to me from my Nan
The small Buddha from our trip to Thailand
A small rock that says "expect a miracle" (in blue!) that I found in a parking lot the month before I found out I was pregnant
A small elephant from Elephant Nature Park in Chiang Mai
Landon's twenty-week ultrasound picture
A baseball from the Cubs game we went to while I was pregnant – I asked the coach for a ball and he tossed one my way!
A set of crystal salt and pepper jars from my Nan
My husband's baby rattle
A ceramic house from a local artist in Victoria, BC I bought on a trip with my mom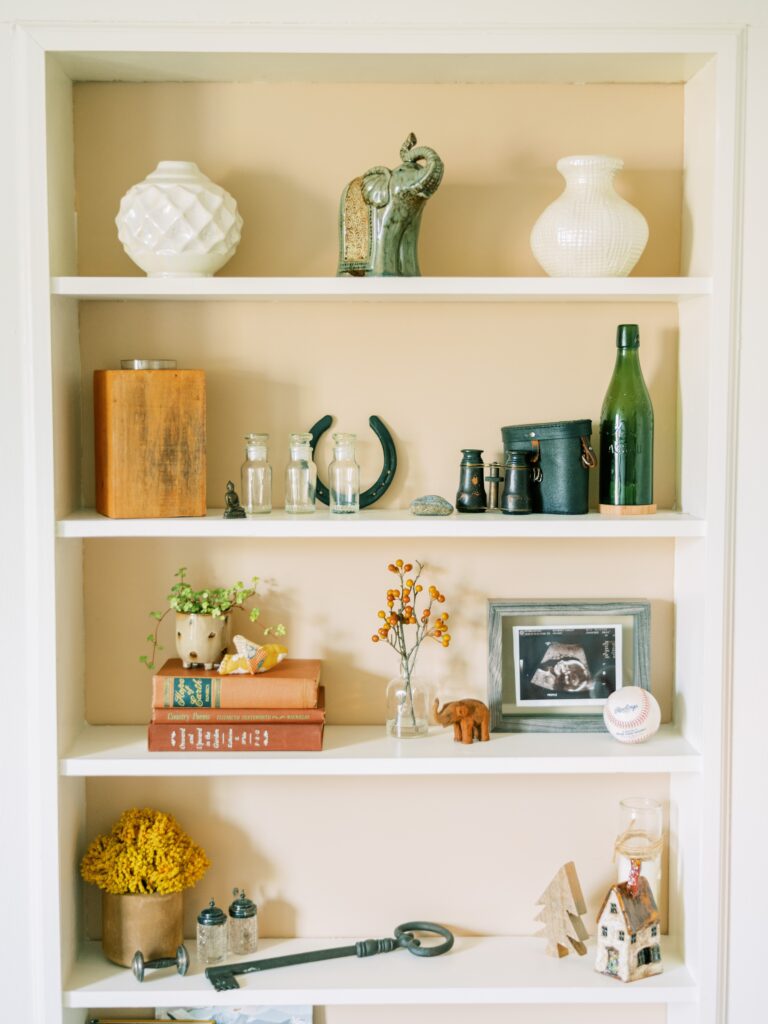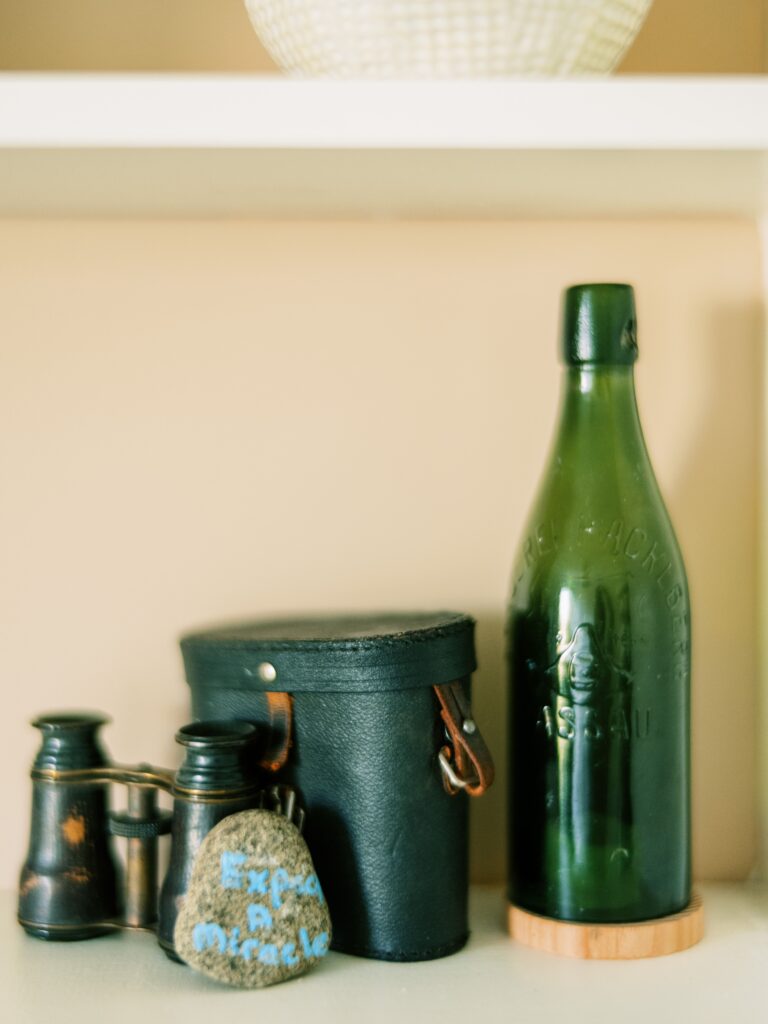 Creating additional storage space
The closet in Landon's nursery is tiny, so finding a way to hang extra clothes was critical. Thankfully, we already had this makeshift hall tree-turned-closet in the guest bedroom, so it smoothly transitioned into the nursery.
I bought these rattan baby hangers to give the space some more interest and add a small whimsical touch to the darkness of the metal piece. Lately, I've found myself hanging individual pieces of clothing here to help me remember when he was oh-so-little.
My late grandmother sewed the two blankets on top, and Landon's middle name is in honor of her maiden name, Woods. I know she would have loved to meet him.
STORAGE BOXES | RATTAN HANGERS | HALL TREE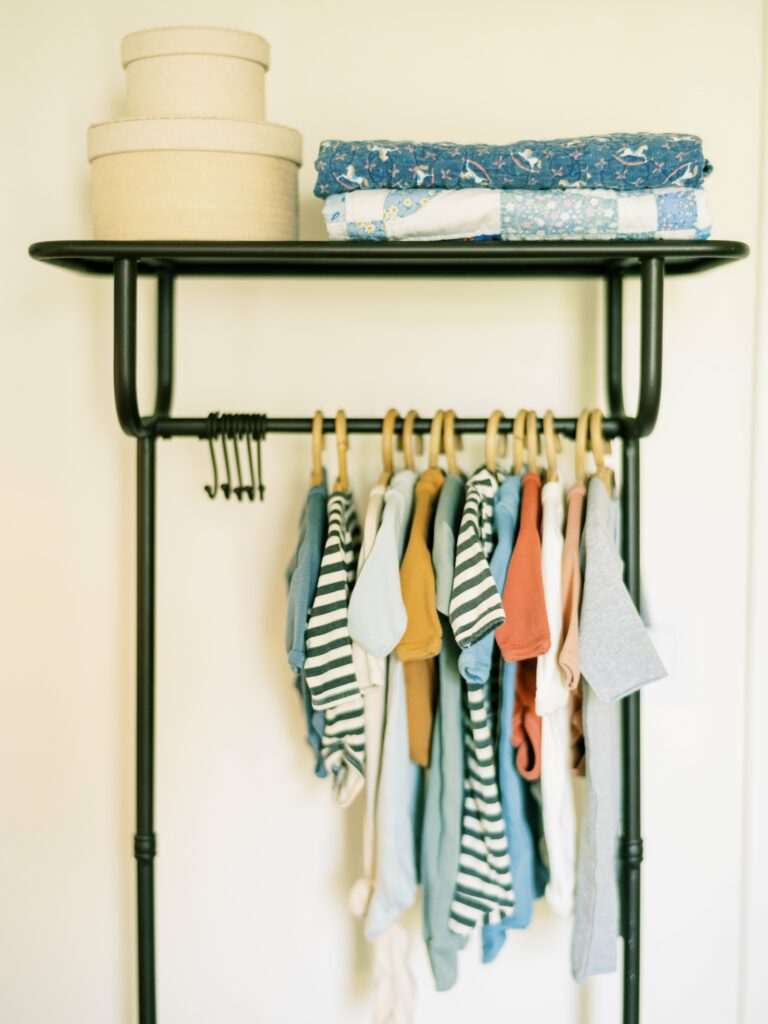 Final thoughts on Landon's modern farmhouse nursery + a few items not pictured
However you decide to decorate your little one's space, the best advice I can offer is to do so with intention. Get inspired by spaces you love, but ultimately, make the room your own. The careful love and consideration that goes into this space will forever be cherished.
Also, there are some pieces that I truly adore (or are nursery must-haves) that aren't captured in these photographs. I've linked to them below:
If you want to read more about how our son was brought into the world, be sure to check out my birth story. Thanks for reading!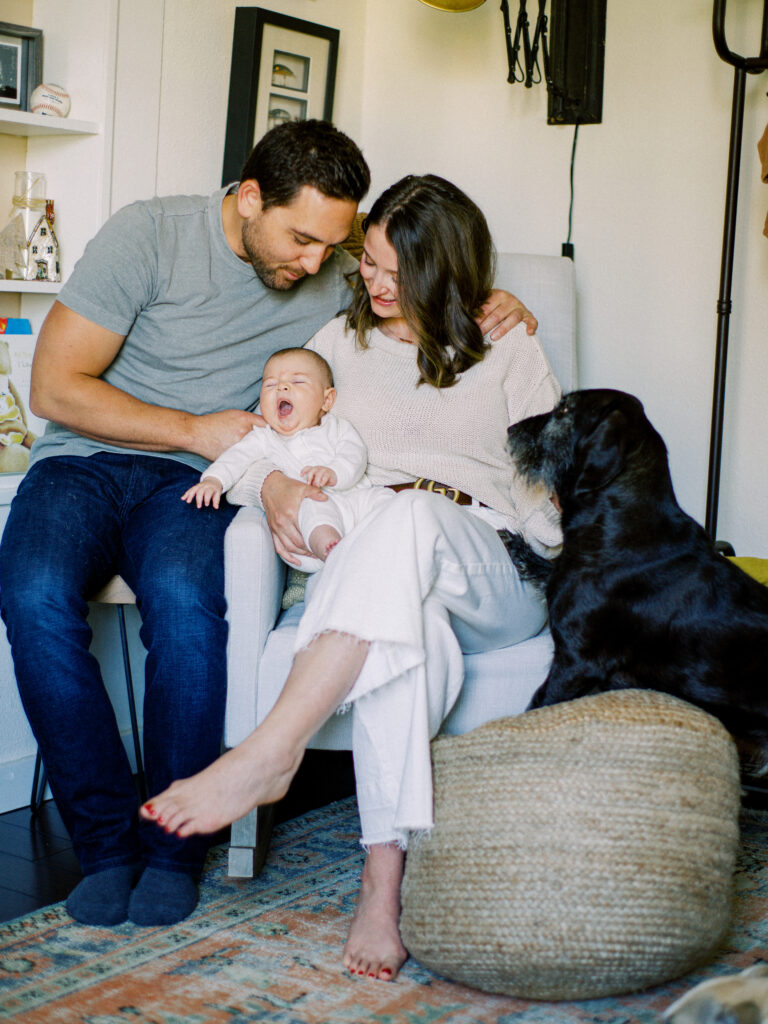 This post contains affiliate links. We may receive a small commission for purchases made through these links. Thank you for your support!