Miku is a leading smart baby monitor on the market today. It's got some fantastic features that make it stand out from traditional baby monitors. Let's dive in and take an in-depth look at the details that make it different.
The Miku baby monitor tracks it all
When we refer to a smart baby monitor, we're talking about a monitor that tracks breathing, sleep patterns, and the overall sleep environment. It then automatically creates analytics and data that's easy to interpret and analyze so you can understand and assess your baby's sleep patterns.
This post contains affiliate links. I may receive a small commission – at no extra cost to you – should you choose to purchase through a link on this page. Thanks for helping me continue to provide free content for readers like you!
It's quite a technological advancement that fits nicely into our modern technology culture these days. Miku doesn't just deliver a baby monitor; it offers peace of mind, which is crucial for new parents. Check out the Miku and its most recent updates for yourself.
The technology that Miku provides is a huge step forward in the baby monitoring space because it helps parents relax when they cannot physically watch over their baby – which, to be honest, is one of the biggest challenges parents face.
Miku baby monitor technical specifications
Let's start with the specifications of this baby monitor.
It's sleek and attractive white housing looks great in any nursery. It has a ¼ in 5 MP sensor camera, video encoding up to 1080p up to 30s. For baby monitoring purposes, this is plenty of quality! I am delighted with the video quality, even at night.
For nighttime monitoring, the camera has high powered infrared LEDs that work exceptionally well. The monitor features built-in Dual Ole Woff Speakers and a two-way Microphone array for communicating to your baby through the monitor, although it's limited to 15 seconds of talk time. I think that's plenty of time to get your message across to your little kiddo (or your husband!).
Tips for installing your Miku and specific monitor requirements
To get started with the Miku, simply install the camera over your crib or bassinet. Installation is super easy.
Miku includes everything you need in the box, including a branded screwdriver and measuring tape. While those additions are not completely necessary, it's a nice touch to keep things easy. And when you're responsible for a new baby, ease of use is an added benefit.
Once the monitor is ready to go, download the Miku app from your App store.
Note: a smartphone and the Miku app is required to use the monitor. If you don't have a smartphone or iPad, this monitor won't work for you.
Once the app is downloaded, you'll see that it is super simple to use. To get started, just set up an account and connect it to your device. From there you can add users and adjust settings as needed.
I definitely recommend the following settings:
Turn 'Vital Tracking' ON
Set 'Night Vision' to AUTO
Turn OFF the 'Device LED'
ENABLE push notifications (even when the app is closed)
Turn 'No Movement Detected' alarm ON
A note about the Miku 'No Movement Detected' alarms. When we first were using the Miku, the movement alarms were set to ON position to alert you if no movement is detected. Make sure to close the app when the baby is not in the crib to avoid false (and loud!) alarms caused by a sleep sack or swaddle left in the crib.
Is the Miku baby monitor portable?
This is a hard-mounted monitor, meaning it's designed to stay in place once installed. You could technically remove the monitor from the base and the power cord housing to move it if you wanted to travel with the Miku (but we use this simple two-way baby monitor instead).
Miku smart baby monitor features I love
The RPM live breathing indicator
In my opinion this feature is why you invest in a Miku.
Miku shows you real-time breathing patterns measured in RPMs (respirations per minute), which will instill peace of mind immediately. Parents, myself included, can be hyper-focused on reducing SIDS, and Miku helps ensure your baby is breathing and sleeping safely.
Note: Miku cannot prevent SIDS, so it's essential to follow safe sleep guidelines. Instead, Miku offers peace-of-mind and real-time breathing data without wearable technology.
You can access the monitor anywhere
Remote access is precious because I can access the app when I'm out of the house or a baby sitter is over. Having this accessibility is invaluable to me and is a huge reason I chose a smartphone-based baby monitor.
Clean and simple aesthetics
While looks aren't everything, I must admit that the device is nice looking doesn't interfere with our modern farmhouse nursery design. It blends in nicely with any decor and isn't distracting to the eye.
The 'No Movement Detected' alarm system
As I mentioned above, the Miku has a built-in alarm system that – in addition to the RPM indicator – provides a lot of peace of mind for me. When the Miku doesn't detect movement (more specifically, breathing), a loud alarm starts to sound to alert you to check on your child. This alarm is an alert you should not ignore.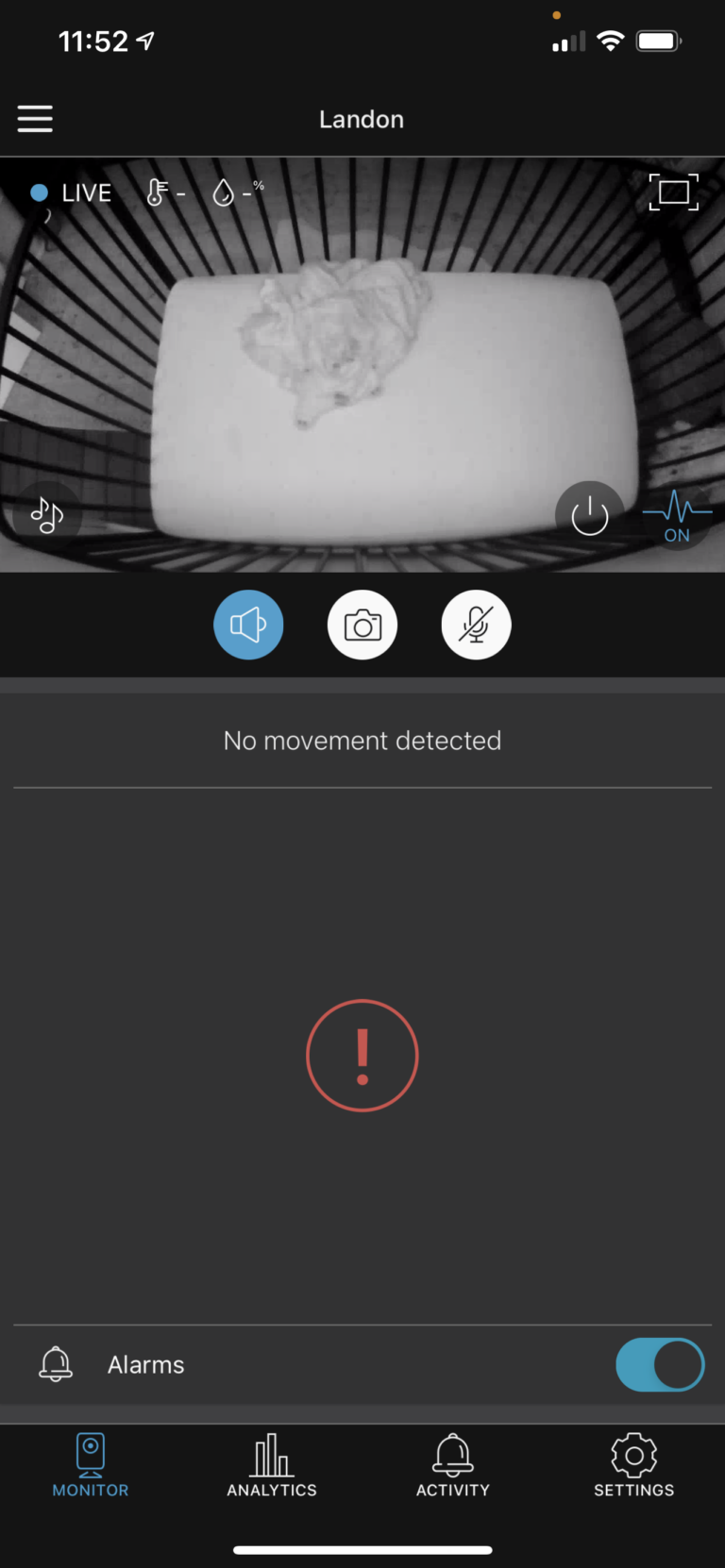 To avoid false alarms, you must remove any safe-sleep approved items from the crib once your baby is out, including swaddles, Magic Merlins, and sleep sacks. You can also put your Miku in standby mode when your little one isn't in the crib to help with false alarms. Learn more about the Miku's alarm technology here.
Note: your app must be open and running to receive alarm notifications.
Truthfully, we've only gotten a handful of false alarms with our Miku, all caused by easily-avoided user error. I thank the Miku alarm every night, and it allows me to rest easier as a new parent knowing my little one's breathing and movement patterns are closely monitored throughout the night.
Built-in Miku sounds and lullabies
Miku features an impressive selection of sounds built right into the monitor. You can select a tune and control the volume from the app. We're big fans of the 'white noise' and 'womb sounds,' and this feature has saved us from sneaking into the nursery a time or two.
Robust security system
Overall the Miku's security features make me feel better about using a baby monitor on a home Wi-Fi network. Miku has the following dedicated resources to keep your data secure:
High-Security Crypto Chip
AES 256 big encryption
TLS / SSL
Detailed Miku sleep analytics
If you appreciate data and analyzing trends, then you will love the analytics that Miku offers. The data is easy to read and understand and helps to build a complete story about your baby's sleep patterns so you can adjust nap times and bedtimes as needed.
Miku features I don't love
One-off connection issues
Although it's rare, there are some times where the audio will cut out but all I have to do is fully close out the app and reopen it.
I'm not sure why this is, but I think it has to do with interference from other apps' audio. I've heard you may need to keep the app updated, which can be annoying.
Can be difficult for babysitters
Because this is a smartphone monitor, everyone who uses it will need to have a smartphone. Due to this restriction, we ended up just using an old iPad as an exclusive baby monitor for those watching Landon when we're not home.
No camera panning or zoom-in feature
A lack of panning isn't a deal-breaker by any means, and not necessary because of the 130-degree field of view. Plus, if you install the Miku correctly, you wouldn't need to pan – it would just be a cool feature and one that competes with competitor smart baby monitors.
What does the Miku baby monitor cost?
Due to countless sales and promotions, it's hard to say what the Miku is currently priced at. You can check Miku's most current price and even get free shipping with an Amazon Prime account.
Don't have Amazon Prime? Sign up for a 30-day free trial!
Miku also offers financing with 0% down and 0% APR. Smart move. Also, they offer a 20% nurse discount and a 20% military and first responder discount. There are also a lot of five-star reviews from happy customers.
Is the Miku worth it?
If you've made it this far, you may see why I wholeheartedly believe that the Miku baby monitor is worth the investment. This technology truly offers peace of mind and helps parents sleep better at night.
So with plenty of purchasing options for any budget, fast shipping, and a one-year warranty, I wholeheartedly believe the Miku baby monitor is worth the investment.