Packing a hospital bag can feel like a stressful to-do when you're in your final weeks of pregnancy. This list of hospital bag essentials for moms can help!
Psst! Here for the CALPAK coupon code?
While there's no "right" time to have your hospital bag packed, I think it's a good idea to give yourself a few weeks just in case you go into labor early (like I did!). Pick the right bag, pack the essentials, and keep it nearby at all times.
Sure, packing your bag can feel overwhelming and cause you to delay it until the last minute, but hopefully, this list of hospital bag essentials can help you cross packing your bag off of your list for good.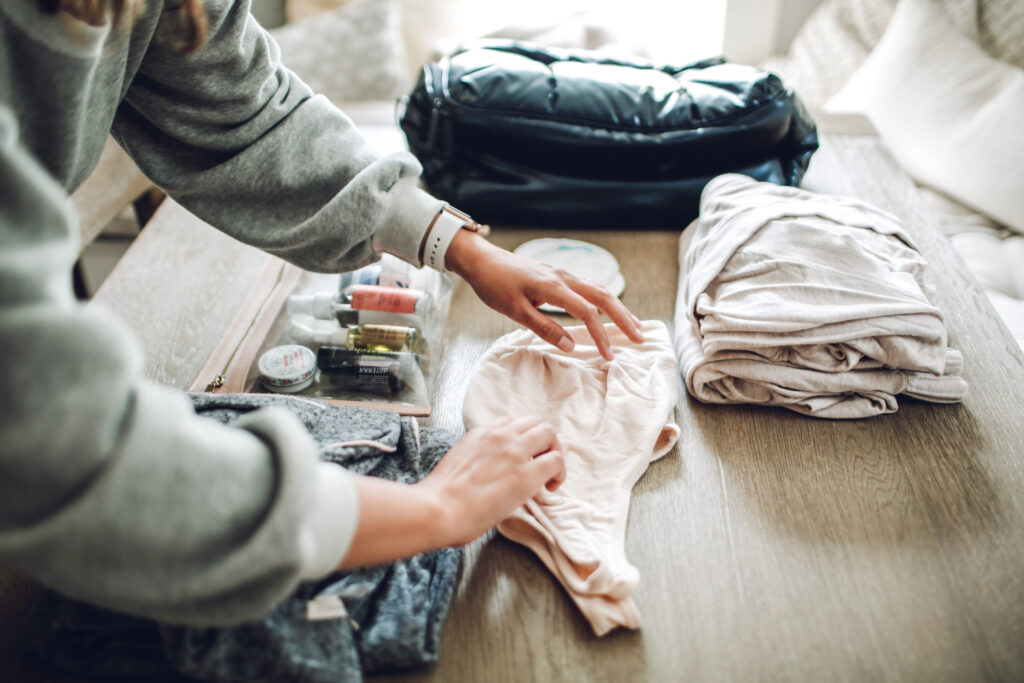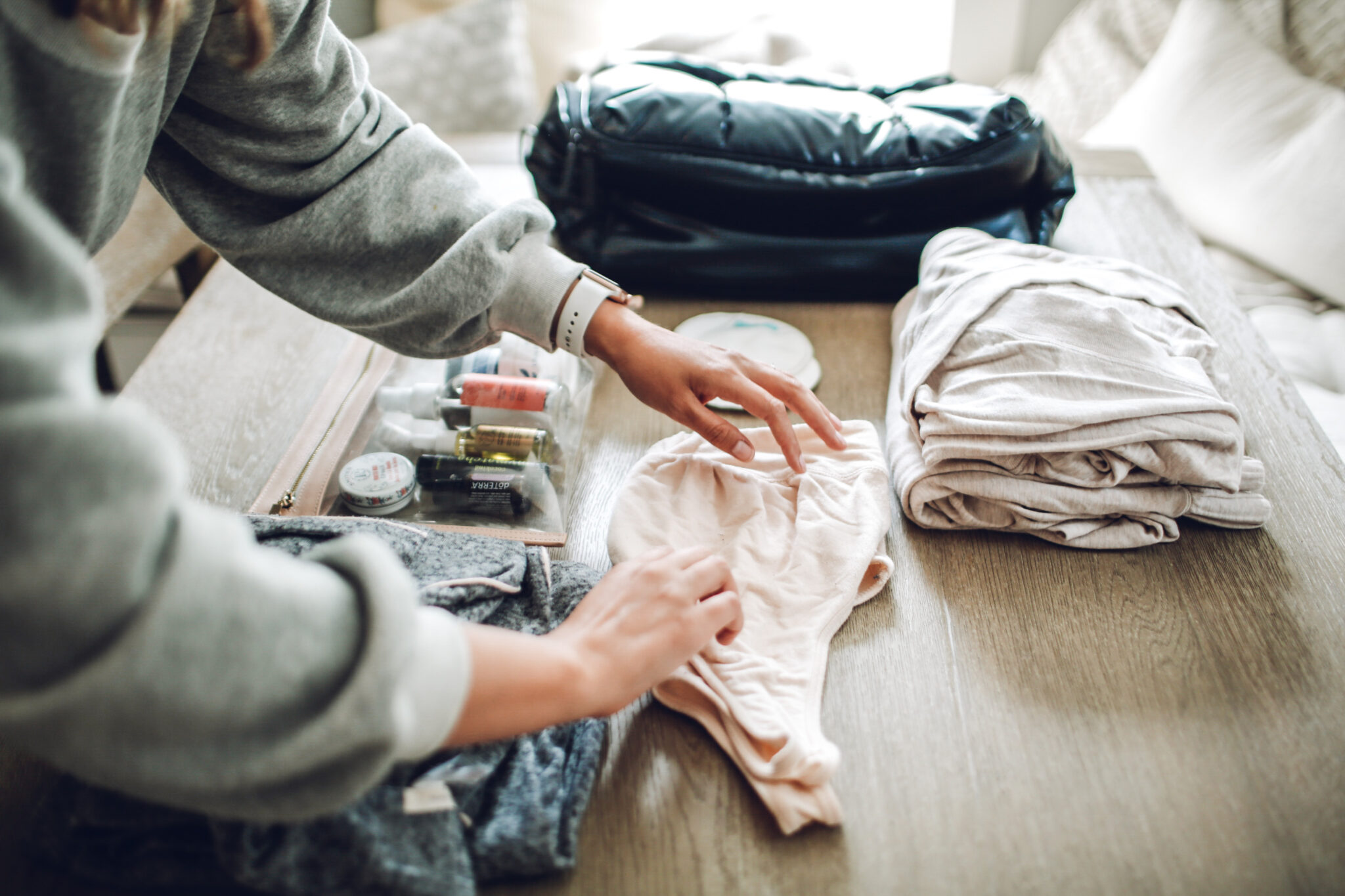 What is a maternity hospital bag?
Well, it's the bag you take to the hospital when giving birth, of course! But it's also so much more than that. I can't tell you the amount of time I put into researching the size of the bag to bring, whether or not I should pack baby items in it, or what exactly I need.
After some personal trial and error, there are some things to consider when picking the physical bag you'll bring to the hospital with you:
How many pockets does it have? The more the better in my book
Is it hard-sided or soft? I prefer soft because you can really stuff it full
Does it have a separate section for baby? Hello middle-of-night outfit changes
If you're buying something new, is it something you will use again? Ideally, yes!
Does it match your personal style? Let's hope so!
My top choice: the Luka Duffel by CALPACK
Man, I wish I had this bag when I was pregnant. It's the perfect balance between function (there are nine pockets!) and timeless style. Plus, it's priced just under $100! When you factor out the cost per use and the high-quality materials used, I think investing in this duffel as your hospital bag is a no brainer.
What I really love about the Luka Duffel is the self-contained pocket for your shoes. It's great to use for your hospital slippers or to add in some extra baby items to keep close-at-hand.
You'll also find a hidden suitcase pocket, suitcase sleeve, and water bottle pocket to help keep you organized and prepared.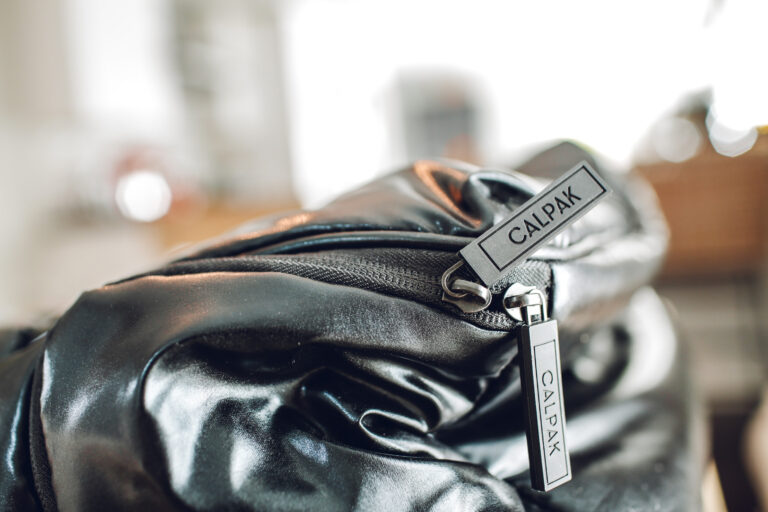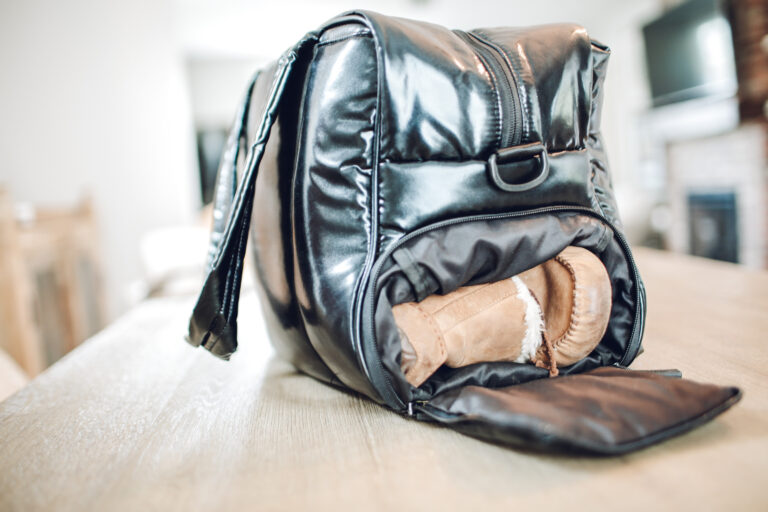 When should you start packing your hospital bag?
Well, that's a pretty personal choice and depends greatly on your pregnancy. For high-risk mamas, I say pack your bag sooner than later! In general, aim to have your bag packed and ready-to-go by 35 weeks, if not sooner.
At 35 weeks, Landon was still breech and I experienced pre-term labor around then, I made sure to have my bag packed up and kept it in my car at all times.
Hospital bag essentials for mom
While packing for baby seems pretty straightforward, packing for mom can feel a bit more daunting. I took a minimalist approach to my hospital bag and still felt overpacked! Keep in mind, I had a c-section, so the items I needed for recovery were different than those who were recovering from vaginal birth.
Read next: How to Create Your C-Section Birth Plan
Here's a general list of maternity bag essentials that will help you feel prepared but not overly packed:
A nursing gown with easy-access snaps
Your go-to toiletries (including a hairbrush)
Two nursing bras
A loose-fitting change of clothes
Slippers or socks with grips
Hair ties and a headband
Chapstick (or two)
Reusable nursing pads
Organic nipple cream
Protein-rich snacks
A phone charger with a long cord
A bag to pack it all in
These items aren't necessary but nice to have:
A set of towels from home
A pillowcase from home
Your favorite comfy robe
Books and magazines
Essential oils and diffuser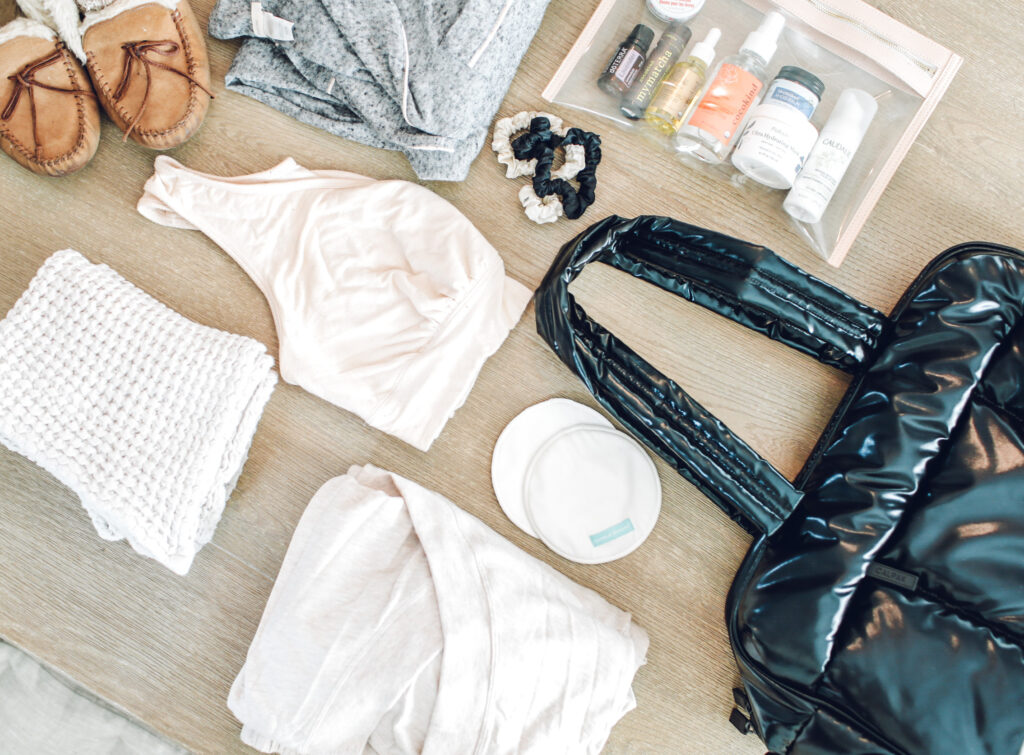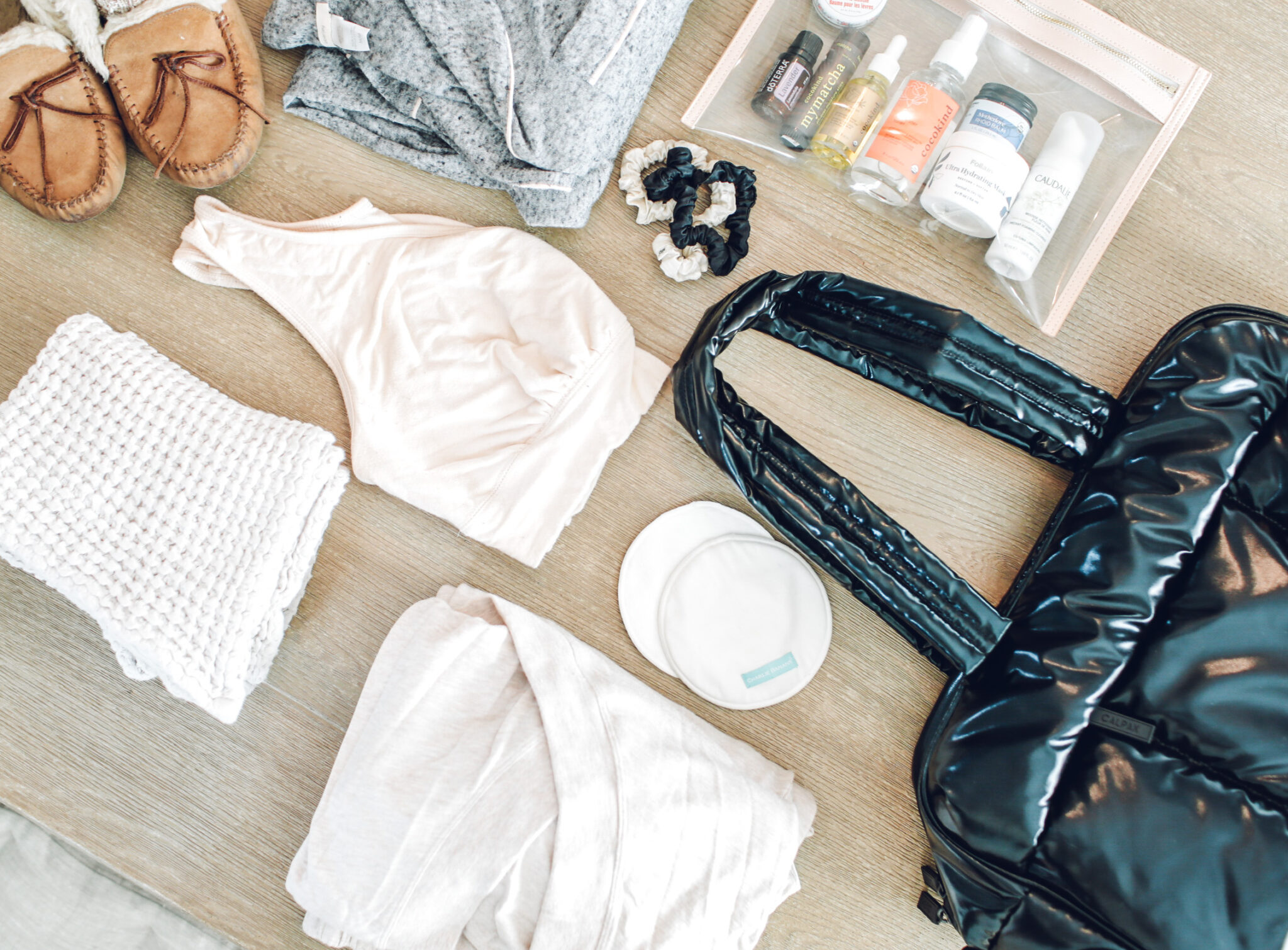 My five picks: your essential maternity bag checklist
If I had to choose just five items for you to pack in your hospital bag, I'd select the below items, hands-down. Keep in mind, this list is assuming your hospital is providing your stool softeners, mesh underwear, and giant pads. You know, the fun stuff!
1. A nursing-friendly hospital gown + bra
I can't tell you how glorious it felt to change out of the itchy and stiff hospital gown into this super-soft one. It has snaps up the entire back and shoulder for easy access. Even the nurse commented on how practical and comfy it was!
Also, make sure you have a comfortable nursing bra (or two!) packed with you. I finally decided for these because of the soft french terry material, and they were supportive but not too night. They're perfect for sleeping in, also!
2. A thick face cream
I learned the hard way that hospitals are notoriously dry, so it's essential to have a thick face cream that you can slather on as needed. I opted for this ultra-hydrating mask because it contains non-toxic ingredients and you don't need to wash it off like other masks.
---
Shop the post
---
3. A pair of comfy pants
Make sure to have a simple set of cozy sweats to change into before leaving the hospital. I prefer gaucho-style pants because they had a thick waistband to protect my incision and weren't too tight on my belly. Plus, you can't beat the price!
4. Healthy + yummy snacks
At some point in the hospital, hunger will hit you like a ton of bricks. Make sure to have a good assortment of healthy, satiating, and yummy snacks on-hand for both you and your partner.
Our favorites were:
Chomps beef and turkey sticks
GoMacro bars
Almonds
Protein shakes
Your go-to candy
5. Your own towel + toiletries
To be honest, I dropped the ball on bringing my own towel with me and what a regret. The hospital towels are teeny tiny and are about 1/3 of the size of a standard towel.
Also, make sure to pack your toiletries because you will feel like a new woman after that first shower using your products. Travel size products are best, and I stored everything in these clear pouches for easy access and visibility. Bonus: the bags are TSA-friendly, so no more wasteful plastic baggies!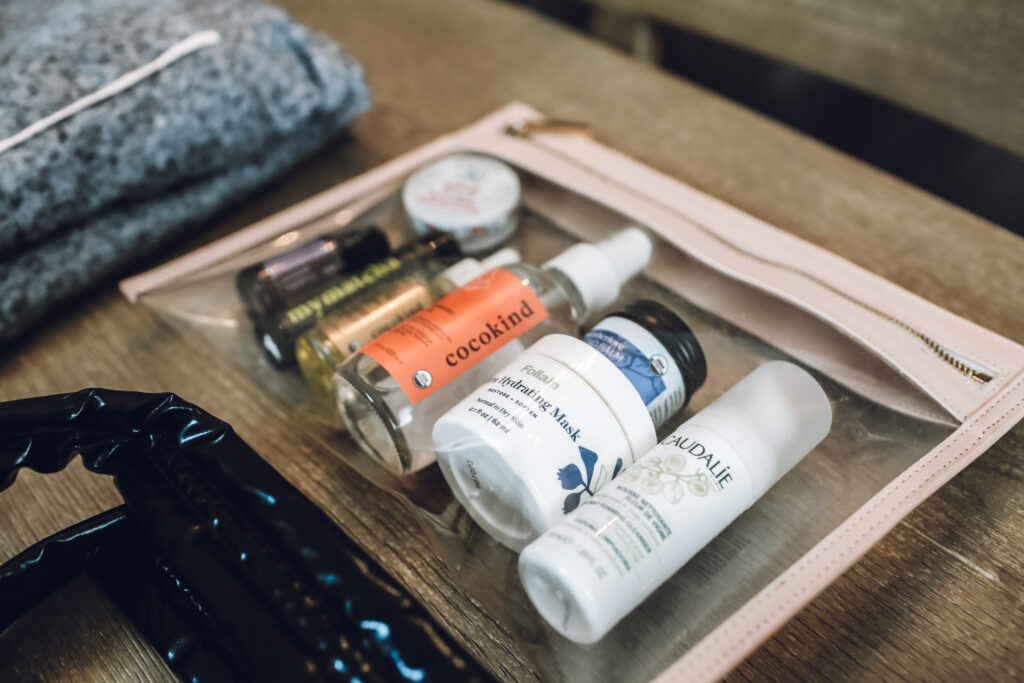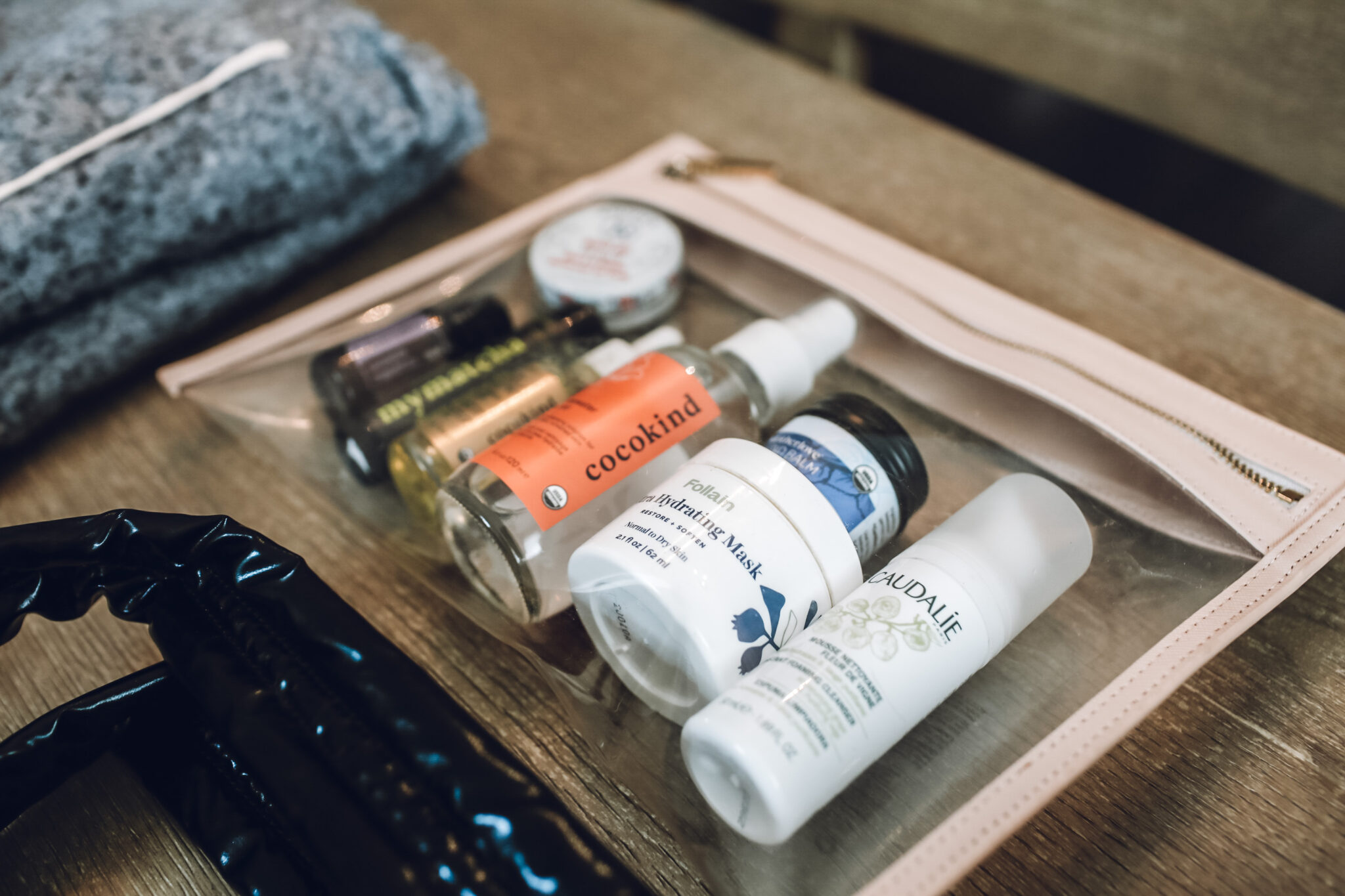 What about packing for the baby?
Babies don't need much in the first few weeks of life. Plus, the hospitals are typically generous with blankets, hats, diapers, and wipes. Also, keep in mind that this list may vary depending on the time of year you're giving birth, so treat it as a bare minimum starting point.
There are a few things you should consider adding to your hospital bag for baby, though:
Two easy-to-change outfits
Two pairs of socks
Two swaddles (we loved the Ollie from the day he was born!)
One "coming home" or picture outfit
An extra hat, socks, and booties
A receiving blanket
Extra diapers and wipes
Car seat (you can't leave without one!)
Bottom line: preparation is totally worth it!
Write down a list of your must-haves, pack everything up, and then remove any excess items. There's a good chance you'll find how little you ended up using! I think the most important thing when packing your hospital bag is to have it ready earlier than later, and if you're purchasing new items, select ones that you'll be sure to use again down the road. Congrats, mama!
What'd I miss? Is there something you'd add to the list of hospital bag essentials? Tell me below, mama!
---
Save with my CALPAK discount code
Get 10% off your CALPAK order!
Click the button below and enter code CARLEY10 at checkout.

SAVE 10% ON CALPAK NOW!
---
This post contains affiliate links. Should you choose to purchase through a link on this page, I will receive a small commission at no extra cost to you. Thank you for supporting our small business!
---