Juggling the #momlife and quarantine life often leaves me reaching for my yoga pants. But man, do they get old. Check out my top picks for mix + match easy fall outfits.
Not going to lie; it feels like a million years ago when I studied apparel merchandising and business at Indiana University (Hoo-Hoo-Hoosiers!). That path led me to New York City to live, breathe, and work in the fashion industry for five or so years (before I burned out and turned to health, but that's a story for a different time). Regardless, my passion for clothes still lives, even below my messy bun, makeup-free skin, and worn-in yoga pants.
While I've never shared a round-up like this before, you guys have told me repeatedly how much you'd appreciate one. So, here we are! I'm sharing my top picks for easy fall outfits that are all (mostly) budget-friendly.
I should preface this post by stating that I believe in mixing highs and lows when dressing. Investing in classic and quality pieces is something I strive for in my wardrobe, so I've sprinkled one or two in on this post. But, for the most part, everything hovers in the $20-$150 price range. If you don't know already, I'm also a huge supporter of comfort.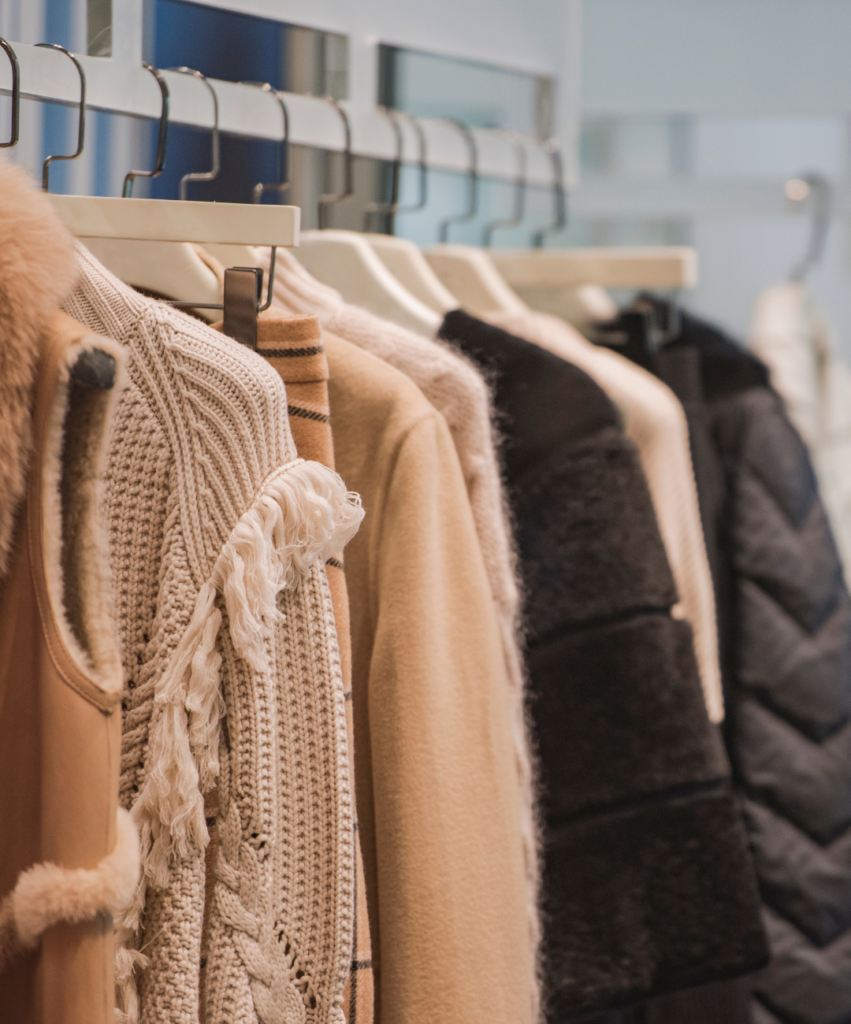 My outfit picks for fall
I've broken this post out into different sections: tops, bottoms, shoes, jackets, and accessories. As you scroll through, think about all of the different outfit combinations you could create from these suggestions. There are so many options.
Also, many of these items come in multiple colors and are on sale right now! Make sure to click through to see all of the options and current pricing.
Shop fall sweaters + tops picks
I'm a huge fan of neutrals, especially for fall. I love these tops because they're super versatile and have a hint of trend. You won't feel silly pulling these out of the closet next year.
Carley loves: I live in the white sweatshirt with snaps and I can't wait to get my hands on the v-neck puffed sleeve sweater.
Shop fall bottoms
As hard as it is to put away the yoga pants some days, these bottoms make it easy. They're all comfortable, and again, extremely versatile.
Carley loves: I'm obsessed with the faux-leather leggings and flared denim!
Shop fall outerwear
Depending on where you live, the level of warmth you need could vary greatly. These picks will cover just about all of the fall weather.
Carley loves: Loving the long wool coat (think paired with leggings and sneakers) and the oversized denim jacket.
Shop fall footwear
While I typically live in my Birks, it's nice to have some options. Fall footwear is my favorite because you can get away with some ankle showing without freezing.
Carley loves: Obsessed with the look of the Sorel hiker boot and also their waterproof sneaker (hello, Seattle winter).
Shop fall accessories
Accessories are great because you can quickly change up the look of your outfit without making drastic changes or purchased you'll later regret.
Carley loves: Loving the scrunchie with texture (for under $5!), the easy gold hoops, and the reversible slouchy tote.
Carley's top fall outfit picks
If you're stumped on where to start, here are my top favorites this season. The below curated items are the perfect balance between classic and on-trend, and you really can't go wrong with how you mix and match these options.
Final thoughts on dressing yourself this fall
Ultimately, no matter how you choose to dress this fall, I encourage you to pick outfits that help you feel your absolute best.
Whether you have to size up or size down, remember that sizes are simply a number and have nothing to do with how worthy you are. Find clothes that bring you joy and enhance your confidence.
Happy shopping, mama!
---
This post contains affiliate links. Should you choose to purchase through a link on this page, I will receive a small commission at no extra cost to you. Thank you for supporting our small business!