BOUNDARIES WITH SOUL™
A six-week digital course with Carley Schweet
Go from a chronic yes-woman to the most
empowered and grounded version of yourself.
DO YOU ENVISION THE BELOW WAY OF LIVING?
Imagine creating more time freedom for yourself because
you're confident enough to say No to things you never wanted to say Yes to in the first place.
Envision being loved and supported enough to know even when you don't do all the things for other people; you're still a kind person.
Picture feeling secure enough to know that you can communicate y
our needs without the fear of everything falling apart.
Think of how empowering it would feel to finally release the anxiety and tension that affects your life daily.
The secret to happiness – this desired confidence, security, and support – as someone who gives too much lies in creating soulful boundaries. Trust me, I get it! As a recovering people-pleaser, I will guide you through the five-step process that I use with my private clients to create strong and healthy boundaries.
---
BOUNDARIES THAT FEEL GOOD TO SET.
THAT COME FROM A PLACE OF LOVE.
THAT MAKE YOU A HAPPIER AND MORE PRESENT PERSON.
---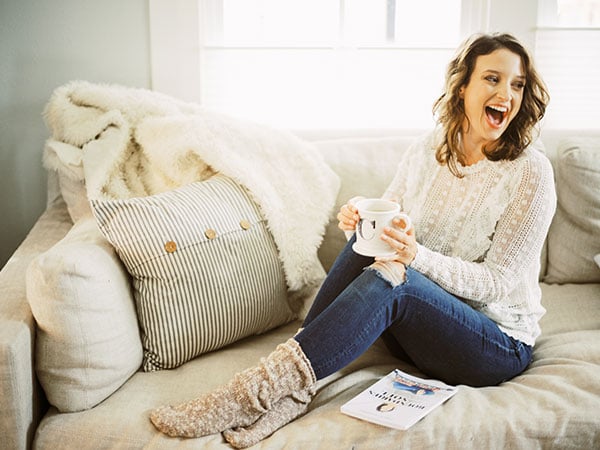 With this course, you will become a happier and more supportive partner, daughter, sister, wife, and friend. More importantly, you will learn to take better care of yourself while doing it.
You'll stop giving too much and become more assertive.
I will help you to become the happiest, most grounded recovering people-pleaser by getting you back in touch with who you are and what you value. Together, we will poke holes in the areas of your life that are currently violating your boundaries and causing you to feel drained and exhausted.
You will discover your loving No and, in return, create more space to enjoy what you love and want to pour more time into. You will learn to speak an empowered Yes – one that finally feels incredible and exciting to say, instead of just another task to add to your to-do list.
---
IMAGINE FOR A MOMENT
How would it feel to get back in touch with what you truly crave out of life
 – not just following the script of what you think you "should" be doing?
This course holds your answer and it's along the lines of really freakin' amazing.
---
I know what it's like to be a yes-woman and I know
what it's like to discover my loving No. Let me tell you,
life feels much happier with the latter in place.
WHAT YOU'LL LEARN
Week One | An Introduction to Transformational Self-Care
This week is all about learning what transformational self-care indeed is. We will debunk the common beliefs around why women don't practice self-care, and I will guide you through an intention-setting practice. You will also learn about why people-pleasing is so common and learn how to protect your energy.
Week Two | Find Your Authentic Self
How can you know how to build soulful boundaries if you don't know what you want in the first place? This week, you'll learn more about your authentic self and begin to differentiate between the voice of your ego and your higher self.
Week Three | Feel for Your Boundary Lines
This week we're focusing on learning how to tap into your intuition. You'll also learn what it physically feels like when a personal boundary is in violation. I will also share a life-changing secret and mindset shift my life coach taught me.
Week Four | Grow Your Self-Worth
Ditching your yes-woman ways takes confidence, and that's the focus of your work this week. I'll guide you through the necessary questions to learn how to take back your power. You'll find the words for clear and respectful communication (hello, saying No!) through a communication exercise.
Week Five | Recognize and Abandon Fear
This week, we circle back with tapping into our intuition and take your learnings for a test drive. You will learn to ditch your indecisiveness for good and learn to trust how what your intuition and higher self is guiding you. Through a curious eye, you'll uncover where you're letting fear do the driving, and we will work to abandon that pattern.
Week Six | Discover Your Authentic Yes and Loving No
In the final week, you will work to discover your authentic Yes and your loving No. Through journaling prompts and a few interactive challenges, you will begin to get more comfortable and honest with yourself. We will uncover how you want to feel when you do say Yes and tap into how to say No with love.
PLUS, YOU'LL RECEIVE THESE EXCLUSIVE BONUSES
A weekly self care ritual – one that you can practice in the comfort of your own home – think dry brushing and salt baths – as you need it. These are rituals I try to make a part of my daily life and help me to stay grounded and in touch with my loving No
Guided meditations by Carley – created to help you feel more secure and connected to yourself
Supportive affirmations – curated weekly to support you as we move through each topic
Daily challenges – these small actions are designed to push you slightly outside of your rule-following comfort zone
Inspiring and shareable images – designed to help you feel inspired by this work
HERE'S HOW TO GET STARTED
A one-time payment of $597
or build your own payment plan
– that's less than $100 per week
BUY NOW
---
WHAT OTHER PEOPLE ARE SAYING
"Being a young adult is hard and without Carley's help, I do not think I would be as successful as I am today. I was skeptical of the process, of the possible outcomes, and of the purpose. I can honestly say Carley has changed my life and I owe her for it." – Amelia M.
"Carley is guiding me through some life changing times with the utmost compassion while keeping it fun! I can confidently refer her to anyone ready to make a change in" life. – Danielle B.
"My experience working with Carley has been life-changing." – Josh M.
FREQUENTLY ASKED QUESTIONS
ABOUT CARLEY
Carley Schweet once worked in the corporate fashion world of New York City, spending her workdays people pleasing and her nights and weekends reeling with sleepless anxiety.
Over time, she realized her stress arose from being afraid to say No —whether out of reluctance to hurt others' feelings or due to her crippling anxiety and lack of self-care. She then quit her corporate job and graduated from the Institute for Integrative Nutrition in New York. Today, she is a self-care coach and author of the book Boundaries with Soul™.